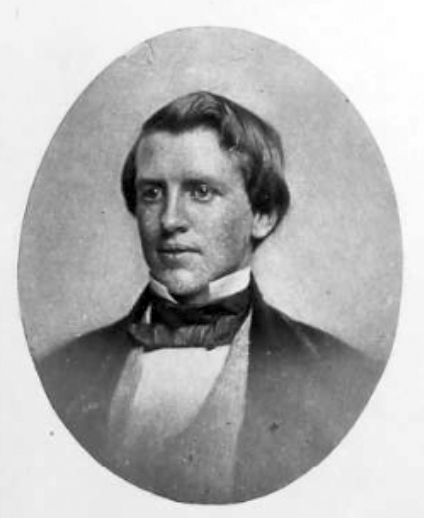 Today's Echo of the Past explores one of the most interesting topics of Southern history, the story of the common Confederate soldier. However, the soldier examined today would probably be considered as perhaps the most uncommon of the common Confederate soldiers. His complaints about the usual hardships of wartime and pangs of homesickness were joined by a paranoia that others in the unit were conspiring against him. His experience as a common soldier became increasingly unpleasant, until he finally received a long sought transfer to an assignment more befitting his station in life and closer to his family here in Minden. Today we will briefly look at the life of Edwin Hedge Fay of the Minden Rangers, largely through his wartime letters, as recorded in the book, This Infernal War, Edited by Bell I. Wiley and Lucy E. Fay.
Edwin Hedge Fay was born on March 17, 1832, in Autauga County, Alabama. His father, Edwin Fay, was a native of Vermont and an 1817 graduate of Harvard, who came to Prattville, Alabama in 1820 where he set up a law practice, became a farmer and operated a school for boys. Edwin Hedge Fay gained his middle name from his father's uncle, Levi Hedge, a Professor of Logic at Harvard, who had written what was for years the standard college logic textbook in the United States. Following in his father's footsteps, Edwin H. Fay earned an A. B. degree from Harvard in 1852, and after teaching for a short time in Alabama, returned to Cambridge and completed his M.A. from Harvard in 1855. At that time he was hired to be Headmaster of the Minden Male Academy and moved to Minden in the fall of 1855. On March 13, 1856, he married Sarah Elizabeth Shields, daughter of William Shields a manufacturer of cotton gins and corn mills in Minden. Miss Shields had attended college in Georgia, and in fact had studied logic from Professor Hedge's textbook. She questioned Fay as to whether he was related to the renowned Harvard logician. When he admitted the connection she jokingly replied, "If I had known that I should not have married you."
The Fays soon began a family and Edwin became a partner in Mr. Shields' business in addition to his work at the Academy. Their first child, William Edwin, was born in 1857, and a daughter Eleutheria was born in 1859, but died in 1860. A second son, Thornwell was born in March 1861. Despite his northern roots, Fay had been born and reared a Southerner; he owned slaves and supported the Southern positions on slavery and state sovereignty in the ongoing national controversy. He sought election as a Claiborne Parish delegate to the Secession Convention but was defeated by John L. Lewis.
As the war began, Fay's enthusiasm stopped short of actually enlisting in the Confederate forces. He did not join the Minden Blues or any of the other units formed locally in the Spring of 1861. He waited until the eve of conscription being instituted before joining the Minden Rangers, an independent cavalry unit, formed in April 1862. Fay was not chosen to be an officer, either commissioned or non-commissioned of this unit, composed of some of the wealthier citizens of the Minden area. While this unit waited for its orders, the first sign of Fay's high opinion of his own military knowledge appeared. In an early letter home to Sarah, he remarked that he knew: "absolutely more about military matters than any man in the company" and was "determined not to be a private throughout this war." Whether or not Fay's assessment of his ability was true, this attitude would color his time of service with the Rangers.
As the Rangers spent early May in the area of Corinth, Mississippi, reconnoitering, scouting, picketing and protecting the flanks and rears of General Earl Van Dorn's forces, many in the unit became disgusted with life in the Confederate Army. F. D. Wimberly, Captain of the unit, who had promised to stay with the company for twelve months or twelve years, announced he was returning home under provisions of the law that allowed men over 35 to gain release. On May 20, Fay wrote home that: "I think that the patriotism of our company at least is about consumed. If they were at home, I don't know a man who would volunteer with his present knowledge, unless I did."
Yet even in that same letter, Fay indicated he too was tired of army life after 6-weeks of service. He told his wife he could probably gain release because he was a teacher, but he hoped to hire a substitute. This idea of going home, once he had placed it in writing, became almost an obsession and from June of 1862 on, his main goal was to get out of the Confederate Army. First he tried desperately to get a statement from the trustees of the Minden Male Academy that he was needed back home in Minden. Failing to get this statement, he redoubled his efforts to hire a substitute, only to have the Confederate government change the rules to allow substitutes only for men physically unfit for further duty.
Another letter, that is not part of Wiley's book, has entered the historical record from this time period. Written by Fay's wife, Sarah. When I worked for the Webster Parish Library, a lady came into my section at the library seeking some information. Her ancestor fought with the 25th Texas Infantry during the Civil War and died from a fever while being kept by a family here in Minden.
She was wondering if any descendants of the family that kept her ancestor still lived in the Minden area. She told me that the family's name was either Foy or Fay, and said she had a letter from the lady that nursed her ancestor, written to his widow. When she showed me the letter I immediately recognized the letter was written by Sarah Elizabeth Shields Fay. Edwin and Sarah left Minden in 1867, so I was unable to contact any descendants for my patron; however, she left me with a copy of the letter, written from Minden on September 24, 1862 by Mrs. Sarah E. Fay to Mrs. Angelina Davis, reporting the death of her husband, Squire W. Davis. This is that letter
"You have no doubt heard the sad tidings of your husband's death, through Mr. Harrell. But when he left for his command he requested me to write, thinking perhaps that I should afford you some consolation. Did I say consolation? Alas! I know how cold that word falls upon a grief-stricken mourner, but I did not mean consolation for his loss; I only meant that I might perhaps alleviate your distress at his dying among strangers by writing you how well he was attended. The best physician in our town attended him through his illness and did everything within his power to return him to health, but he had the fever so long before he came here (twelve or fifteen days) that it had got complete control of his system, and so baffled the skill of physician. He died quite unexpectedly to us, just one week after he came to my father's house. From frequent expressions he would make, I think he was aware of his condition, but I regret very much that none of us talked with him upon the subject of his death. His head was so much affected the last 4 or 5 days of his life that he was not rational only for a few minutes at a time. I have never seen so much sympathy evinced at the burial of a stranger. There was not a lady present who did not weep over his untimely fate. Not one who did not think of his absent wife and parents. You have my warmest most heartfelt sympathies dear madam, for my husband is in the army and has been for six months, and I know how terrible a grief it would be to me were he to die away from home. I send you a lock of his hair, the only memento that could be preserved from the ravages of death. Hoping dear madam that you will seek consolation where only it may be found, permit me though a stranger to subscribe myself your friend."
Back to our main story. In April 1863, Fay petitioned directly to General Braxton Bragg for a release from service, citing his duties as a teacher being more pressing. Bragg rejected the claim, saying that exemption only applied to teachers who had not already enlisted in the army. Fay was so angered by this rejection that he filed a complaint with the Confederate Congress.
Politics within the unit also began to dominate Fay's attention; he declined to be a candidate for a position as a commissioned officer, as that would require accepting a three-year commission. However, he did seek non-commissioned officer status. In these campaigns for position, he seemed to believe that others in the unit were constantly involved in cabals against him. Eventually he was appointed orderly sergeant, the highest-ranking non-commissioned officer position and was later elected to that position. Fay apparently did a good job in this post, which was largely a clerical position, as he wrote his wife that the new commander, Captain Junius Y. Webb, "could not get along without him."
During this period the Rangers served in various capacities throughout the Western Theater of the war. Their service ranged from scouting to escort duties and included service in Georgia, Tennessee, Alabama, and Mississippi. In fact, the unit had a more exciting and diverse service experience than most Confederate units. Still, Fay wanted out and found his life as a soldier one of drudgery. He wrote home in June 1863: "I would deem myself fortunate to exchange with any slave I ever saw."
After the fall of Vicksburg, Fay was even more disillusioned with his companions and the cause of the Confederacy. He seemed to have little or no respect for any of the fellow soldiers in his unit, as his letters are littered with complaints about most of the men serving with the Rangers. As to the Confederate leadership he wrote the following to his wife on July 23, 1863: "I have submitted to military despotism as long as I intend to and when I am ready am coming for good. I want to get into service on that side (of the Mississippi) and if I do not, the Confederacy may go to the devil as for me. I will not support a government when my rights depend on the caprice of first this general, then that."
While still with the Rangers in December 1863, Fay was able to gain leave and visit his ailing father back home in Alabama. The visit did much to improve Fay's spirits and also seemed to improve the mental and physical condition of the elder Fay. In March 1864, while on leave at home in Minden, Fay's long years of effort finally paid off as General Edmund Kirby Smith requested Fay be transferred to the Engineer's Bureau of Kirby Smith's staff with the rank of sergeant. His new duties involved reconnoitering and surveying military roads, drawing maps and keeping records and he spent most of his time near home in the area of Camden, Arkansas and Shreveport. Later in 1864, he was promoted to Captain and assigned as assistant Quartermaster at Opelousas, where he had few duties and much time to socialize. With his new more enjoyable posts, Fay's attitude about the potential for success of the Confederacy changed. Before he saw little hope for a Confederate victory, but his later letters, even those written after the surrender of Robert E. Lee, talk of an ultimate victory for the South. After briefly considering taking his family to South America, Fay returned home to Minden in June 1865.
Following the war, Fay remained in Minden for a few years then moved to Mississippi, to become Principal of Fayette Academy. In 1872, he became President of Sillman College at Clinton, Louisiana. In 1879, he was elected Superintendent of Education for the State of Louisiana, and served in that capacity from 1880-1884. Later, he established a school in Baton Rouge called Elfinwood, until poor health forced him to retire. Edwin Hedge Fay died on December 27, 1898, at age 66. Sarah Shields Fay lived on until January 19, 1919. Their children all achieved great success. Edwin W. Fay was a distinguished Professor of Latin at the University of Texas for over twenty years. Lucy E. Fay Morgan was a Professor of English and Library Science who retired while on the faculty at Columbia University. Thornwell Fay became President of the Southern Pacific Railroad while Charles Spencer Fay, was a Vice-President of the same railroad company. All of these distinguished offspring were natives of Minden.
My column today has centered on the complaints offered by Edwin Fay in his letters. But the entire spectrum of emotions is covered in these messages to his beloved wife. Some of the most touching letters deal with the death in 1862 of their first child, Will Ed. The child was buried in the Minden Cemetery, and until the 1960s his gravestone was visible. In the years since the stone has either been covered or become dislodged and lost.
Nevertheless, some very poignant glimpses of Edwin Fay the family man are shown through these letters. They also give us a few insights into life here in Minden during the war years from Fay's questions about local events and his comments on things going on "back home." In all fairness, Editor Wiley commented that, "The unhappiness resulting from Fay's separation from his family and his inability to adjust himself to soldier life tended to warp his judgment and to make him hypercritical of people and events. It is assumed that the reader will make due allowance for this distortion." Perhaps I have failed to be forgiving enough in my reading of Fay's letters. However, I do encourage you to read This Infernal War and gain a glimpse into this Echo of Our Past.
Minden Historian John Agan's column appears Tuesdays in the Minden Press-Herald.Special to the Press-Herald.