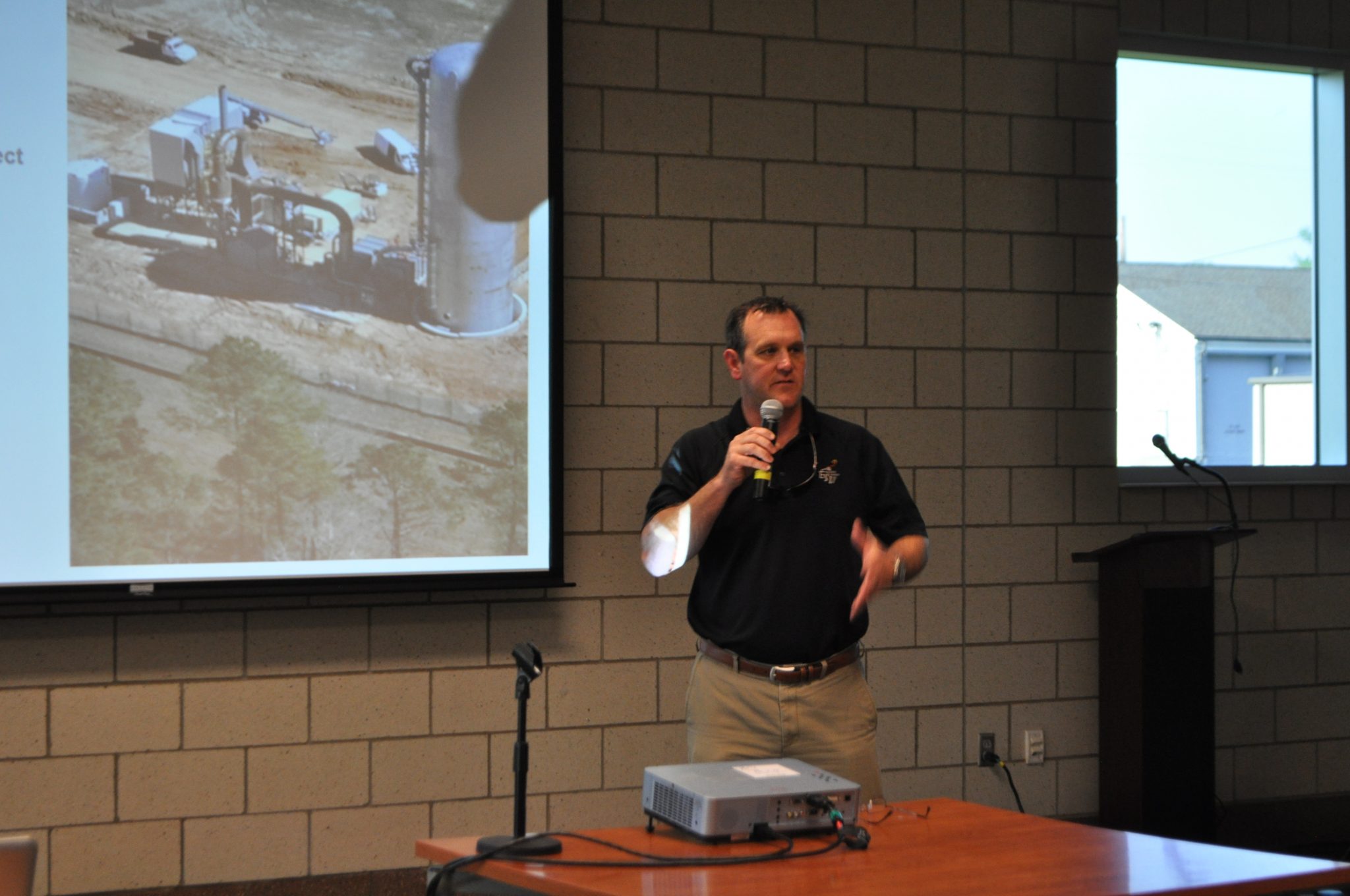 CAMP MINDEN — An interactive website is now up that will show real-time and analytical data in air monitoring at the four sites on and around Camp Minden.
During a workshop at Camp Minden Thursday, Dean Schellhase, project manager with Explosive Service International, says the website, www.esicampminden.com, will contain a dashboard – a brief daily look at emissions from the stack as well as the community air monitoring. It will also contain a progress report on how ESI is progressing with destruction of the material.
Paul Nony, senior toxicologist with the Center for Toxicology and Environmental Health, says they have been collecting samples as part of a background study to establish what's normal.
"The important thing is they aren't burning any M6 right now," he said. "This is just what's naturally in the air in this region. The key point is out of an abundance of caution and to protect the public health, we're looking at the chemicals that could possibly be emitted if something went wrong and looking for them in very, very low levels so that we can understand if there is a health concern for the community."
In their findings, Nony says, many of the toxins they are testing for have come in at extremely low levels, meaning they pose no risk to public
health. They tested for gaseous pollutants such as carbon monoxide, carbon dioxide, fine particulate matter and others, he said.
Schellhase says they are doing the final systemization of the contained burn system, which is 98 to 99 percent complete.
"The week of April 11, sometime that week, we're going to be doing our first live fire, and after that, we'll be doing our ramp up for 30 days," he said. "We'll start out at about 10 percent of our target propellant and work our way up incrementally, make sure it's safe and optimize the system."
He says the public will be made aware of the first live fire a few days ahead of time through the Louisiana Military Department.
After that will be the comprehensive performance test, he said. This test will last about seven days, where stack sampling will be collected under two conditions, one with the propellant and the other with the packaging.
He says following the performance test, operations will shut down for two weeks so the Environmental Protection Agency can make sure they are meeting the burn efficiency for the three components that make up M6.
Once the results are reviewed, he says full destruction, pending weather conditions, should begin at the end of May, or around the first week of June.