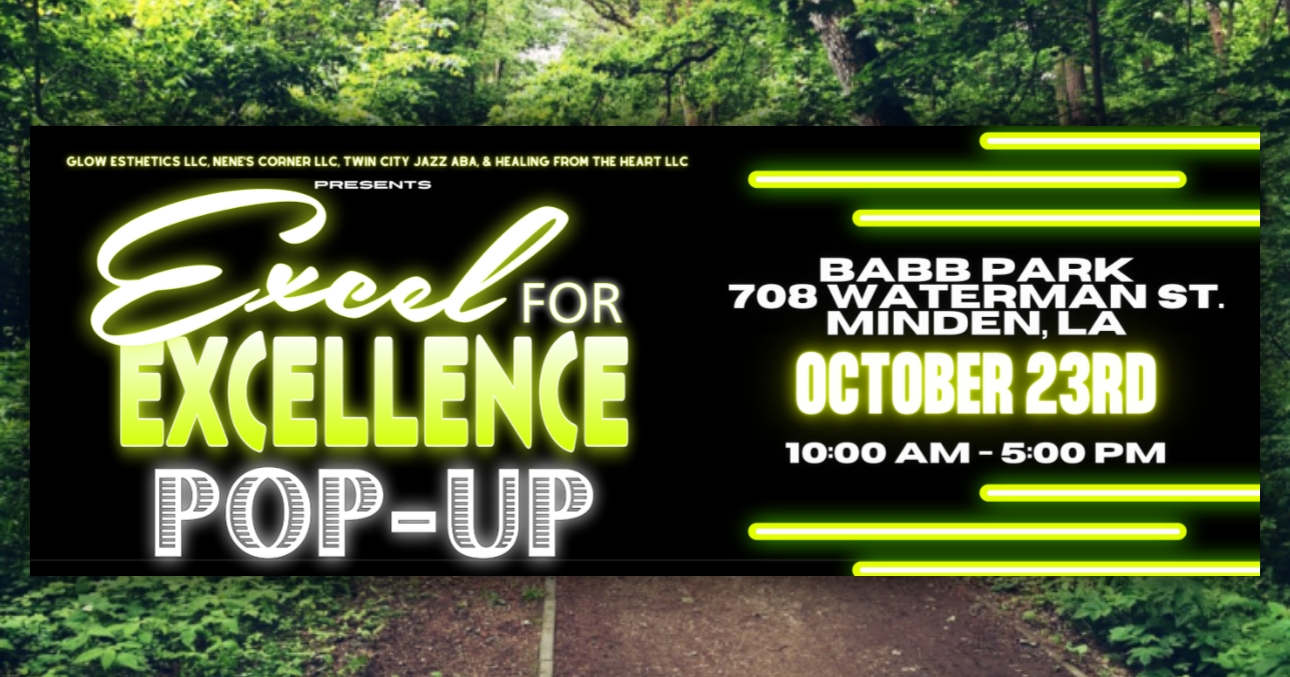 On October 23rd, Babbs Park will be lined with vendors taking part in a new event called the Excel for Excellence Pop Up.
"The event is a pop-up event that's open to the public, free admission, and family-friendly. Its main purpose is not only to bring safe fun to the city of Minden and the residents here (as well as others who come into town), but it will also provide business owners with the opportunity to network, as well as gain new clients/customers- and have fun," said Neisa Murray, owner of NeNe's Corner LLC.
Herself along with Tanesha Richardson, owner of Glow Esthetics LLC, Javelin Hardy owner of Healing from the Heart LLC, and Lajuana Logan, co-owner of Twin City Jazz, created this event not only to provide a fun outing for friends and families to enjoy but also to help the local business community to network with one another.
"Minden has so much potential, and as business owners, who do business here, we see the need for entertainment. Most of us reside here now, or have in the past," said Murray.
"As business owners and caring individuals, we've united and decided to come together as a team to make a difference one step at a time. We're all about growth, and elevating in the right direction."
Since first announcing the event, the Pop-Up has been able to attain 10 vendors and are looking to garner even more.
"Vendors are starting to pour in for the Excel for Excellence Pop-Up, and are so excited about the event! We're expecting over 30 vendors to participate- so far we have 9 vendors and a local DJ. We have 1 food vendor, and hope to gain even more," said Murray.
"Our goal is to empower and inspire others to take a chance that'll help Minden evolve into the town it needs to be. For our current and future events, we need the help from others to make it a success for the city, and to pave the way for a better tomorrow," said Murray.
Those interested in attaining a vending spot can feel free to reach out to the event organizers through their Facebook page, titled after the event.
"We are so thankful for the support from amazing individuals, and participation of our Vendors. We also want to thank Mahala Hutto, Director of Downtown Development and Minden Main Street, who has been a blessing to us by helping us gain the proper information to have successful events," said Murray.