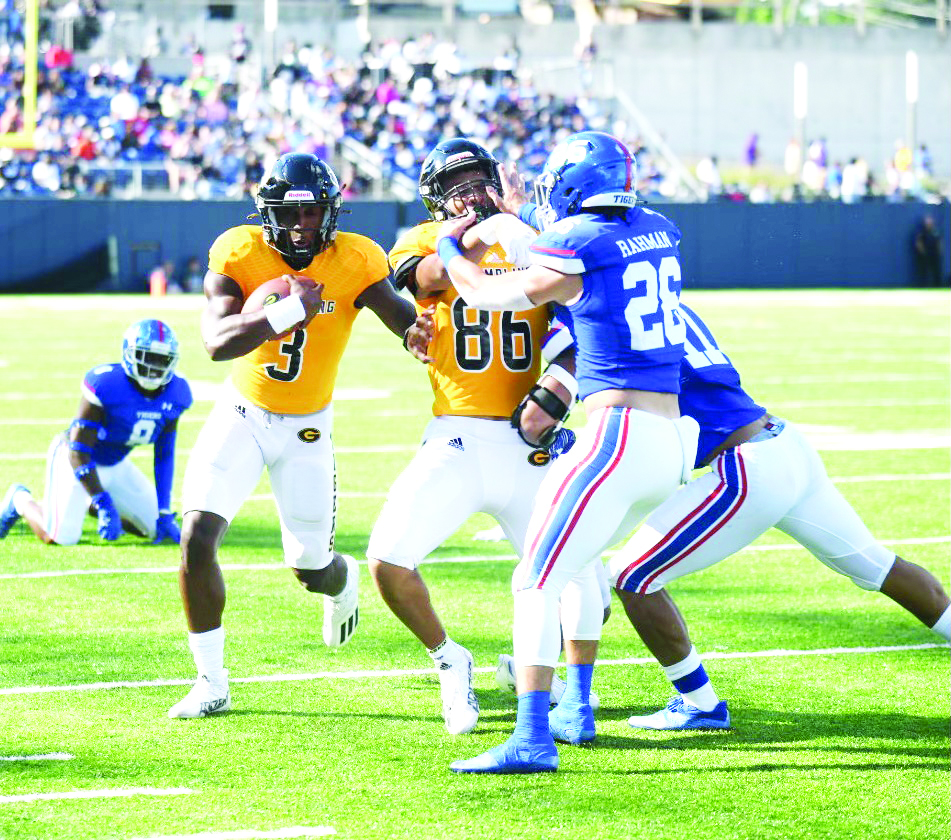 GRAMBLING — Grambling State looks to win a second straight game for the time since 2019 as the Tigers play at the University of Southern Mississippi at 6 p.m. Saturday.
The Tigers are coming off a 16-10 win over Tennessee State in the Black College Hall of Fame Game in Canton, Ohio, on Sunday while the Golden Eagles were stunned 31-7 at South Alabama on Saturday.
Grambling head coach Broderick Fobbs said that even though his Tigers have plenty to get better at, it was good to walk away from the season opener with a game in the win column.
"The good thing about what happened is that we got the opportunity to play football in the fall with our entire football team," Fobbs said. "Even though we were able to come away with a win it was an ugly victory. Not a lot of people (think) about this, but we hadn't won a game since November of 2019. That had a lot to do with the pandemic and being away from the game for two years, but also we had what happened to us in the spring (going 0-4 and having two other games cancelled due to COVID-19 protocols). So it was exciting to take a group of young men and get them all on the same page.
"Our coaching staff did a really good job disciplining our players and organizing our team. I thought the difference in the game was our organization, our discipline and the lack of mistakes on our part. Now we didn't throw the ball well, we didn't pitch and catch well. But it is a start. Of course we're going to have to play better if we're planning to win the league and playing to do what we want to accomplish, but it is a start and it is good to be able to correct our players and our situations from winning a football game."
Quarterback Elijah Walker, the game's offensive MVP, connected on only 4-of-11 passes against Tennessee State for 43 yards with one interception and one touchdown, but made up for it by leading Grambling's ground game with 77 yards on 17 carries.
"I thought he really did a good job with his legs," Fobbs said of Walker. "I thought there were a few times where there was an opportunity to make throws and he elected to run anyway. We've got to make sure we give him confidence in the passing game. We have playmakers out there who can make plays. We've got to get the ball to them."
Garrett Urban played a big role in Grambling's season-opening win against as the Houston native punted the ball six times for 246 yards, averaging 41.0 yards per punt, with a long of 51 yards. Urban also kicked a 24-yard field goal with 9:48 remaining in regulation to give GSU the 16-10 advantage and was named the Southwestern Athletic Conference Special Teams Player of the Week for those efforts.
"It's the first true game in more than a year," Fobbs said. "It was Elijah's real first start, so of course there's going to be some growing pains. I like the fact we only had four penalties. … That was a really clean game played by us. We just have to play better in the passing game. I think Tennessee State's staff did a good job of taking the air out of the ball. That limited opportunities for us, and when you do that, it's hard to score a lot of points. But we fought through it against a really good team out there."
Fobbs knows his. Tigers will be in for a challenge against an angry group of Golden Eagles looking for their first win in 2021.
"I know (USM head coach Will) Hall really well, he was the offensive coordinator at Tulane when my brother was there," Fobbs said. "He was my brother's boss at Tulane so I know Coach Hall really well. I coached against him before when I was at McNeese State University. He's a really good offensive mind and knows what he wants to do. It's going to be a challenge, so we've got to go in there and play Grambling Tiger football, play free and just play the game the right way."