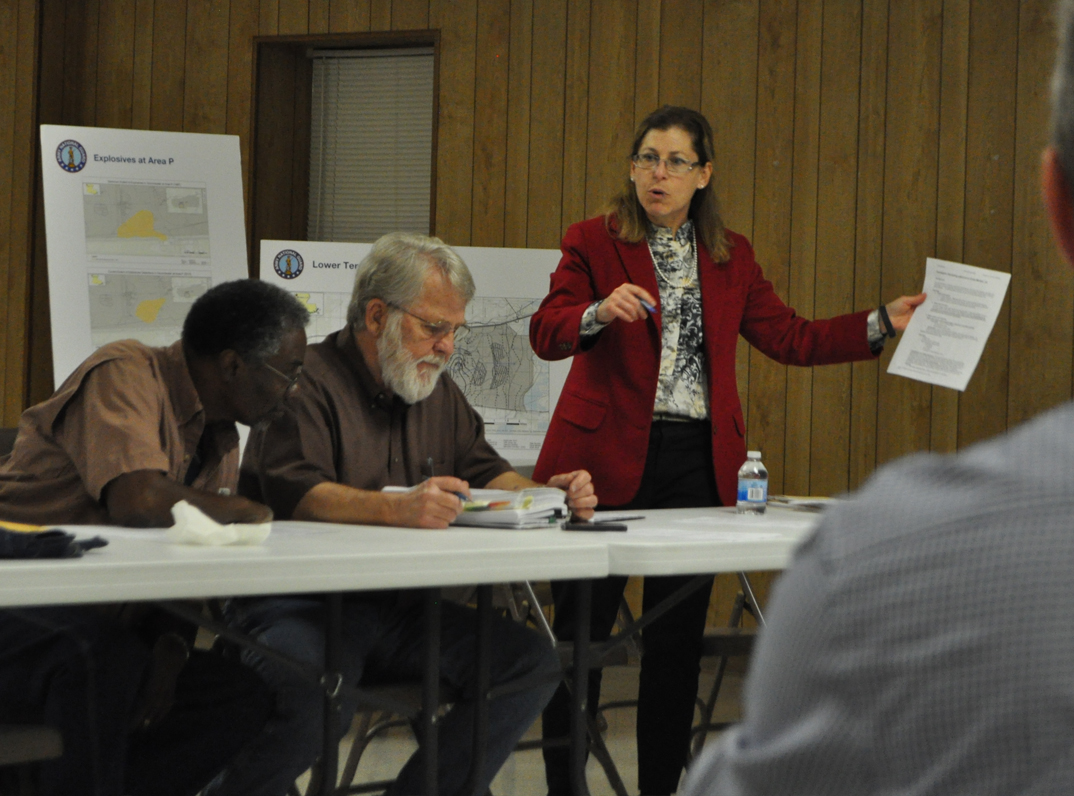 DOYLINE – Experts were on hand at a Citizens Advisory Group meeting Tuesday to answer questions regarding groundwater and surface water sampling and monitoring surrounding Camp Minden.
CAG members had questions regarding private and public drinking water wells as well as surface water in and around Camp Minden. Dr. Bonnie Packer, project manager for the Army National Guard, presented a proposed sampling and testing outline of those wells outside of Camp Minden.
"We decided based on what we heard from the community that we would be responsive and come up with a plan to revalidate what's already been done," she said. "Most of the work that we are proposing was done in the 80s and 90s and the 2000s. We're proposing to go back out and do some revalidation sampling."
She gave an outline of what that would entail, saying the water supply sampling will involve a maximum number of wells totaling 22, both public and private. The public wells will include Doyline and Camp Minden supply wells. The private wells will be up to a certain number of wells, depending on the public/private split that's decided by the community.
Packer made it clear that no home entry is allowed, and that any samples taken from a home will either come from a spigot outside or a wellhead, ensuring the sample is coming directly from the supply well.
John Meyer, associate director of Superfund Remediation with the Environmental Protection Agency Region 6, says they are not allowed to enter someone's home for a host of legal reasons. However, Packer says they do not take samples from inside the home because of possible filtration systems and that it would not give an accurate sample.
The chemicals they will be testing for include explosives, volatile organic compounds as well as emerging contaminants including perchlorate, 1-4 dioxane, picric acid and 2-amino-4, 6-dinitrobenzoic acid.
The question was asked during discussion about why they would need to test wells on Camp Minden and whether their wells underwent testing as stringent as the City of Minden, for example.
Col. Ron Stuckey, Camp Minden installation commander, says their wells are tested exactly like that of any municipality. Packer says they are testing the wells at Camp Minden because annual testing and reporting does not include the aforementioned chemicals they are testing for.
Packer will also be testing surface water from Boone Creek and Caney Creek where at each location two 24-hour composite samples will be collected during a single event. She clarified, saying two samples from each creek – a total of four samples – equal one event, ideally from a low-flow condition. A low-flow condition occurs during the drier months where the sample collected will be more accurate.
Discussion also centered on laboratories and where the samples will be sent. Packer says they will use their laboratory as well as one from the community's choosing. A list of three laboratories will be chosen by the community and the National Guard will choose the one with the lowest bid. This is to insure the public gets the most accurate results and are not solely relying on the leading agency's results.
Also on hand to answer any questions were EPA Project Manager Bart Canellas, environmental scientist Mike Miller, from the Louisiana Department of Environmental Quality, and Senior Technical Analyst Terrie Boguski of SKEO Solutions.
Contained Burn Unit Update
Col. Ron Stuckey, installation commander of Camp Minden, gave an update on the progress of the construction and installation of the contained burn unit that will destroy nearly 16 million pounds of M6 propellant. He says 75 percent of the site construction is complete, with 85 percent of all 25 components having been delivered. The remaining 15 percent is expected to be delivered next week, he said. Installation of the contained burn unit began last week and will continue until it is complete.