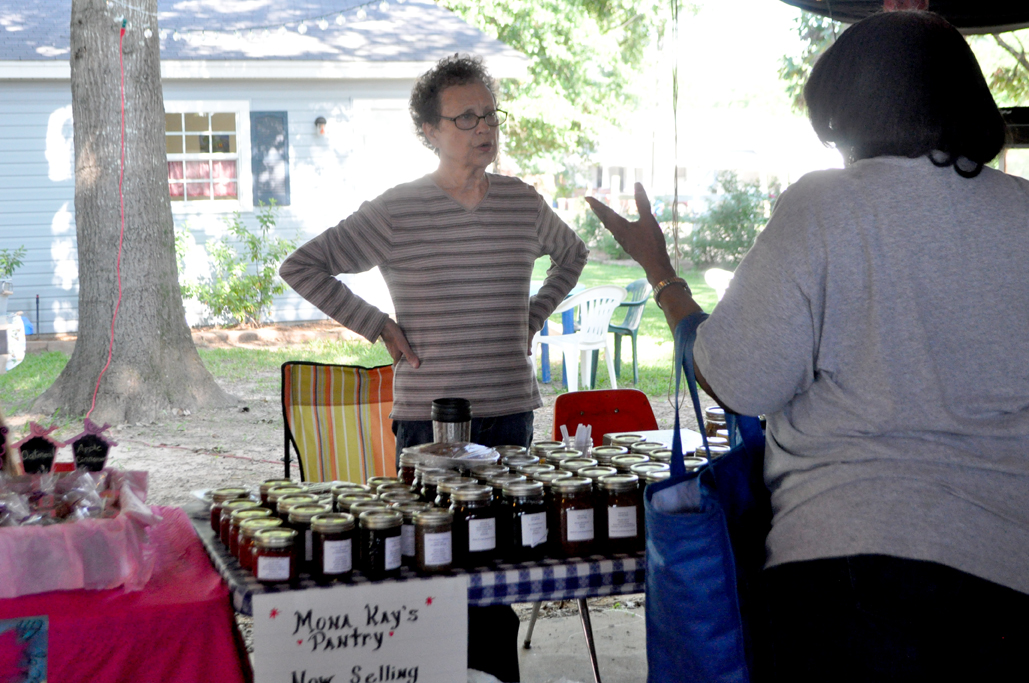 This year's Farmer's Market began on a high note and can be written in the history books as one of the biggest openers since its inception.
With several vendors selling out of hot ticket items such as corn, tomatoes and peas, others were selling homemade items that were as artistic as they were creative.
Melinda West, a 20-year veteran of the Louisiana National Guard, says this is her third year to participate in the Farmer's Market. She is selling several items handmade from reclaimed fabric.
"I very seldom buy fabric," she said. "Most of my stuff is made from fabric that somebody was getting rid of. I'm a veteran and this is therapy for me."
Some of the items hanging up in her booth included an apron made from old table linens, a man's apron made from military fatigues, and "every woman needs a fox stole," she said.
Young entrepreneurs, such as Ben Branch, 15, was there selling farm fresh eggs and all the money he makes goes back into raising his chickens and taking care of them. He also takes care of the chickens on The Farm on the weekends.
"I was in Ruston about four years ago with my grandfather and we went to Tractor Supply to go look at the chickens," he said. "So we ended up buying six. That really started all this – then I had eggs. I had so many and I had to start getting rid of them."
He says he called Cultural Crossroads co-founder Chris Broussard and she set him up with the Farmer's Market, and as they say, the rest is history.
His mother, Kim Branch, says she's very proud of her son.
"He raises the chickens, collects the eggs and then sells them," she said. "He knows all about the chickens, what breed and he does all of it. He does all that by himself. I'm very proud of him. To me, it's amazing, because I didn't do stuff like this when I was little. I don't know where it comes from, honestly. He's a grown up in a kid's body."
An intern at Mahaffey Farms in Haughton talked about what it's like to learn farming, and what it means to farm organically.
"It's very rewarding, but for anybody going into it you have to count the costs," David Goppelt, 19, said. "It's a lot of hard work and it takes a lot of patience to get anywhere in it. But it's very rewarding and it's a great atmosphere and a great way of life."
He's interned for the Mahaffey's for about four months and does a lot of work for them, from raising vegetables to working with farm animals "in a very sustainable and natural way."
"I've had to learn a lot of patience with myself and I've had to learn how to relax," he said. "Generally, I'm a very tense person, so I've had to learn how to listen and communicate more."
Other vendors showcased and sold jellies, jams, an array of vegetables and cracklins. Some of the younger entrepreneurs were selling handmade greeting cards, while other vendors were selling handmade flip flops, hair bows and bracelets. Also on tap was handmade jewelry.
Tina McKissack, Farmer's Market chair, says there's still time to sign up for booth space for anyone who wishes to sell their handmade, homespun and homegrown items. Booth space is $30. Booth space for school students and senior citizens is $10.
"The turnout opening day this year is better," she said. "We've had visitors walking up to us asking about booth space."
For more information or to secure a booth space, call executive director Dani Deshotel at 318-268-2122 or McKissack at 318-268-4555. The Farmer's Market will be open from 8 a.m. until 1 p.m. each Saturday until July 25.