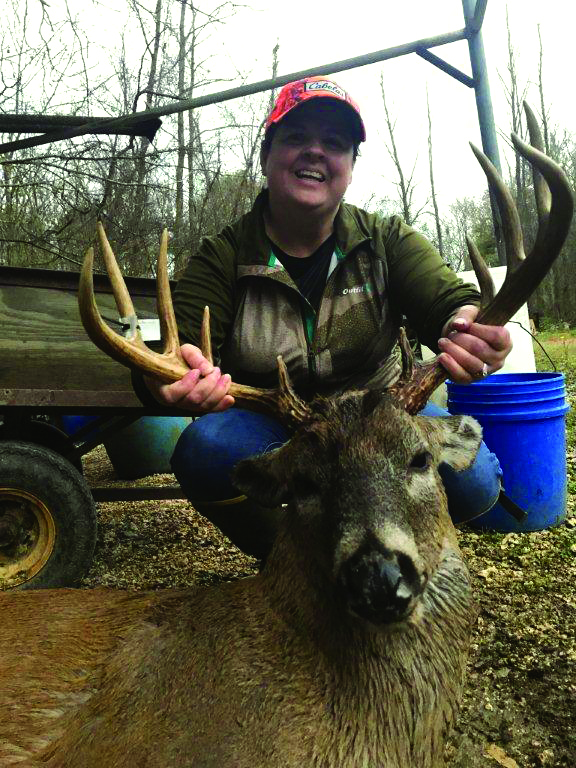 By Glynn Harris
"Swamp People" in its ninth season on the History Channel, has made the name "Troy Landry" a household word. Landry displays his skills and expertise in catching big alligators. Landry's home is in Pierre Part, a village of some 3200 in Assumption Parish.
There is another resident of the hamlet of Pierre Part that could be giving Landry a run for his money regarding popularity. Helene Blanchard is a housewife who works in the accounting office at a local auto dealership. On New Years Day, she put her scope on the first deer she ever shot at. Her aim was true and she was soon standing over a big 10 point buck she dropped in its tracks at 250 yards.
"My husband and I are members of St. Louis hunting club in Iberville parish. It's a big club divided into five camps and we hunt out of one of the camps consisting of some 3300 acres," said Blanchard.
On January 1, Blanchard's husband, Lennis, hunted the club while she stayed home preparing a New Year's day meal for the family. After lunch, she and her husband headed to the club for an afternoon hunt.
"I wanted my husband to be in the stand with me to make sure I didn't mess up. Our club is in DMAP and we are given doe tags. The club also has a rule that any buck you shoot has to have at least three points on one side. My goal that afternoon was to fill my doe tag if I could," she continued.
As they settled in the stand around 1:30 that afternoon, it was a three-hour waitbefore they saw anything.
"Along about 4:15, a deer crossed an opening 250 yards away and before I could get my rifle up, it had disappeared into some weeds and I couldn't get my scope on it quick enough. My husband and I were sure it was a big doe but I had no chance at it because it was moving too fast. While trying to find where the doe went, another deer appeared and I told my husband there was another one. I looked through my scope and saw antlers and told him there were at least three points on the side I was looking at. He told me if I was sure to go ahead and shoot. I did and the deer fell right on the spot. I was pleased because this was the first deer I had ever shot at and in my mind, I had killed a 6 point," said Blanchard.
There was standing water between the box stand where the couple sat and the downed buck. Her husband had hip waders on so he got down and waded water to get to where the deer lay. As he got closer to the buck, he called his wife and said it was no 6 point; he could see more than that.
"When he got there, he started counting points and told me I had killed a big10 point buck. I couldn't believe it, the first deer I ever shot at and it's a 10 point buck," she exclaimed.
Going back to the truck to get his 4-wheeler, Lennis picked up his wife and they motored to where the deer lay, loaded it up and took it to camp.
The buck was a symmetrical 10 point with an 18 inch inside spread, heavy mass throughout that tipped the scales at 196 pounds. The 6 ½ year old buck was green scored at 152 2/8 inches of antler mass.
"I can't think of a better way to start the New Year off," said Blanchard, "than to get a 10 point buck the first time I ever shot at a deer."
Move over Troy Landry. Pierre Part now has another celebrity. She may not be able to "choot" a big gator but she proved she can "choot" a big buck.