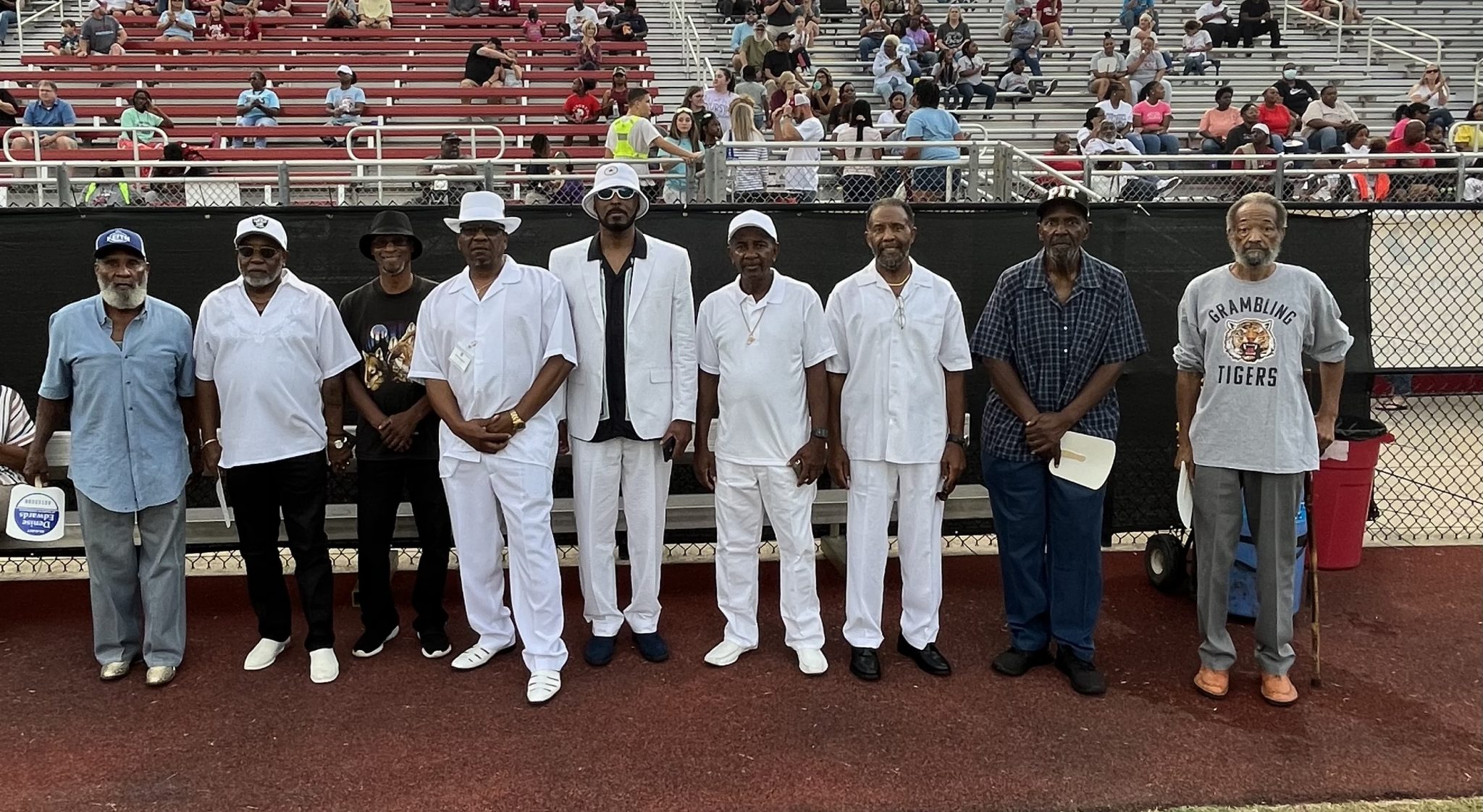 Thirteen Webster High alumni were honored for their outstanding legacy left in Webster Parish before Friday night's game between Minden and North Webster at W.W. Williams Stadium, The Pit.
These men were the former greats honored.
Johnny "Sporty" Moore — A 1971 Webster High Graduate, Moore was a defensive back on the 1969 Webster High District AAA Louisiana Interscholastic Athletic and Literary Organization championship team which lost to Carroll in the quarterfinals of the playoffs.
Gary Spencer — A defensive back on the 1972 Webster Wolves team, Spencer is a veteran of the United States Army.
Benny Frank "Big Ben" McKinsey — A member of the Webster class of 1973, McKinsey was an offensive tackle weighing 240 pounds. He was the heart and soul of the Wolf offensive line which defeated highly-ranked Carroll in 1972. He is a father of ten children and a Kansas City Southern Railroad retiree.
Charles "Butch" Flournoy — A 1969 Webster graduate who played outside linebacker, Flournoy, along with  Ronald Winston and Billy "Wolf " Amos, comprised one of the most feared linebacking corps in the Louisiana Interscholastic Athletic and Literary Organization which led the  Wolves to the District 1-AAA  playoffs.
Flashie T. White — A 1971 graduate of Webster, White was a 135-pound tailback with blazing speed. After his Webster playing days, he was drafted into the United States Army and served in Vietnam. He is retired and the father of four children.
Milton Matthews — A 1973 Graduate of Webster, Matthews played split end and wore No. 87 at Webster his senior year. Matthews graduated from Grambling State in 1978. He is retired from the Ector Independent School District in Odessa, Texas, where he worked as a Business and Applied Technology Teacher.
Remington Sterling — A 1973 Webster graduate, the 6-foot-4 Sterling was a stellar all-around athlete. He played quarterback, defensive  back and outside linebacker. He was a sprinter and triple jumper for the  Wolves 1972 1-AAA state championship track team. Sterling was a highly-prized recruit and played at Grambling State for legendary Coach Eddie Robinson. Remington graduated from Grambling in 1976 after playing on two Black National Championship teams.
Raymond E. Gipson — Gibson's sports adventure began at  Webster High in September of 1969.  He later transferred to Minden High where he played basketball and was a wide receiver for  the Crimson  Tide. After graduating from Minden, Gipson attended Louisiana Tech. He joined the U.S. Army  and served in artillery in fire direction control. There, he worked on computing nuclear and non-nuclear data along with being a member of joint duty assignment aboard the USCINCEUR Airborne Command Post monitoring nuclear submarines. Gibson deployed and served in Desert Storm as platoon Sergeant and 1st line supervisor.
Wallace "Get in your ready position" White — A 1974 graduate of Webster, White anchored the1972 and 1973 defensive lines. He played in the only football contest between Minden High and Webster. White is a military veteran and a public sector transportation retiree.
Gregory "SOP" Jackson — A 1974 graduate of Webster, Jackson was the last middle linebacker to patrol the Wolves defense. After graduation, he was awarded a football scholarship to Johnson C. Smith University. He is a proud member of Alpha Psi Omega fraternity.
Ronald Anderson — Anderson played wingback on the last Webster team in 1973. He later transferred to Minden High. Anderson is the CEO of Project Reclaim. Project Reclaim is a leadership academy that targets elementary, middle, junior and high school youth based in Minden.
James Walker Jr. — A 1974 graduate of Webster, Walker played quarterback and was one of the last field generals to direct the offense. Walker is a U.S. military veteran and a part of the only meeting between Webster and Minden High.
Curtis L. Johnson "Mr. C" — A 1973 graduate of Webster, Johnson played offensive right guard. Upon graduation, Johnson entered the U.S.Army where he served his country for four years. After an honorable discharge, he played for Northwestern State. After graduation, Johnson began his employment with the U.S. government, working with the Department of Veterans Affairs for over 40 years. As a Veteran declared 100 percent disabled, Johnson understands the challenges fellow veterans face and remains dedicated to helping them meet their needs and achieve their personal goals.