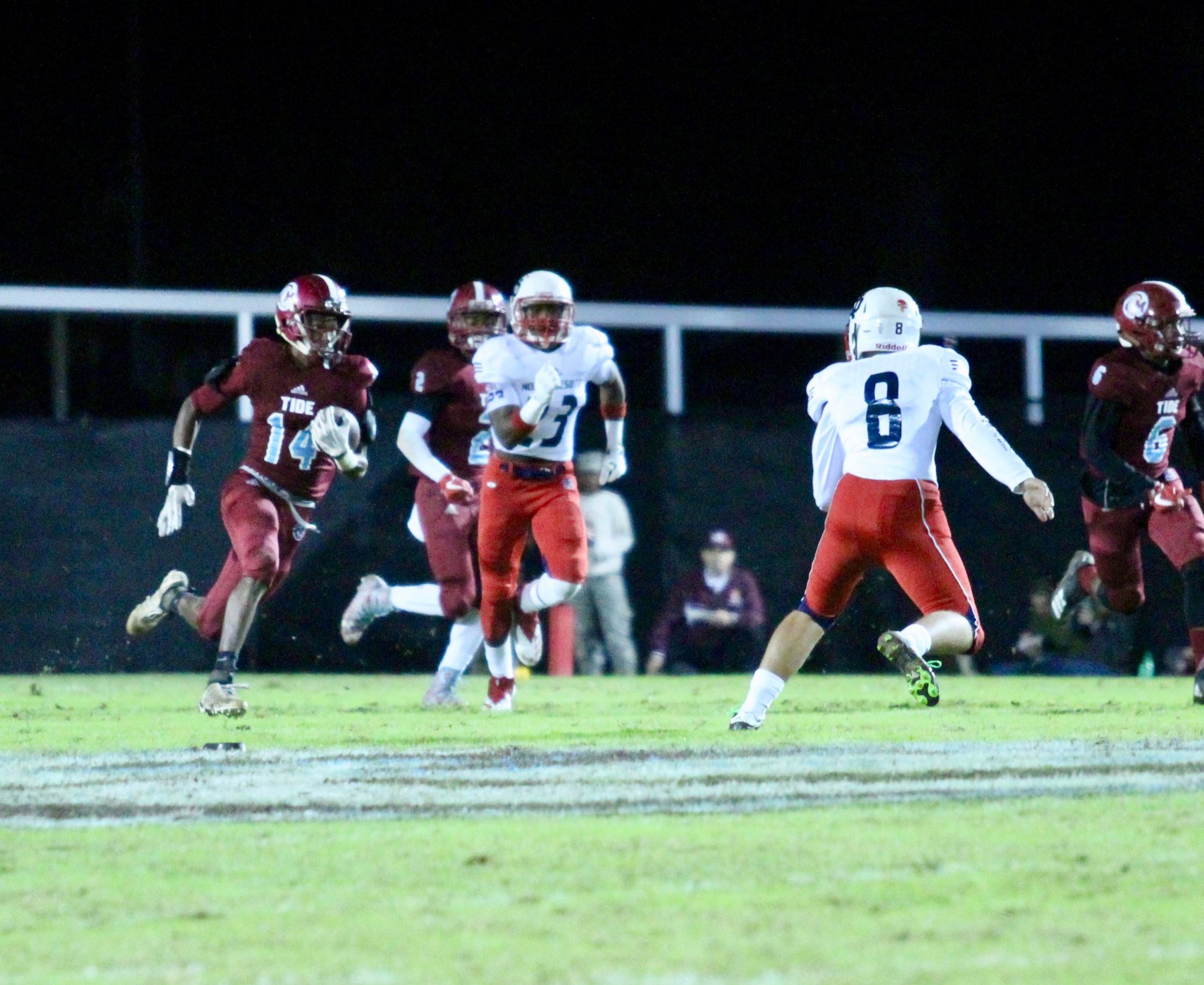 North DeSoto 35, Minden 28
Minden's game with North DeSoto was a microcosm of their season: the Tide came back from behind, overcame obstacles and rallied together around their defense and playmakers only to fall short in overtime.
Minden fell behind 28-14 in the second half after North DeSoto stud running back Rykendrick Simpson ran for a 35-yard touchdown to put the Griffins up 14.
The Tide stormed back. Quarterback Trent McLaughlin found Jacareon Lathan for a 17-yard touchdown pass that brought Minden back in the game.
Both teams traded field position before the Tide finally got the ball back with two minutes left in regulation. McLaughlin started looking for Seth Johnson and found him on a slant route with 1:40 left in the game for a 30-yard gain.
With one minute left, McLaughlin looked deep in the end zone for Johnson. The ball hung in the air for what seemed like an eternity before Johnson grabbed the ball over his shoulder in the end zone, mimicking Hank Aaron's historic blindfolded catch, that tied the game and sent it to overtime.
Simpson scored on the first play of overtime on a ten-yard rushing touchdown to give the Griffins the lead. As a fight broke out in the stands between Minden and North DeSoto fans, McLaughlin was intercepted and the game was over.
North DeSoto improves to 8-2 this season.
Mansfield 38, Lakeside 12
Lakeside hasn't had much trouble scoring the ball this season, but they couldn't find a way around Mansfield's tough defense on Friday night.
The Warriors went scoreless for the entire first half, the first time that has happened this season.
Mansfield went up 22-0 before halftime. With Lakeside's potent offense, that hardly meant the game was over. Jordan Preuett found Travion Sanders after a quality drive for a 15-yard touchdown pass to bring the score to 22-6.
Jacquez Lott ran for a one-yard touchdown two possessions later that brought the score to 22-12 with a few minutes left in the third quarter.
Mansfield held off the Warriors for the rest of the game en route to victory.
North Webster 32, Loyola 23
North Webster are district champions following an impressive road victory over Loyola.
More information on the games will be posted this weekend.