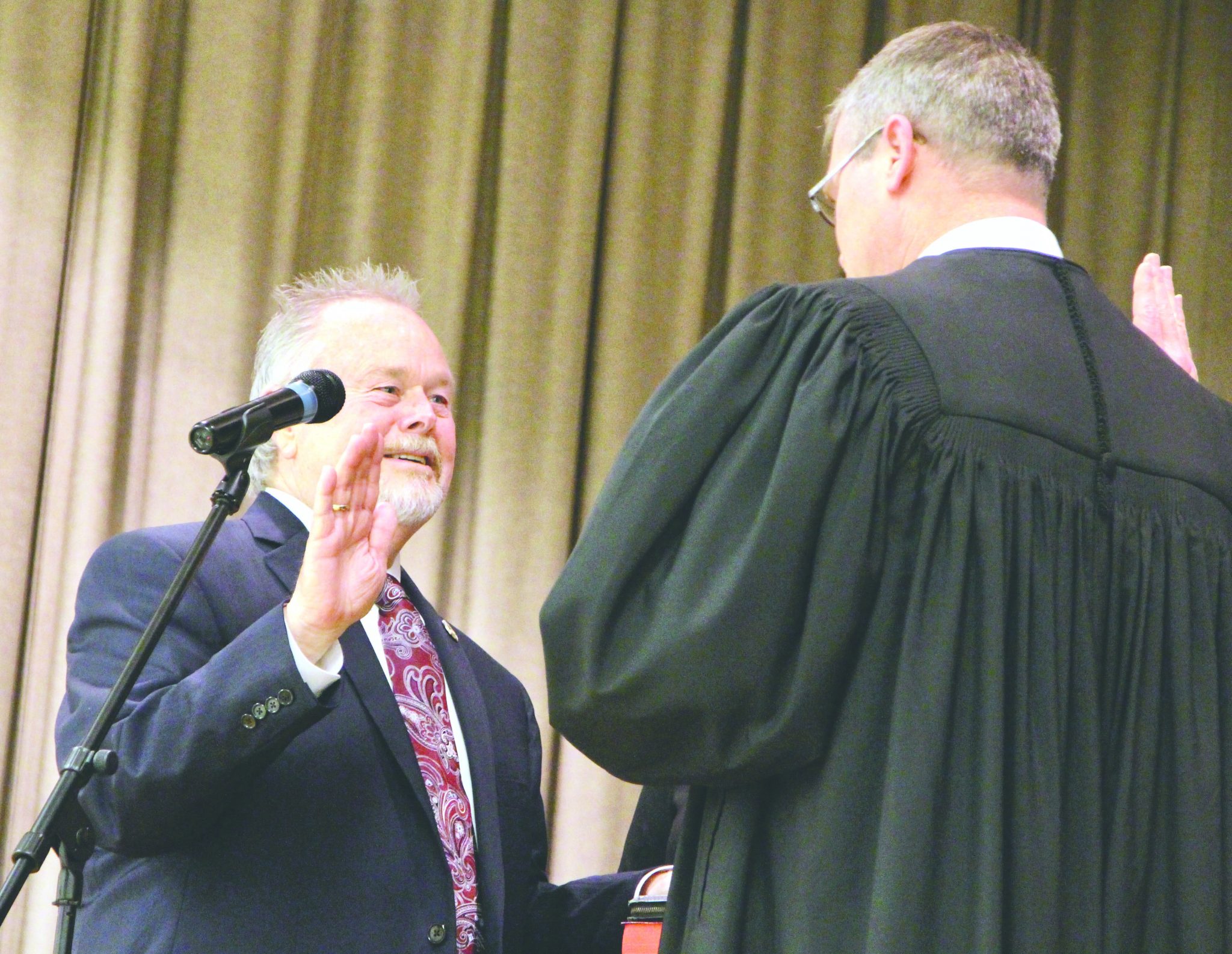 New Mayor, Council sworn in at Thursday ceremony
The Swearing-In Ceremony for Mayor, City Council, and Chief of Police was held Thursday at the Civic Center with an open invitation to the community and a reception following the ceremony.
The event was emceed by George French and Larry Gipson.
Each elected official gave a short speech after being sworn in by Judge Sherb Sentell. Terry Gardner was sworn in as the fifty-sixth mayor of Minden first.
"We will bring our community together as one," Gardner said.
Gardner thanked the citizens of Minden for the opportunity to serve as mayor.
"Now let's the make the most of the opportunity to make our vision in Minden come to life," Gardner said.
Gardner also acknowledged those who helped him with his campaign and his family members. He became teary remembering his late brother.
"If it wasn't for him I wouldn't be here because he loaned me the $500 to get me here," Gardner remembered.
Gardner spoke of his time campaigning and what he learned from talking with people throughout the city.
"I learned a great deal from people by walking and campaigning through our city," Gardner said, "I learned that they have great pride in our neighborhoods and concerns about our future. One common theme I heard was that they wanted a change and they wanted new leadership," Gardner explained.
"You wanted someone that could offer new vision, a different direction for Minden. We will pursue new families, we will pursue new businesses to locate here in our city. I've heard you and I've heard your comments and that will guide my decisions as your mayor." Gardner said.
Chief of Police Steve Cropper expressed gratefulness for his position and for his wife's support.
"I'm very humbled and proud to have the opportunity to serve four more years as your Chief of Police. It's something that I love doing. I love getting up everyday and going to work." Cropper said
The City Council followed with Herbert Taylor III leading the way.
"Thank you for electing me as your City Councilman and I plan to represent you well," Taylor said.
Terrika Williams-Walker took her oath with her husband holding her Bible as some others did.
"I'm looking forward to working with all the Council members, our new Mayor, and the Chief of Police to continue to make Minden the great city that it is," Williams said.
District C's Vincen Bradford was sworn in for his second term in the City Council.
"I'd just like to thank the city of Minden for giving me the opportunity, thank you very much," Bradford said.
Keith Beard asked his family to stand with him as he was sworn in.
"I am humbled and honored to be representing District D," Beard said.
The final official to be sworn in was Pam Bloxom. She was accompanied by her brother-in-law, Don Bloxom.
"I want to affirm to you that I am going to do everything in my power to unite this city. We are going to work as a team, we are going to be one and we are going to celebrate everyone's achievements and victories together," Bloxom said.
At the closing of the event, Reverend Jeff Ramsey led the four pastors who prayed at the event in laying their hands on Gardner and praying for him in his new position of leadership.
The individuals who took the oath will take office January 1, 2019.