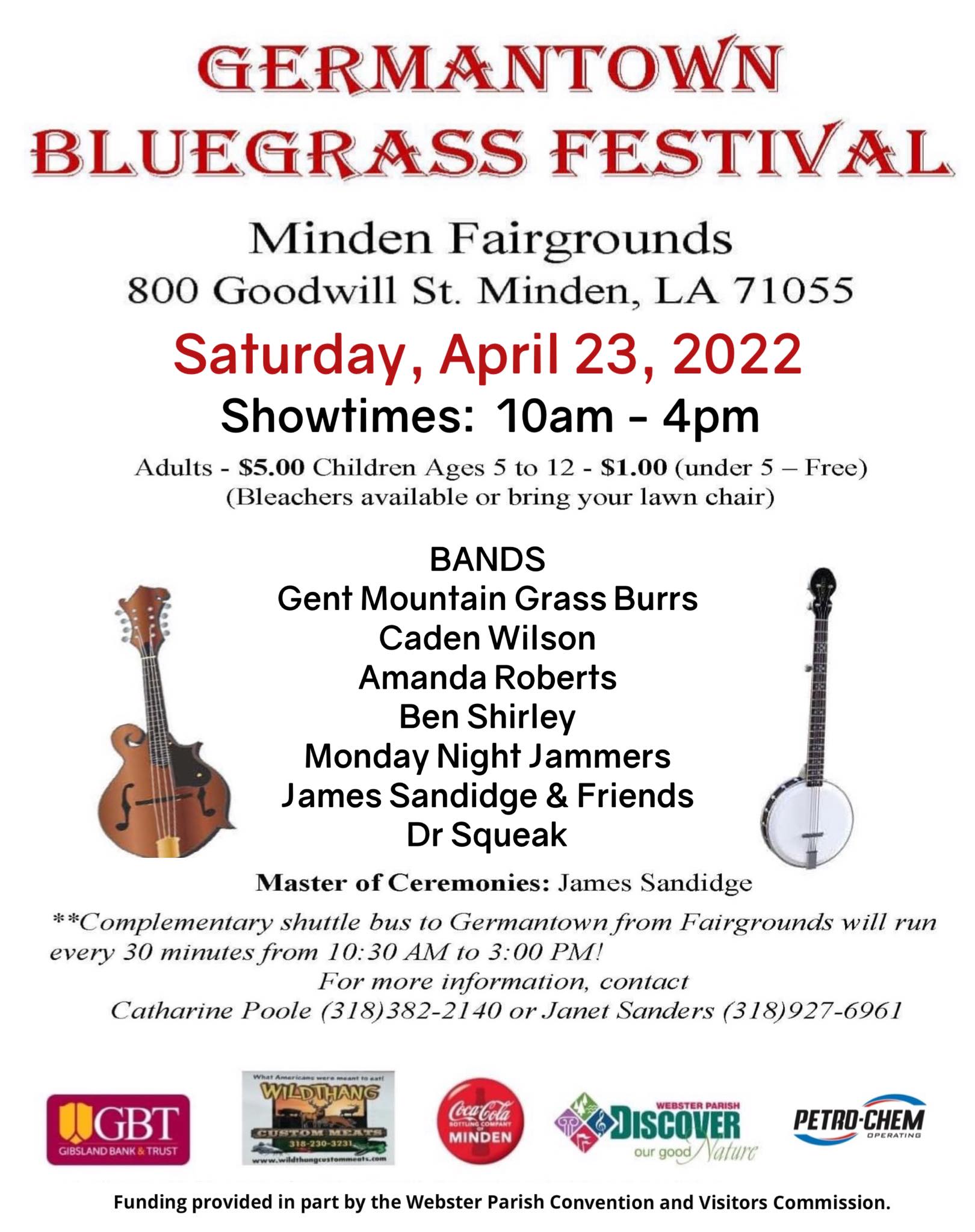 The Germantown Bluegrass Festival will be held this Saturday, April 23. The event, which is sponsored by the Friends of the Germantown Colony Museum, will take place at the Minden Fairgrounds, located at 800 Goodwill Street, from 10 a.m. until 4 p.m.
Bluegrass music, which is played on acoustic — usually stringed — instruments, is known for its distinctive timing surges and energizing effects. "Bluegrass combines elements of old-time mountain music, square dance fiddling, blues, gospel, jazz, and popular music," according to the Library of Congress.
There will be a great lineup of performers for this festival including Gent Mountain Grass Burrs, Caden Wilson, Amanda Roberts, Ben Shirley, the Monday Night Jammers, James Sandidge & Friends, and Dr. Squeak, with James Sandidge acting as the Master of Ceremonies.
Because seating is very limited, lawn chairs are highly recommended. There will also be food and other vendors, so be sure to bring cash to buy yourself a t-shirt and something to eat.
And if you, like many locals, have never actually been to the Germantown Colony Museum then you should take advantage of this opportunity and take the complimentary shuttle to the museum for a tour. The shuttle will be running every 30 minutes from 10:30 a.m. until 3:00 p.m.
The event provides hours of entertainment at budget prices. For adults, the charge is only $5; admission for children 5-12 is only $1, and children under 5 get in free, so come enjoy the music, food, and fun this Saturday.