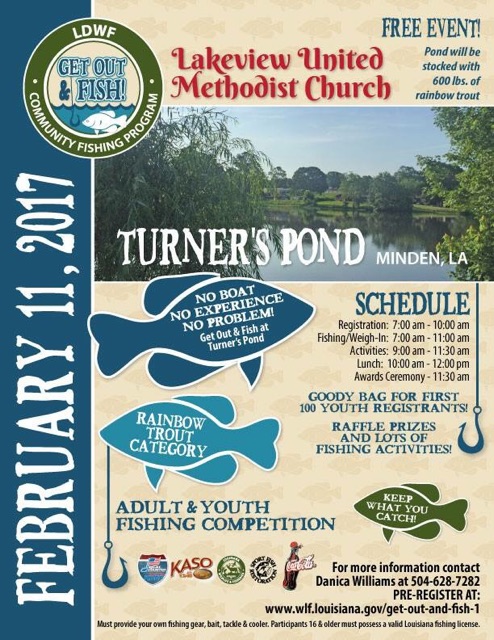 Winter weather means cold water, and that means the Louisiana Department of Wildlife and Fisheries is busy stocking ponds with rainbow trout for anglers to enjoy.
Six hundred pounds of adult-sized rainbow trout, donated by Greer's Fish Hatchery, will be stocked in Turner's Pond in Minden just in time for the next Get Out and Fish! event. LDWF and Lakeview United Methodist Church have partnered to host the community fishing event from 7 a.m. until noon, Saturday, Feb. 11.
The event's main attraction is a fishing competition, with entry levels for all ages, so the entire family is encouraged to participate. Competition categories include "heaviest rainbow trout" and "heaviest other fish." Age divisions include Little Angler (ages 8 and under), Junior Angler (ages 9-15) and Adult Angler (ages 16 and older). Additional activities will also be available including a mobile touch tank, casting inflatable, and more.
The event is free, and the first 100 pre-registered youth participants will receive a free goodie bag. Pre-registration is available online at www.wlf.la.gov/get-out-and-fish-1. Every participant will also be entered into a raffle for various prizes. Anglers should bring their own gear, bait and tackle, and an ice chest to keep the fish. Youths do not need a license to fish in Louisiana, but anglers 16 and older must have a valid LDWF fishing license available for purchase.
Youth anglers with an appetite will be treated to chili pies, compliments of Lakeview United Methodist Church, with an option to purchase for adult anglers.
The Get Out and Fish! Program seeks to increase the number of people with access to quality fishing. The program intends to recruit new anglers to the sport of fishing and promote outdoor activities for future generations.
Coca-Cola Bottling Co. of Minden and radio stations KBEF 104.5 Real Country and KASO 1240 AM Classic Hits are sponsoring the event.
The event is hosted in conjunction with the Louisiana Wildlife and Fisheries Foundation. The LWFF was formed to provide a means for individuals and corporations to become partners with the Department and Commission in the challenge of conserving Louisiana's wildlife and fish resources.
For more information on the Get out and Fish! Program, contact Danica Williams at dwilliams@wlf.la.gov or (504) 628-7282.