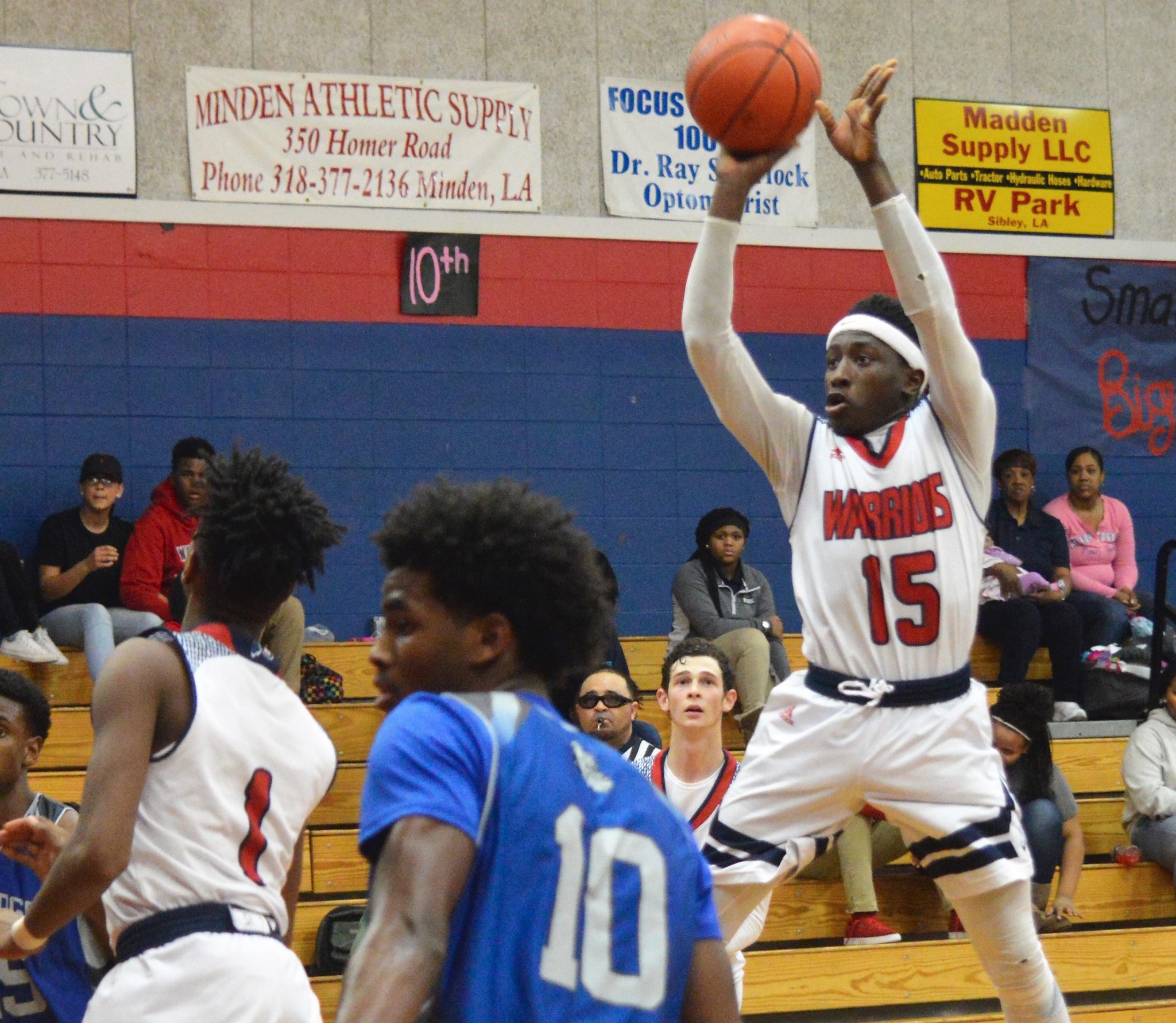 Make it 15 straight wins for the Minden Lady Tiders.
Minden (21-2, 4-0) survived a 53-50 battle with the Bossier Lady Bearkats Friday at The Palace to keep their unblemished district record in tact and extend the longest winning-streak of head coach Jacob Brown's tenure to 15 games.
Minden had four players in double figures offensively, but early shooting woes looked like a bad omen for the Lady Tiders.
"It seemed like nothing would fall for us early on," Brown said. "And it seemed to continue that way throughout the game. When shots aren't falling, you have to find other ways to win and tonight we did that."
Minden's defense helped them to a 14-9 lead during a first quarter resembling a track meet. The Lady Tiders started the second quarter on a 6-2 run, extending their lead to 20-11.
Bossier would respond immediately with a 12-0 run of their own that put the Lady Bearkats in front 23-20 late in the second quarter. Brown called a timeout to set-up a play for Derrica Gilbert, who finished through a foul at the rim and made good on the and-1 opportunity to tie the game at 23-23 as the two teams went to the locker room for halftime.
Minden trailed 35-32 to start the fourth quarter, but Bre Rodgers tied the game with a 3-pointer on the Lady Tiders' first possession of the quarter. That set off a back-and-fourth of buckets. With just over two minutes to play, Minden led 49-45 when Bossier went on a 5-0 run to take the lead at 50-49.
Destini Powell converted a layup to put Minden back in front 51-50. Back-to-back stops and back-to-back 1 of 2 trips to the free throw line put the Lady Tiders in front 53-50 with 19 seconds to play. On Bossier's most important possession of the game, Minden's fullcourt man defense, as it does so often, forced a turnover to seal the game.
Minden missed two free throws with a 3-point lead, but with 3 seconds on the clock Bossier was unable to get off a last-gasp shot.
"I'm proud of how the girls gutted it out," Brown said. "This was a tough win against a good basketball team. We faced some adversity tonight, but the girls stayed the course and were ready for the moment; I'm really pleased."
Minden vs. Bossier (boys)
The Minden Crimson Tide could not keep the sharp-shooting Bossier Bearkats under control in the boys game Friday night, falling 61-39.
"We were just outmatched," First-year Tide head coach Rennie Bailey said. "On top of that they were knocking down shots; it had to be a career night for them."
Bossier nailed 16 3-pointers before all was said and done.
Jalone Branch had 8 points for Minden, followed by Jordan Becnel, Kelcey Miller and Zi Crawford with 7 points each.
"The guys played hard and competed the best they could," Bailey said. "We were outmatched tonight, but I'm proud of my guys."
Lakeside vs. Red River (boys)
SIBLEY – The Lakeside Warriors dropped a heartbreaker to the Red River Bulldogs Friday night at Lakeside, 69-67.
Red River jumped on Lakeside 22-12 in the opening quarter before settling down and playing the Bulldogs to a 19-18 second quarter to trail 41-30 at the break.
"I actually wasn't feeling too bad at halftime," Lakeside head coach Jason Gould said. "After the first quarter I felt horrible, but we kind of settled down and slowed the game to our pace and stuck with them."
Red River would shake free once again though.
Lakeside fell into foul trouble and had to play some reserves in key minutes, which allowed the Bulldogs to go on a monstrous run that saw them leading 60-35.
Lakeside refused to quit and battled back to take an improbably lead with less than two minutes to play in the game.
In the final seconds of the contest, Lakeside was whistled for a questionable foul in a tie ball-game, 67-67. Red River would knock down both free throws and Lakeside's last shot was off the mark with 1 second on the clock as the Bulldogs escaped with the win.
Chase Mitchell led the Warriors with 18 points. Jalen Gould, Tyreke Loftin, Tyler Sterling and Michael Bradford all finished with 10 points in a balanced-scoring effort by Lakeside.
Next up for Lakeside is a Tuesday home game against North Caddo.
Glenbrook vs. Prairie View Academy (boys)
BASTROP – The Glenbrook Apaches extended their winning streak to six games and stayed perfect in district play with a 62-40 victory over the Prairie View Academy Spartans Friday night.
The Apaches were sluggish in the opening half, going to the lockerroom tied 22-22.
"PVA gave us their best shot and we withstood it," Glenbrook head coach Jeff Dalton said. "The first half, we could not get into a rhythm offensively, but we just kept digging in defensively until we finally got on a good run."
Da'maza Robinson has been playing inspired basketball of late for Glenbrook. He scored a game-high 20 points, followed by Cade Conterez with 16 points and Joseph Windham with 8 points; Johnny Law Flournoy added 6 points.
The Apaches' next game will be Tuesday against district front-runner Union Christian Academy.
Lakeside vs. Red River (girls)
The Lakeside Lady Warriors (8-15, 1-3) fell to the Red River Lady Bulldogs 69-51.
Jhasmine Lewis led Lakeside with 17 points, but the Lady Bulldogs controlled the rest of Lakeside's lineup to earn the win.
Lakeside will be back in action Tuesday at home against North Caddo.