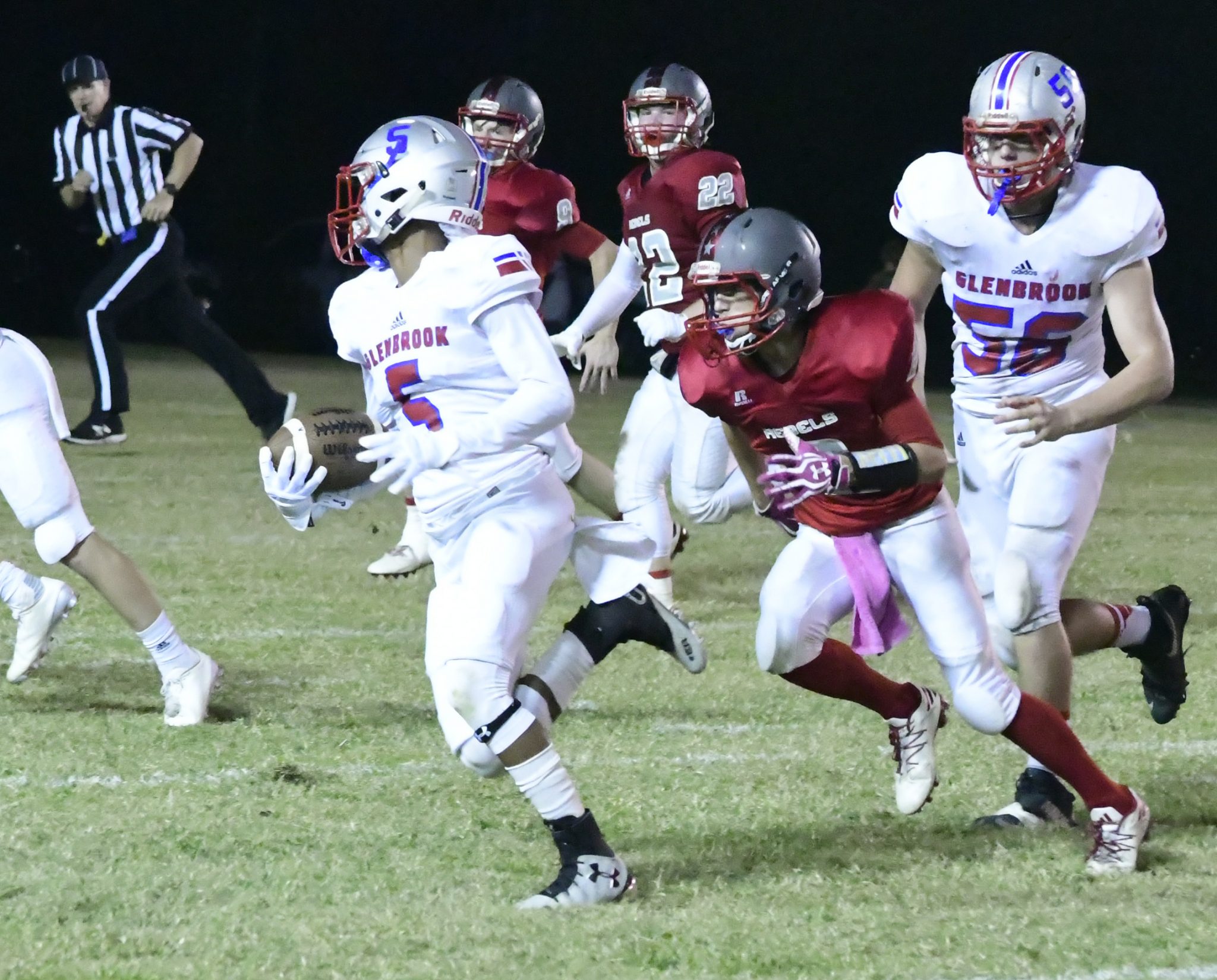 HOMER – The Glenbrook Apaches won back-to-back games for the first time since 2014 much to the delight of their second-year head coach.
The Apaches jumped all over the Claiborne Academy Rebels Friday, doing whatever they wanted on offense and forcing turnovers on defense en route to a 34-6 win in district 6AA play.
"This game meant a lot to our guys," Glenbrook head coach Caleb Carmikle said. "Especially with what happened last year. Our guys didn't want that to be their part in the history of this rivalry. They knew it was important for pushing us into the playoffs as well; we took care of business from the opening kickoff."
The Apaches got commendable efforts from Mason Hood, Da'Maza Robinson and Seth Tyler on offense. Hood finished with two rushing scores on the night, but could have had two more if not for holding penalties, while Robinson found the end zone three times in what was the Apaches most impressive offensive display to date.
"We were so efficient," Carmikle said. "There were a couple of looks where we had them beat, just by alignment, and there were times when we were able to run the same play over and over because we were executing so well."
"It's refreshing to see and it makes it a lot easier to call plays when guys are executing like that. The weapons all over the field really started to show up last night."
Quarterback Seth Tyler had his best game of the season, getting the ball out quickly to his cast of receivers and running backs and allowing them to do most of the heavy lifting. Tyler was big in the running game as well and even did some work at linebacker for the Apaches.
"He did a great job of trusting his receivers and getting the ball out," Carmikle said. "When the protection did break down, he made some great throws on the run and our guys were getting open and making plays."
"Seth is starting to step up as a leader. He's becoming more vocal and staying more calm in the pocket, which is perfect timing for us."
There was a moment in the second quarter where things got chippy. Tyler carried up the middle and had his helmet ripped off by a Claiborne defense, who then continued to go after a helmet-less Tyler which sparked a scrum that led to an ejection for the Rebel player.
"Our guys did a great job staying calm," Carmikle said. "There's no need for any of that and we don't have any use for it in our program. Our guys played with class all night long."
Defensively, Glenbrook smothered Claiborne, with the exception of a couple big plays in the first half. Even when the Rebels were able to move the football, the Apaches would find a way, either turnover or on downs, to get it back.
"They moved the ball on us a little bit early, then we kind of settled in," Carmikle said. "Seth played some linebacker which was great for him to get some key reps in case we need him. The defensive line's play has elevated to a whole new level and we didn't ever get beat over the top, but we still have some work to do on tackling in the secondary."
Nick Moses was all over the field for the Apaches as the junior continues his highlight-reel season. Credit goes to his defensive line mates Albert Taylor and Hunter Chautin as well for impressive work against the Rebels' run game.
Tyler finished 9-of-17 passing for 148 yards with 2 touchdowns and added 101 yards on 9 carries in a spectacular effort. Hood carried 4 times for 84 yards and a score, adding 73 yards receiving and a touchdown on 3 catches.
Cameron Fread had 64 yards and a score on the ground, Marshall Meek had 65 yards rushing and Robinson had 56 total yards and 2 touchdowns. Joseph Windham added 2 catches for 29 yards.
Seth Gauthier led the defense with 6 tackles and Moses finished with 5 (3 TFL).