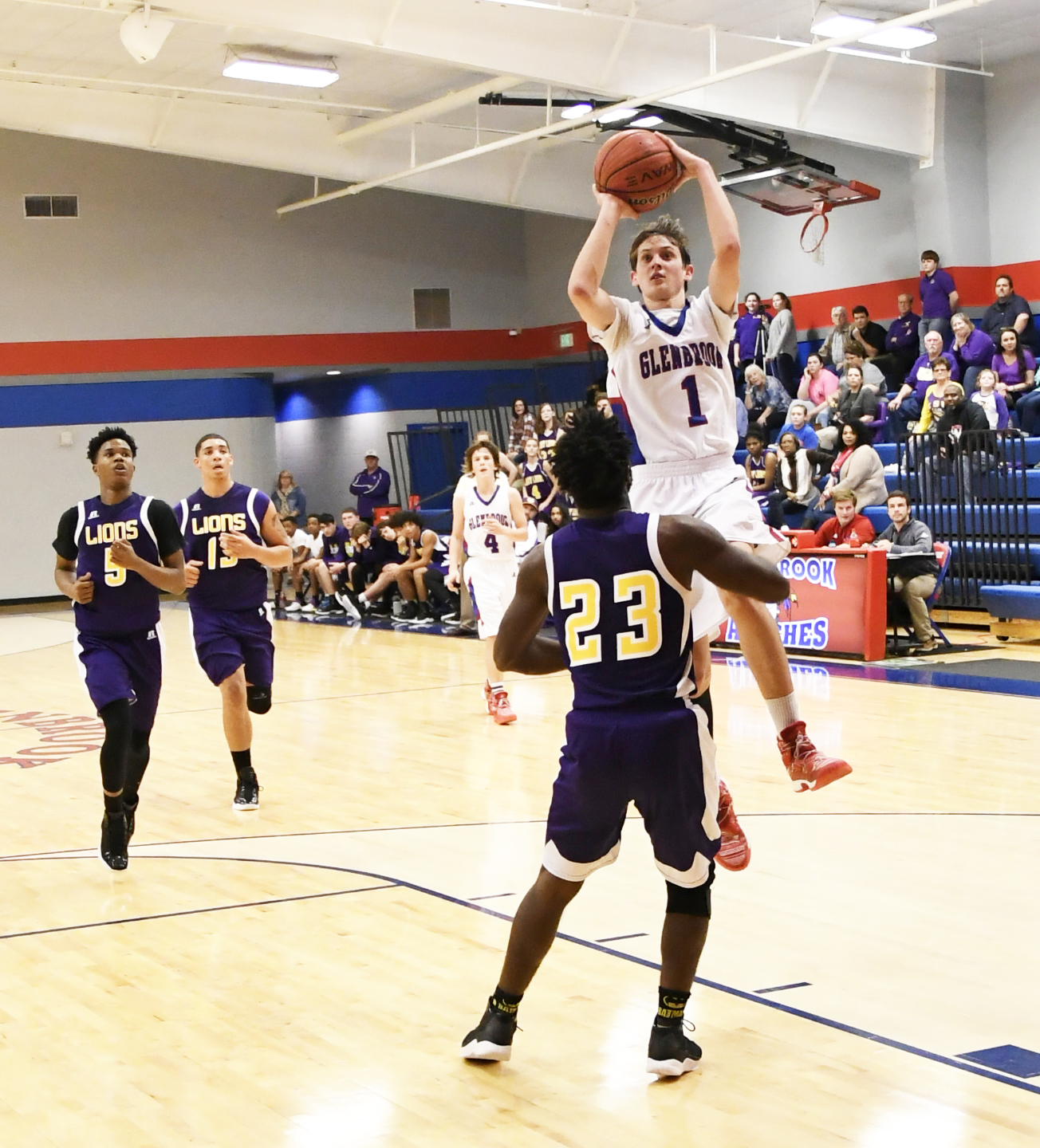 After sleepwalking through the first half of Thursday's home game against Tallulah Academy, the Glenbrook Apaches woke up just in time to run away with their ninth-straight contest.
The Apaches (15-5, 7-0) led by just four points at halftime, but a 17-2 run to begin the second half provided enough cushion for Glenbrook to empty the bench in a comfortable 64-45 win.
"Coming off a hard fought, emotional game on Tuesday I was concerned about coming out flat and we did just that," Glenbrook head coach Jeff Dalton said. "We were a step slow defensively early on and we couldn't buy a bucket."
Glenbrook picked up their defense in the second half and shots began to fall, particularly for the Apaches high-scoring duo of Cade Conterez and Joseph Windham.
Da'maza Robinson provided a first-half scoring boost for Glenbrook, scoring 10 of his 15 points before halftime.
In the fourth quarter, Glenbrook assumed complete control of Tallulah as the Trojans failed consistently to creat against the Apaches' halfcourt pressure.
By the time Cade Clemons banked home a 3-pointer from the left wing to extend Glenbrook's lead to 58-37, the Apaches' reserves were heading to the scorers table to finish things off.
"I was happy to see us stretch the lead and get everybody in tonight," Dalton said. "This was not the prettiest game, but a win is a win."
Windham led Glenbrook with 17 points, followed by Robinson with 15 and Conterez with 14; Johnny Law Flournoy chipped in 8 points.
The Glenbrook Lady Apaches took the court before the boys game, falling to the Lady Trojans in a tight 50-43 ball game.
Glenbrook was behind most of the night against the district 6AA front-runners, going on several runs despite never being able to take control on their home floor.
"Our problem is playing four complete quarters right now," Lady Apaches head coach Rendi Dillard said. "We'll win 2 or 3, but never all 4; turnovers and free throws cost us too."
Glenbrook cut Tallulah's lead to 3 points with less than 4 minutes to play in the contest, but a missed layup on their next possession led to a run-out for the Lady Trojans who converted on the other end to regain momentum for the final time.
"It was a tough, physical game, but our girls handled it," Dillard said. "Despite the score, I thought we played one of our better games of the season."
Kate Marvin led Glenbrook with 10 points, followed by Olivia Dalton with 9 points; Amelia Christy finished with 8 points.