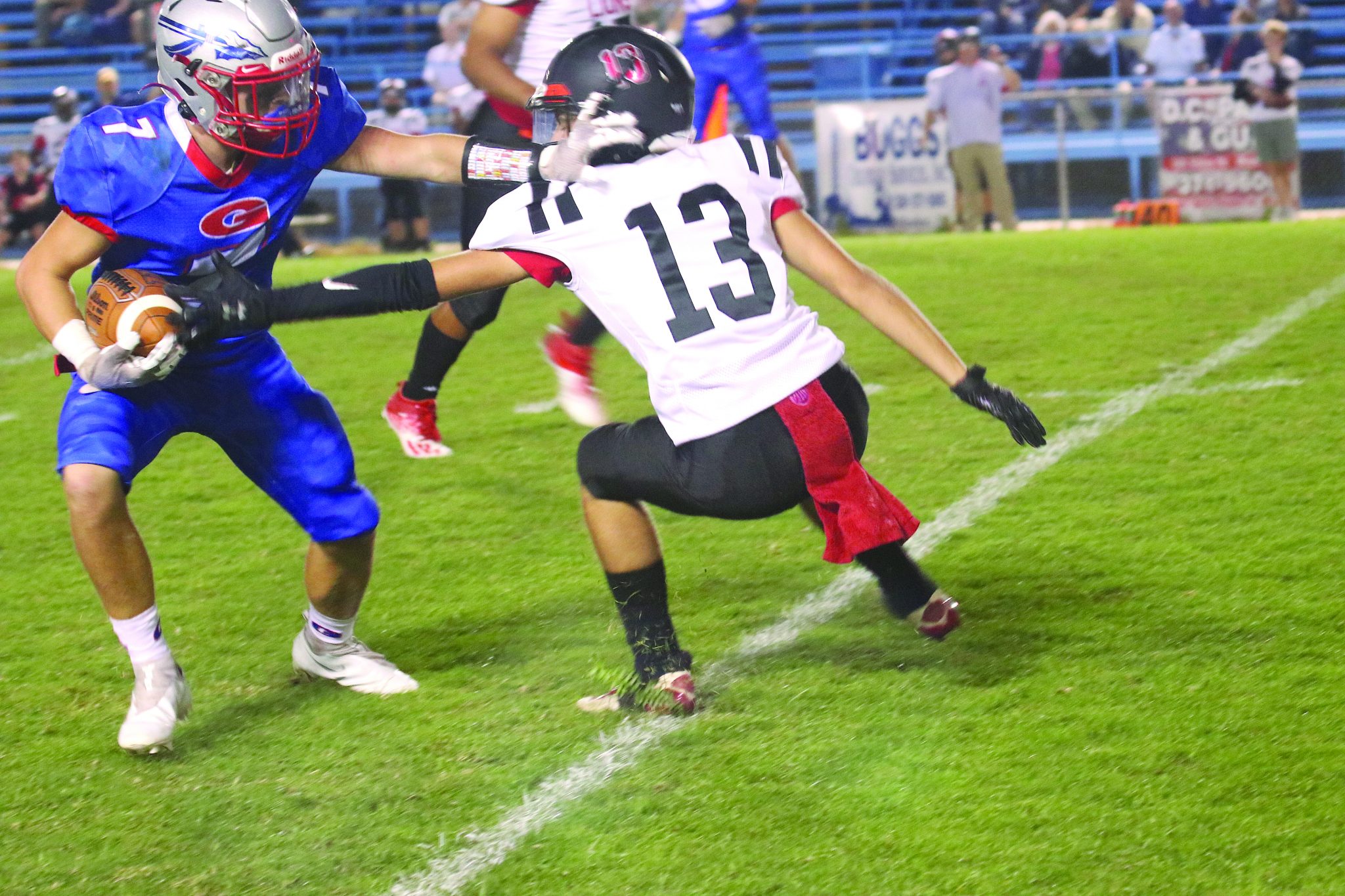 No head coach, no problem.
The Glenbrook Apaches weren't about to let anything spoil their Homecoming celebration, as they showed Friday night by blasting past Plain Dealing 42-8 at Apaches Stadium.
Glenbrook head coach David Feaster was suspended for Friday's game after reportedly being ejected by game officials late in last week's contest at Haynesville.
The Apaches responded by scoring on their first three drives against Plain Dealing to build a 21-0 advantage over the Tigers only 2:43 into the second quarter.
"We came out knowing we had faced a lot of adversity knowing about Coach Feaster's situation," said Glenbrook defensive coordinator James Thurman. "It was a short week — we were out Monday and Tuesday. It was Homecoming week. There were a lot of distractions we faced and we knew we needed to start strong."
Plain Dealing opened the game by recovering an onsides kick and then driving all the way down to the Glenbrook 22-yard line before turning the ball over on downs.
A 23-yard pass from Ty Feaster to Cason Clemons followed by a 22-yard pass from Feaster to DJ Carter and then another 11-yard pass to Clemsons set the Apaches up at the Tigers' 14-yard line before Feaster ran around right end to put Glenbrook up 6-0 at the 6:24 mark of the opening stanza after a bad snap spoiled the extra point kick attempt.
After allowing Plain Dealing only one first down on the ensuing drive, Glenbrook took over on its own 40. A 31-yard pass from Feaster to Clemons pushed the Apaches near the red zone before Turner Mclelland took the ball around the right end and raced 23 yards to paydirt and a 14-0 lead for GHS with 56 seconds remaining in the first quarter after Carter ran in the two-point conversion.
The Apaches then held Plain Dealing to a three-and-out series before a 56-yard pass from Feaster to Chase Sentell set the Apaches at the Tigers' nine-yard line.
After Carter was hauled down deep behind the line of scrimmage on first down, Feaster and Clemons connected again, this time on a 18-yard scoring strike that put Glenbrook up 21-0 with 9:17 left in the first half.
Glenbrook again held Palin Dealing without a first down on the ensuing drive before a 48-yard from Feaster to Clemons set up a one-yard plunge to paydirt by Carter to push the Apaches' advantage to 28-0 at the 6:09 mark of the second quarter.
Plain Dealing looked like it would punt from its own 42 on its next drive but went for the fake, with the punter looking like he was going to pass before dropping the ball to the turf, where a gang of Apaches' pounced on it.
Then a 19-yard scamper by Carter set up a one-yard touchdown run by Collin Gregg with 1:17 left in the half sent the Apaches into the locker room at intermission with a 35-0 lead.
The second half breezed by as fast as the chilly wind that began blowing from the north as running clock made it an early night for both teams.
Plain Dealing opened the second half by driving the ball all the way to the Glenbrook 24 before a Maddox Mandino interception turned the ball over to the Apaches.
Carter's 45-yard run sparked a five-play, 73-yard scoring drive for Glenbrook that culminated with Tre Kent outracing everyone to the left pylon on a 15-yard scoring scamper that gave the Apaches their final score at the 2:33 mark of the third quarter.
Plain Dealing drove 68-yards on its final possession, scoring on a seven-yard pass and two-point conversion pass with 3:49 remaining on that running clock.
While admitting that a Homecoming shutout would have been nice, Thurman said he felt that the fact that the Apaches played every player who dressed was more important.
"To me, getting those younger guys playing time was much more important than getting the goose-egg," Thurman said.
Feaster finished with 257 passing yards while also handing the ball off to eight Glenbrook rushers, with Carter leading the way with 62 yards on five carries.
Glenbrook, now 5-2 overall and 3-2 in District 1-1A, will next play host to winless Ringgold, which forfeited this week's game to North Caddo, at Apaches Stadium next Friday night.