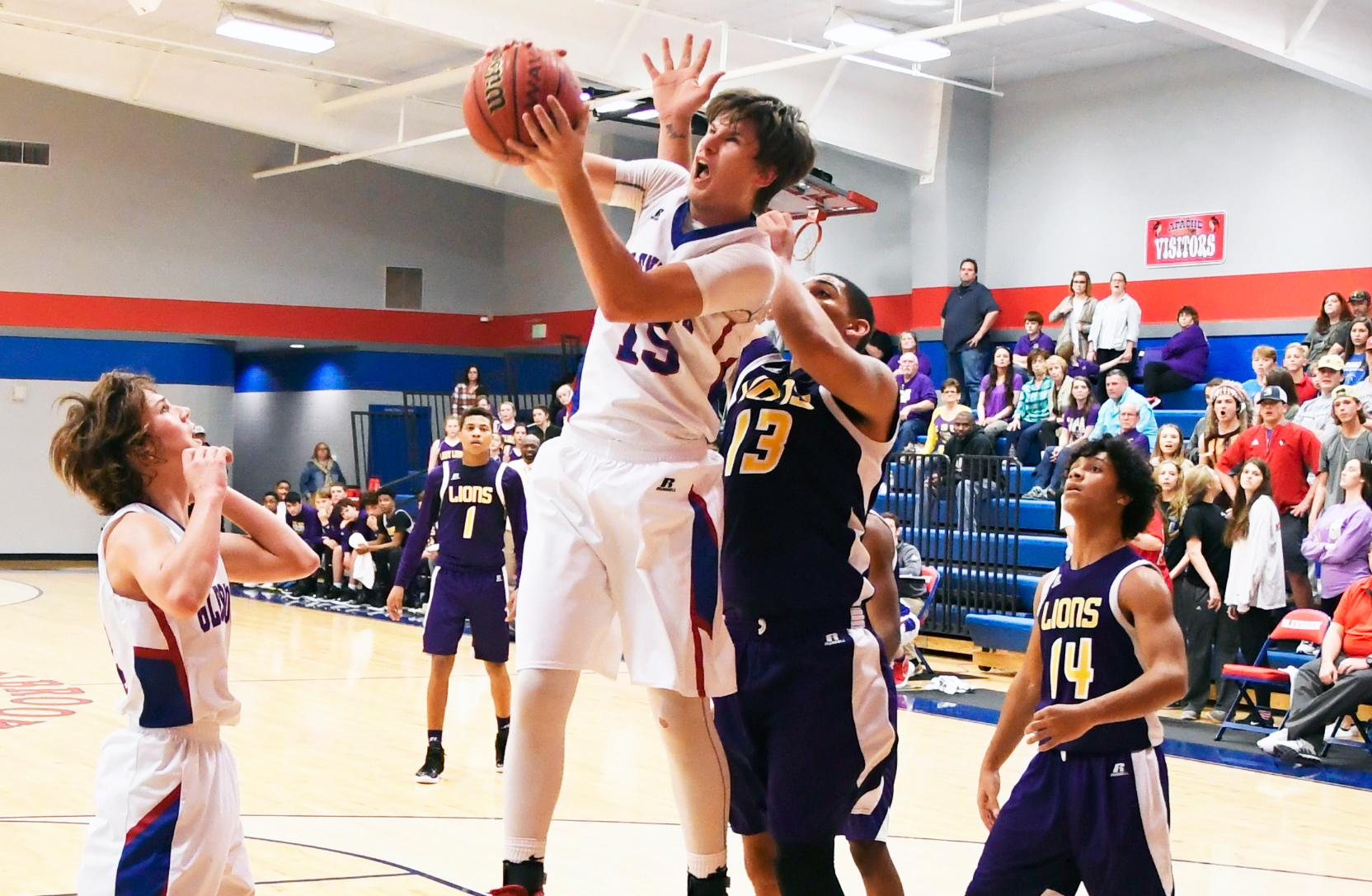 The Glenbrook Apaches withstood a furious fourth-quarter against the Union Christian Academy Lions and Glenbrook head football coach Caleb Carmikle survived an encounter with a furious UCA fan postgame.
The disgruntled visitors from Farmerville felt they had one more point than the scoreboard showed, but no matter how many ill-tempered adults made their way to the scorers table to take verbal jabs at Carmikle, nothing could change the fact that the Apaches (14-5, 6-0) played their best game of the season to win 64-59 and seize control of district 6AA.
"We've been working hard to put ourselves in a position to compete in a game of this magnitude," Glenbrook head coach Jeff Dalton said. "This was a hard-fought game between two good teams."
"I think our composure down the stretch was the deciding factor."
The Lions came into Tuesday's game at 5-0 in district play and showed why several times throughout the night, answering every run Glenbrook made in a basketball game that felt more like a heavyweight bout.
Glenbrook jumped out to an early 10-2 lead in front of a large and loud contingent of Apache fans. UCA would respond with a 10-2 run of their own to tie the game at 12-12 only two minutes later.
Da'maza Robinson put the Apaches back on top 14-12 with a nice drive to the basket; Cade Conterez then sank a 3-pointer and hit a hanging 14-footer on back-to-back trips to extend Glenbrook's lead to 19-12.
Once again, UCA settled in and fought back, this time taking a 28-23 lead at the 4:33 mark of the second quarter.
Glenbrook came back with a 14-5 run to close first half and take a 37-33 lead into the break.
Glenbrook scored just 9 points in a sloppy third quarter that sent the two teams into the fourth quarter tied at 46.
A sleek assist from Robinson to Conterez put Glenbrook in front 52-51 during early fourth-quarter action. Then, Apache center Joseph Windham put his stamp on the game with a dominant stretch at the 3-minute mark of the fourth quarter.
The 6-foot-5 senior started with a rebound and putback to extend the Apaches' lead to 55-51. On the next trip, Windham came up with a powerful block and ran the court to finish in transition and put Glenbrook in front 57-51.
Conterez connected on back-to-back 3-pointers in the final two minutes to finish off the Lions, who added a few late buckets to make the final score more respectable.
Glenbrook is playing like a different team the second half of the season with sophomore guard JC Brown in the starting lineup, alongside Robinson and Johnny Law Flournoy. The selfless trio have been locking down defensively and doing a good job creating for Windham and Conterez.
As for the towering senior duo, they continue to lead the way in points while providing the Apaches with size near the rim. Fellow senior Mason Hood has been a steady hand off the bench; Dalton trusts him with pivotal stretches of game time. The same can be said for another senior, Dakota McGarity, who has come in and battled for rebounds and set hard screens, an important job with undersized guards out top.
Robinson, a rising junior, has taken on a leadership role for the Apaches. He appeared to be the calming voice for teammates during some of the tense moments in Tuesday's clash.
"We knew this was going to be a hard game," Robinson said. "Everybody came through tonight and did their job. I made some good passes, Cade (Conterez) came through with the 3's and Joseph (Windham) had the big blocks and rebounds to close it out."
"Coach told us they were going to start getting frustrated. We knew if we kept our composure we would come out on top."
Robinson finished with 16 points and 10 assists, good for a double-double. Conterez led the Apaches with 20 points, including four 3-pointers; Windham had a double-double with 13 points and 15 boards. Sophomore Johnny Law Flournoy played almost mistake-free basketball for Glenbrook at the point guard spot, finishing with 9 points and 7 assists.
Glenbrook vs. UCA (girls)
In the girls game, the Glenbrook Lady Apaches picked up their second-consecutive district win by demolishing the UCA Lady Lions 72-28.
The Lady Apaches were in control from the opening tip.
Head coach Rendi Dillard went to a fullcourt defense early on sensing some shaky ball-handling from the Lady Lions. The move paid off as UCA turned the ball over for most of the first half. Senior Olivia Dalton caught fire from the field, finishing with 19 points to lead the Lady Apaches. She got plenty of help from freshman Alyssa Martin. Martin added 18 points, a career-high on the varsity level. Kate Marvin added 9 points for Glenbrook and played lockdown defense throughout the night.
"We were able to use our speed tonight and jump out on them early," Dillard said. "We talked about playing under control and we were able to do a great job of that."
Next up for the Apaches and Lady Apaches are a pair of Thursday home games against the Tallulah Trojans and Lady Trojans.
Minden vs. North DeSoto (boys)
STONEWALL – The Crimson Tide snapped their four-game losing skid by taking care of the North DeSoto Griffins Tuesday night, 58-46.
"It was a good win," Minden head coach Rennie Bailey said. "We shot the ball well. When we make baskets, it makes all the difference in the world."
Minden (10-13) was led by Jalone Branch with 17 points; Jordan Becnel added 15 points and Kelcey Miller scored 11 points.
Minden vs. North DeSoto (girls)
STONEWALL – The Minden Lady Tiders controlled the North DeSoto Lady Griffins from the opening tip 74-25 en route to consecutive win No. 16.
The Lady Tiders (23-2, 5-0) led 39-16 at halftime after running the Lady Griffins ragged in an up-and-down first half.
"I thought our girls did a good job of executing both in the fullcourt and halfcourt game," Brown said. "I thought we shot well; we hit seven 3-pointers and they were good shots. I'm really pleased with how we played tonight."
Destini Powell led Minden with 18 points, followed by Strawberry Batton with 13, Whitney Aubrey finished with 11 and Sha Whiting added 9 points.
The Lady Tiders will put their 16-game win streak and unbeaten district record on the line against a talented Huntington Lady Raiders team Friday on the road.
Lakeside vs. North Caddo (boys)
SIBLEY – Lakeside battled hard, but could not come out on top against the North Caddo Indians, 75-64.
"It was a good game four three and a half quarters," Lakeside head coach Jason Gould said. "We go into halftime losing by three, then the third quarter was close, but they wore us down and we started fouling in the fourth quarter. To their credit, they made their free throws to make the outcome worse than it was."
Lakeside was led by senior Jalen Gould who gave a big effort to finish with 19 points. Chase Mitchell had 14 points and Damian Coleman went for 16 points on a balanced-scoring night for the Warriors.
Lakeside vs. North Caddo (girls)
SIBLEY – The Lakeside Lady Warriors fell 77-39 at home against the Lady Griffins.
Lakeside was led by Jazzmyn White with 10 points. Jhasmine Lewis added 9 points and Allison Loftin finished with 8 points.
Lakeside goes to Calvary Friday for their next contests.