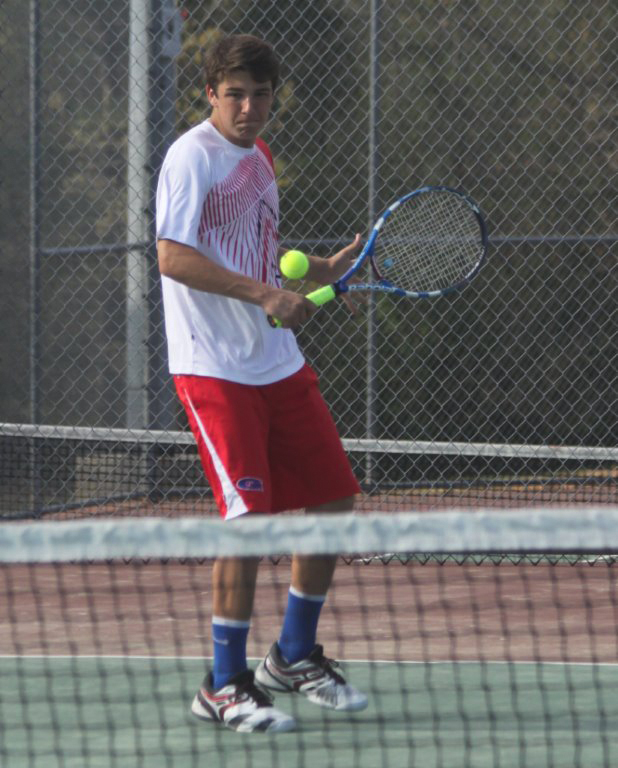 The Glenbrook Apache Netters returned to the courts last Thursday, hosting their district foe the Riverfield Raiders.
"I was pleased to see our girls play well," said coach Wayne Orr. "They took charge of the matches and did not allow unforced errors to deter their desire to retain a district championship.
We were wtihout two of our key players, but the younger and inexperienced players kept us in a winning position."
Girls Singles
The two reigning district representatives met in the No. 1 position.
Amelia Christy defeated Sofie Heath 6-0, 6-0.
"Amelia simply used her experience, athletic ability, consistent serve and court awareness to keep her opponent of the defensice and capitolize on her unforced errors," Orr said.
Girls Doubles
The duo of Bridget Cone and Abigail Gilbert defeated Kyie and Caroline Mills 3-6, 6-3, 1-0.
"We started the first match sluggishly," Orr said. "But stringing a couple of games together at the end of the first set gave us a degree of momentum.
After the evening set scores, we took the first four points of the tiebreak and maintained the advantage in earning the title."
Boys Singles
The Apaches No. 1, Schuyler Powell, was defeated by Travis Rawls 7-6, 6-2, 1-0.
"This was a closely-contested match as each player kept the ball in play, scrambled for shots and attempted to exact error from his opponent." Orr said.
Boys Doubles
John Curtis Brown partnered with Justin Le at the No. 1 contest and defeated Nate Stansbury and Turner Bridges 6-0, 6-2.
"J.C's regular partner was ill," Orr said. "But Justin, a second-year Apache, stepped in and contributed to the win."
Mixed Doubles
Lexie Martin and Graham Lemoine were defeated 6-2, 7-5.
"This was an exciting match to watch," Orr said. "It featured some excellent serving, timely volleys and several well-placed ground strokes."
Extra Boys Singles
Glenbrook's Beau Branch was defeated by Jonah Sharbona 6-4, 3-6, 1-0.
"Both of these guys are first-year players," Orr said. "Our boys are gaining experience fueled by desire."