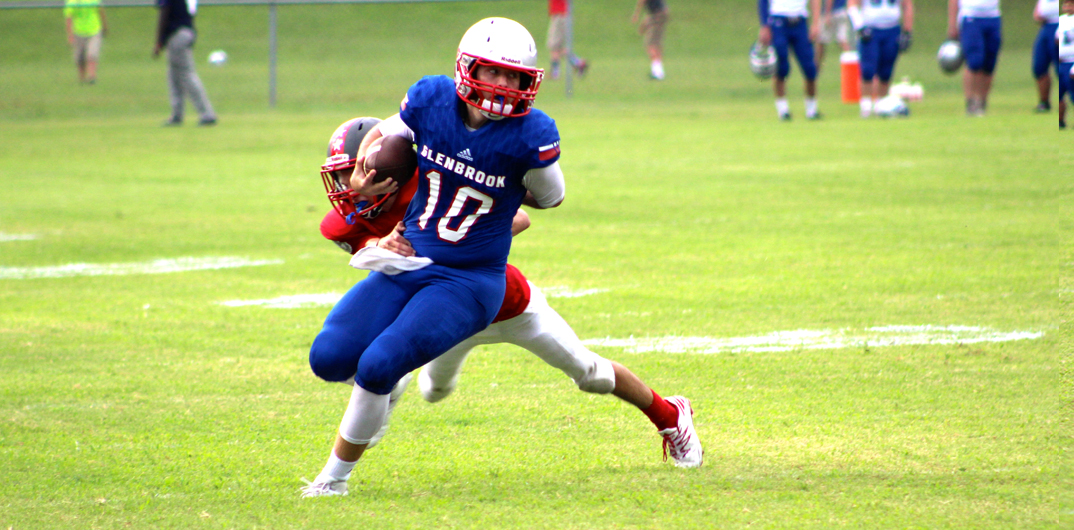 The horseplay is over. From here, they'll go down in the win-loss column.
Glenbrook passed the test once again in their final tune-up of the preseason, topping Claiborne 14-0 and River Oaks 12-0 in the Glenbrook Jamboree.
The Apaches came out firing offensively Thursday night, flashing bits and pieces of their much-improved offense.
After trading defensive stops with the Rebels, the Apaches got on the board a few minutes into the action courtesy of a nice hookup between Glenbrook quarterback Seth Tyler and 6-foot-5 wideout Joseph Windham. Tyler rolled right looking for a receiver near the home sideline when he spotted Windham coming open in the middle of the field. The towering wideout made the catch and raced 60-yards for Glenbrook's first score.
Glenbrook doubled their lead with a nice drive to finish the 15-minute play period, culminating with a 15-yard touchdown run from Da'maza Robinson.
The Apache defense forced one turnover in the first matchup, a dazzling one-handed interception by Tyler Perryman.
After a break in the action to let River Oaks and Prairie View duke it out, Glenbrook took the field for another 15-minute bout, this time with River Oaks.
The Apaches were mostly crisp against the Mustangs, but had a couple of costly holding penalties that stalled a promising drive.
Senior wideout Mason Hood got Glenbrook on the board with an impressive run after the catch. Hood dodged what seemed like the entire Mustang defense before sprinting the final 15-yards for the Apache's first score.
On River Oaks' next possession, Cameron Barnett went up high on a jump ball down the visitor's sideline and picked off a River Oaks' pass to set Glenbrook up near their own 40-yard line. A few plays later, Robinson reeled in a short out route, made a few Mustangs miss and raced into the endzone for his second score of the evening. The drive was aided in part by a spectacular over the shoulder catch from Apache tight end Parker Christy.
It was a strong showing for the Apaches as they turn their focus toward next Friday's season opener against Class 4A Copiah Academy.
Glenbrook will be without senior linebacker Seth Gauthier who left the Jamboree with a concussion.