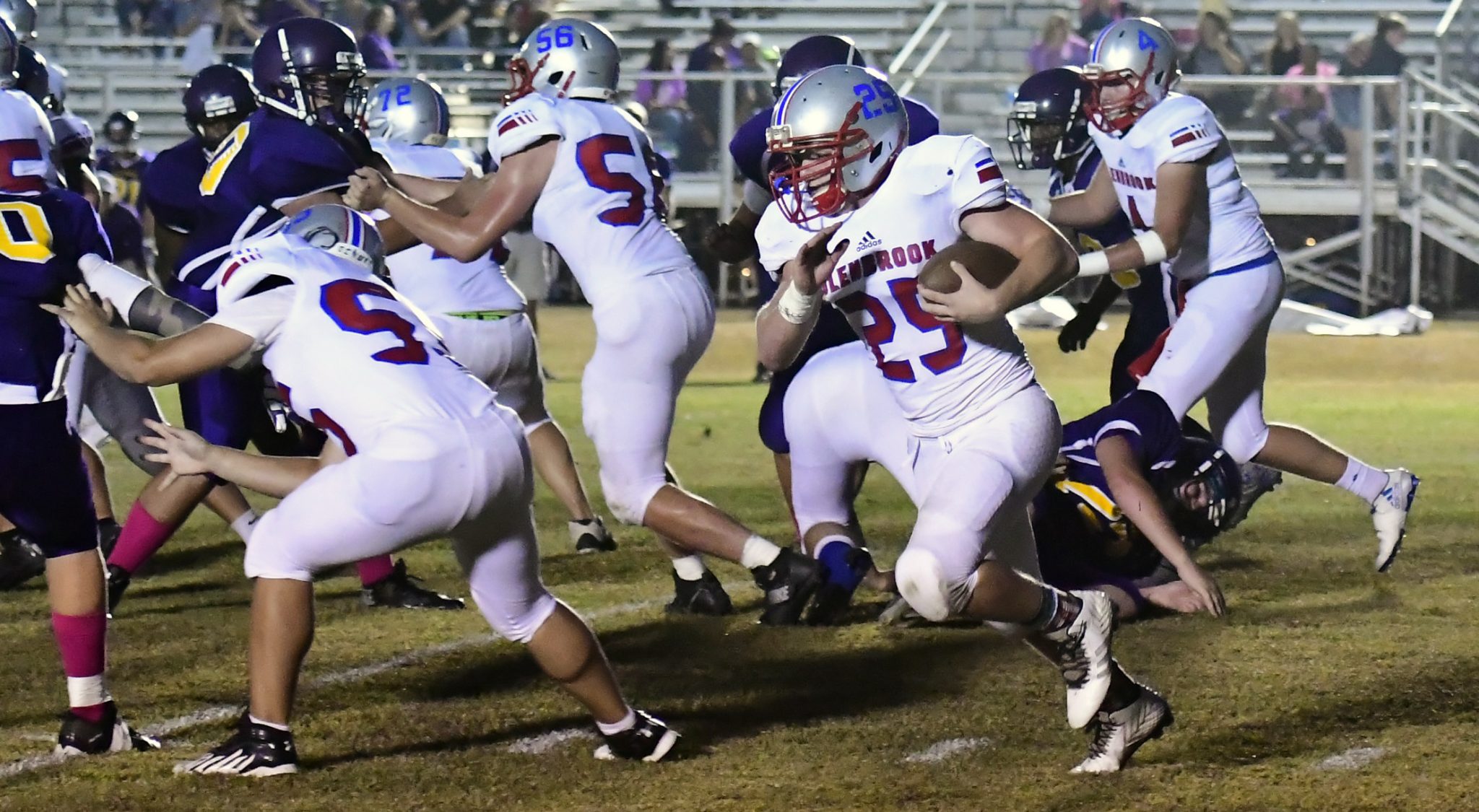 FARMERVILLE – Apaches Spirit is alive and well.
Glenbrook hit the road Friday night for their district 6AA finale against the Union Christian Academy Lions and came away with a 43-14 victory in a game that had important playoff implications.
"All of our weapons were locked in tonight," Glenbrook head coach Caleb Carmikle said. "We dished the ball out to several guys and were kind of able to do whatever we wanted offensively. That makes for a very fun night for sure."
Six different Apaches had carries and six different Apaches recored receptions as Glenbrook jumped out to a 29-8 halftime lead.
Despite the sizeable first-half output, the Apaches came out sluggish in a scoreless first quarter.
We came out real flat," Carmikle said. "We came out too loose and I could kind of tell on the bus and in pre-game. That's something I'll have to correct right away, but I knew that these guys needed to figure it out on their own. It was a great learning experience, and we talked to them at halftime about how we can't do that."
Cameron Fread got the Apaches on the scoreboard first with a 2-yard touchdown plunge in the second quarter. Three minutes later and with 5:33 left in the half, Seth Tyler found Lemoris Jackson Jr. in the open field for a long touchdown pass where Jackson displayed some elusiveness.
The Glenbrook defense gave the offense the ball back with 4:40 to play in the second quarter and Fread capitalized with his second rushing score of the night.
The Apaches got another score on the ground, this time from Mason Hood, to tack on another score and assume the 29-8 halftime lead.
Glenbrook's defense stifled the Lions from start to finish, forcing one turnover, a Tyler Perryman interception, and recording 6 tackles for loss. UCA's only points of the first half came on a kickoff return for touchdown.
Glenbrook would continue to pour it on offensively in the second half.
Fread added his third score of the night to cap a quick scoring drive coming out of the locker room. With 3:20 left in the third quarter, the Apaches tacked on their final score when Tyler hit Da'Maza Robinson for a short touchdown pass. Leading 43-8, Glenbrook called off the dogs.
"We were able to be really balanced," Carmikle said. "Seth did a great job staying calm in the pocket and dishing it out. He made a couple really good throws on the run., and when he would scramble he took off and got great yards.
Cameron Fread is just a load coming downhill, Mason Hood and Lemoris Jackson both had some big carries and catches, Parker Christy had a big catch on a third down; we were really clicking."
Tyler finished 20-of-22 with 281 yards and 2 touchdowns in his best outing of the season. Hood and Jackson each went over 100 yards receiving. Hood finished with 7 catches for 106 yards and Jackson had 4 catches for 100 yards and a score. Robinson added 3 catches for 32 yards and a touchdown.
Cameron Fread scored 3 touchdowns while totaling 103 rushing yards Tyler added 55 yards rushing to go over 300+ for the night.
Linebacker Trent Albritton led the Apache defense with 7 tackles, followed by Nick Moses and Fread with 6 tackles each. Christy had 5 tackles and Albert Taylor finished with 4. Tyler Perryman had an interception to go with 2 tackles.
The Apaches host Trinity Episcopal in Minden Friday at 7 p.m.