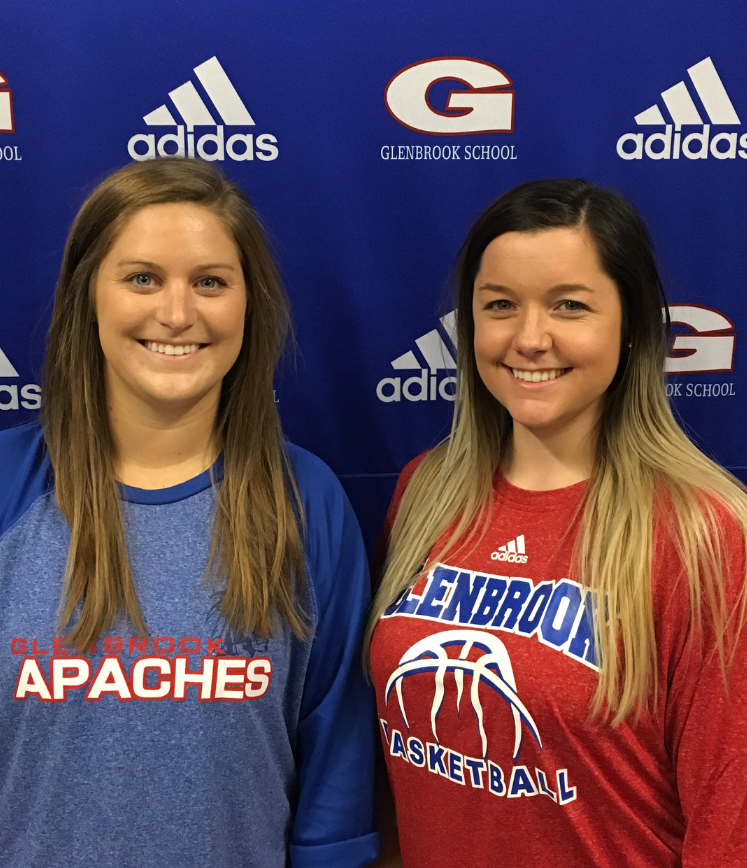 Press-Release
Glenbrook School has named two new coaches to lead the girls basketball programs at the school.
Madison Moorehead, a Glenbrook alum and former Lady Apache basketball player in addition to serving as an assistant coach for the girls program last season, has been named varsity head coach.  Rhonda Martin, who played collegiately at Centenary College and most recently led the Calvary Baptist Lady Cavaliers basketball program, will serve as the head junior high coach and assist with the varsity team.  Martin also founded the Louisiana Hurricanes AAU program in Shreveport which consists of four teams and nearly 50 athletes.
"Glenbrook is extremely fortunate to have two very strong, capable women to lead our girls basketball programs," said Glenbrook Director of Athletics Gary Harris.  "Coach Moorehead knows our kids and commands a tremendous amount of respect from our players.  The consistency of having her continue to work with our girls basketball program is vital to our continued success.  And adding a quality coach like Coach Martin to our program is invaluable.  Her knowledge and experience will be a huge asset for our Lady Apache basketball teams."
Moorhead is a 2009 graduate of Glenbrook School where she excelled in basketball and tennis.  She was named basketball team MVP on several occasions.  Moorehead collected numerous laurels during her time as she was a member of the National Honor Society, named the Jerry Brandon Award winner for Glenbrook, Civitan International Citizen of the Year, National Scholar Athlete Award winner, and was a two-time state singles champion in girls tennis.
"I am very honored to be given this opportunity to coach girls varsity basketball at Glenbrook," Moorehead noted.  "This year will be a rebuilding year and will be quite challenging.
I am eager to face these challenges and very excited to have the opportunity to work once again with these amazing young ladies. I would also like to welcome Coach Martin to the program.  She will add a fresh perspective and expertise to the Lady Apache basketball program."
Martin is a 2012 graduate from Calvary Baptist Academy in Shreveport where she lettered five years in basketball and four in track. She was named first team all-district her junior and seniors years and was named all-city in track her junior year.  Martin broke the record for most points scored in a career at Calvary Baptist with 1,116 points.
Her honors included being a member of the National Honor Society and National Beta Club.  She continued her playing career at Centenary College where she started all 24 games in 2013-2014, averaging 9.3 points per game.  She led the team in assists, was 2nd in FGs made and 3pt FGs made.
Martin announced, "I am beyond thrilled for this opportunity and I am so excited to be at Glenbrook.  I'm looking forward to an amazing year."