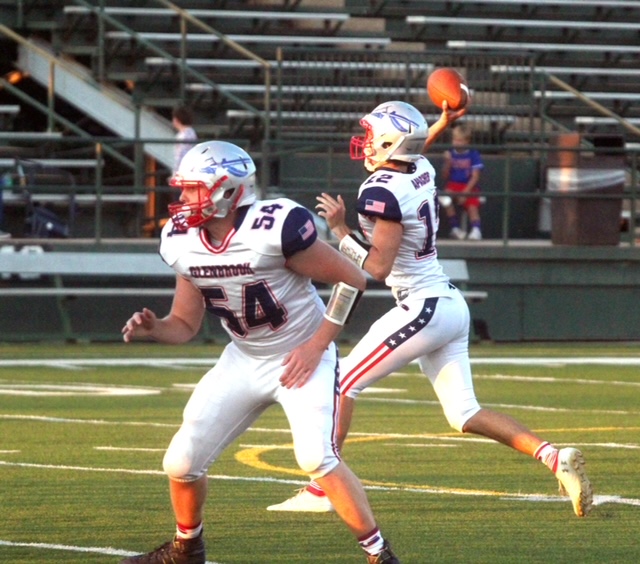 Glenbrook's Ty Feaster was named Offensive MVP and Rhett Johnson shared Defensive MVP on the All-District 1-1A football team selected by the district's coaches.
David Feaster was named Coach of the Year.
The Apaches went 6-0 in district and 10-0 overall in the regular season. They advanced to the quarterfinals of the select Division I playoffs, losing to eventual champion Ouachita's Christian 28-27.
In Week 9, Glenbrook defeated eventual non-select Division IV runner-up Homer 21-14 in a game that decided the district championship.
Feaster, a junior quarterback, completed 157 of 231 passes for 2,436 yards and 37 touchdowns with only four interceptions.
Johnson, a senior linebacker, had 111 total tackles, including 11 for loss, and three fumble recoveries. He shared Defensive MVP with Homer senior lineman Walteze Champ.
Glenbrook's other first-team selections on offense were senior receiver Turner McClelland and junior receiver Cason Clemons, junior tight end Landry Powell, junior tackle Garrett Brown and senior running back D.J. Carter.
McClelland caught 32 passes for 540 yards and nine TDs. Clemons caught 32 for 571 and seven TDs.
Williams had 16 catches for 254 yards and four TDs.
Carter rushed for 671 yards on 71 carries and scored seven TDs. He also had 18 catches for 266 yards and five TDs.
Glenbrook's other first-team selections on defense were sophomore lineman Daivari Jackson, senior linebacker Hayden Harmon, senior defensive back Maddox Mandino and senior defensive back Trey Kent.
Harmon had 61 total tackles, including 5.5 for loss. Mandino had 54 total tackles. Kent had 38 and Jackson 24.
Feaster was also named first-team kicker.
Mandino was also named first-team returner and second-team athlete. Powell was named to the second-team defense at flex.
Glenbrook's other second-team selections were junior guard Spencer Brantley, junior running back Chase Sentell and sophomore defensive tackle Johnathan Bryant.
Glenbrook's honorable mention selections were linebacker Toby Haulmark, defensive back Dayton Sims, defensive lineman Mason Farnell, defensive lineman Preston Pope, defensive back Seth Mangram, defensive back Jackson Waller, defensive lineman Trey Yetman, offensive lineman Luke Vining, offensive guard Cade Vining and center Jackson Lott.