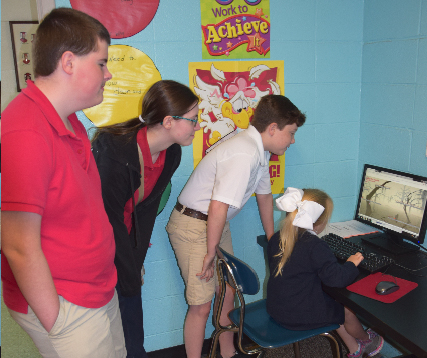 It's a simple video game with a Louisiana theme that a kindergartner can play.
Dubbed "The Gumbo Game," students in Glenbrook School's Coding and Gaming Club, created a video game using their Science, Technology, Engineering, Art and Math skills. This month, the club beta-tested the game for the first time, where 40 kindergarten students played the game, and many were able to master it.
Seventh graders Maddox Lee and J.T. Dean, and freshman Makayla Dean were the primary code writers for the game, club sponsor Lesa Ward said. Lee said he's played video games all his life, and this was a good way for him to expand his skills.
"When I get to college, I'd like to get a degree in coding, get to a more advanced level in art design and graphics," he said. "You don't have to be really smart to do this. It's pretty easy and it's fun."
A different part of Louisiana culture is depicted in the game on each level. On the first level is a forest, the second level is a swamp, the third level is a depiction of a New Orleans cemetery and the fourth level allows the player to catch crawfish. The player will go through each level and catch different items, such as diamonds or sprites. On the cemetery level, the player must catch stars. In the swamp level, the player is a frog attempting to catch flies.
Club Sponsor Patrick Miller said the idea is to introduce them to key concepts in STEAM learning.
"Over the course of the year, students learned the basics of HTML, CSS, website creation and basic video game design," he said. "Students also got a chance to visit the game design program at Southern Arkansas University to see what their academic options might be for pursuing game design beyond the club."
Makayla Dean said she would like to pursue a degree in animation.
"Animation is always something that's fascinated me," she said. "I've considered going into animation and graphics. You can work with movie studios and create your own animated series."
The game not only teaches club members about technology and using those science and math skills, but it helps the kindergartners with hand, eye coordination, Ward said. The club members began the game design in September 2016, but it wasn't until January they ramped up to finish the game design. They gave up some of their weekend time for "Game Jam," where they came in on Saturdays and worked on coding games.
"This was just a beta test," Ward said. "I recorded a video of it, and we went through and I asked them what they liked about it, and what they didn't like about it. They all gave it a thumbs up."
Miller has the game set up so that if students choose to, they can go back in this summer and add to the game.
"When you play video games, you can imagine things you want to be in your game," Lee said. "You can come up with things, and this club allows you to put it into a basic structure. It helps you understand coding, and it helps put your creativity into a game format."
Eighth grader Lukas Krouse said while he wasn't in on the game design, he's learned about platform design and graphics editing.
All the club members said they will continue in the club next year.
"I've never really been big into video games, but when I heard about this club, it seemed pretty interesting," Krouse said. "I learned some things that I thought I would never learn. I didn't know there was that much to making a game."