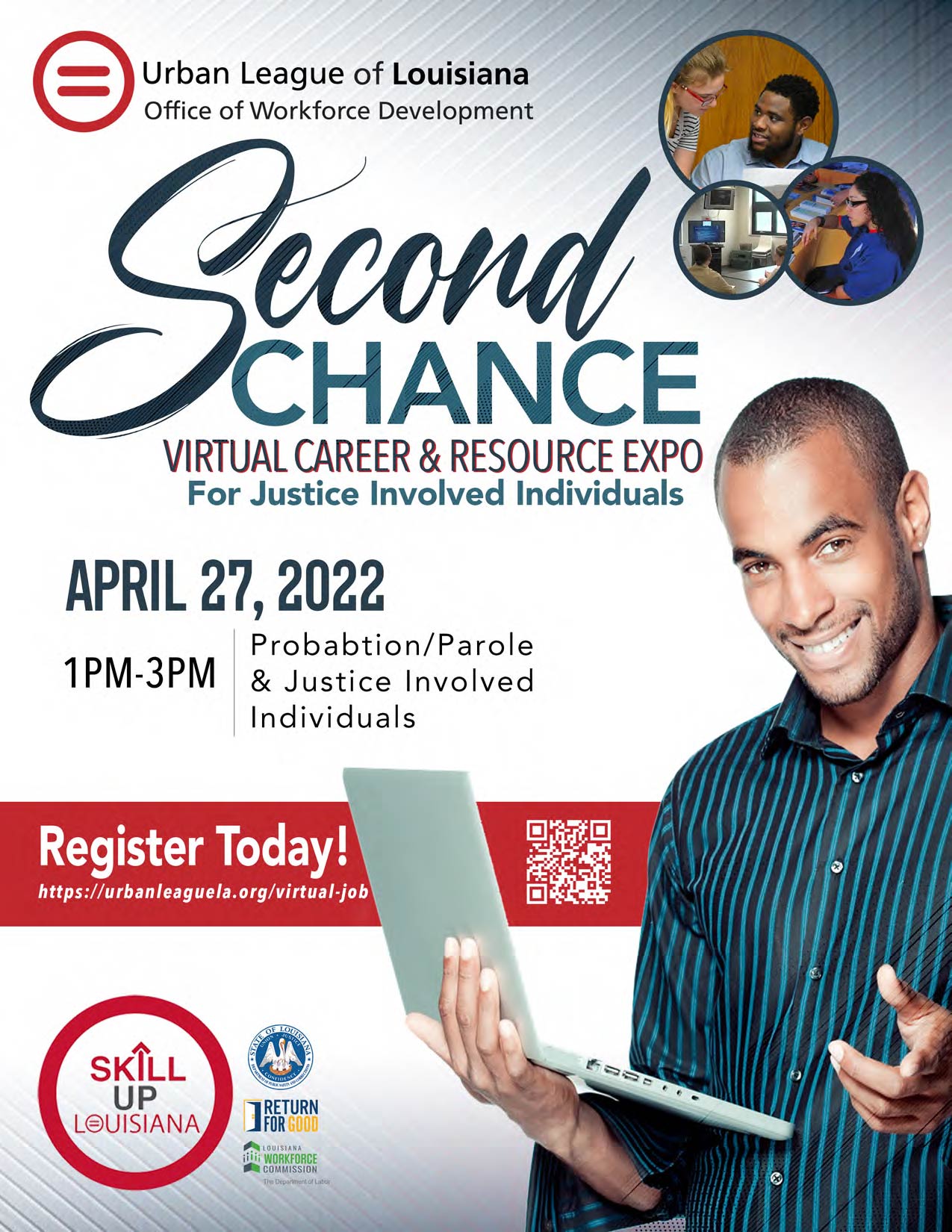 North Louisiana— At a time when job openings continue at record high levels, Goodwill Industries of North Louisiana remains more committed than ever to helping people re-enter the workforce or learn new skills to better position job seekers for future employment. And there is no better time to help people than during Second Chance Month.
Second Chance Month takes place every April and helps raise awareness of the barriers and opportunities for people with justice involvement. "All month, we are highlighting our ongoing job training and social service offerings that help people who have justice-involvement find jobs and support their families when they return to their communities," said David Tinkis, President and CEO. "We know from our ongoing job training and skills development programming that when people return from correctional facilities and then find and keep good jobs, they build brighter futures for themselves and their families, and strengthen their communities. Goodwill is proud to do its part to help people transition from justice involvement to advancing in their careers."
"Even with more available jobs, we're seeing an ongoing and widening skills gap that is preventing many of those from the most vulnerable communities from reentering the workforce," said Steven C. Preston, president and CEO of Goodwill Industries International. "That's why job training and re-training programs like those at Goodwill Industries of North Louisiana continue to be an important and essential way to help people navigate past any past obstacles to get the support they need to get a job or advance within a career."
The National Reentry Resource Center (NRRC), established by the Second Chance Act and funds work to improve reentry outcomes nationwide, hosts Second Chance Month. Recently released data of a study of formerly incarcerated people revealed that a third (33%) of persons in the study population did not find employment at any point during the 16 quarters after their release from prison from 2010 to 2014.
"Goodwill believes all individuals deserve a second chance and that the best way to help them be successful is to offer work-related programs that allow them to become self-sufficient," said Lynn Stevens, Director of Workforce Development.
Among the Goodwill programs and training opportunities available to those reentering the community, Goodwill offers the EXIT-318 Program, which serves Caddo, Bossier, Ouachita, Caldwell, Richland and Franklin parishes; the Ex-Offender Placement Program, which serves Caddo, Bossier, Webster and Desoto parishes; and serves as the single point of contact, convener and implementer of reentry efforts for both the Northwest and Northeast Louisiana Reentry Coalition. In addition, Goodwill also offers work readiness training to those incarcerated at Caddo Correctional Center and is in the process of launching a similar program at Ouachita Correctional Center. All of these offered programs help individuals learn new skills, get relevant training or start new career paths.
As part of Goodwill's commitment to Second Chance Month, the organization will participate in or host the following activities:
April 13 – Return for Good Webinar, Community Incentive Grants and Second Chances, Hosted by Louisiana Department of Corrections, 1pm (https://us06web.zoom.us/webinar/register/WN_4DHock7ZRzmfoWZJ3RO-8A)
April 19 – Virtual REAL Reentry Symposium, Hosted by Reentry Alliance for Louisiana, 8:30am to 4pm
(http://events.r20.constantcontact.com/register/event?oeidk=a07ej1dddoq97ff9891&llr=bxidk78ab)
April 20 – Return for Good Webinar, Occupational Licensing and Collateral Consequences, Hosted by Louisiana Department of Corrections, 1pm (https://us06web.zoom.us/webinar/register/WN_VKYSLwtWR5WfP8HwFS4oXw)
April 20 – Monroe Reentry Resource Fair, Monroe Probation & Parole Office, 24 Accent Drive, Monroe, 8:30am to 11am
April 22 – Fresh Start Reentry Resource Fair, Morning Star Baptist Church, 5340 Jewella Avenue, Shreveport, 9am to Noon
April 26 – Louisiana Employer Engagement Forum, Hosted by Right on Crime and Louisiana Workforce Commission, 8:30am
(https://rightoncrime.com/news/events/louisiana-employer-engagement-forum/)
April 27 – Second Chance Virtual Career & Resource Expo, Hosted by Urban League of Louisiana and Louisiana Workforce Commission (https://urbanleaugela.org/virtual-job)
April 30 – Expungement Clinic and Reentry Resource Fair, Goodwill Industries Job Center, 800 West 70th Street, Shreveport, 9am to Noon
All events are free and open to the public.
To learn more about Second Chance Month, please visit the Department of Justice's Office landing page to view other calendars of events and access information on the month's purpose and vision.