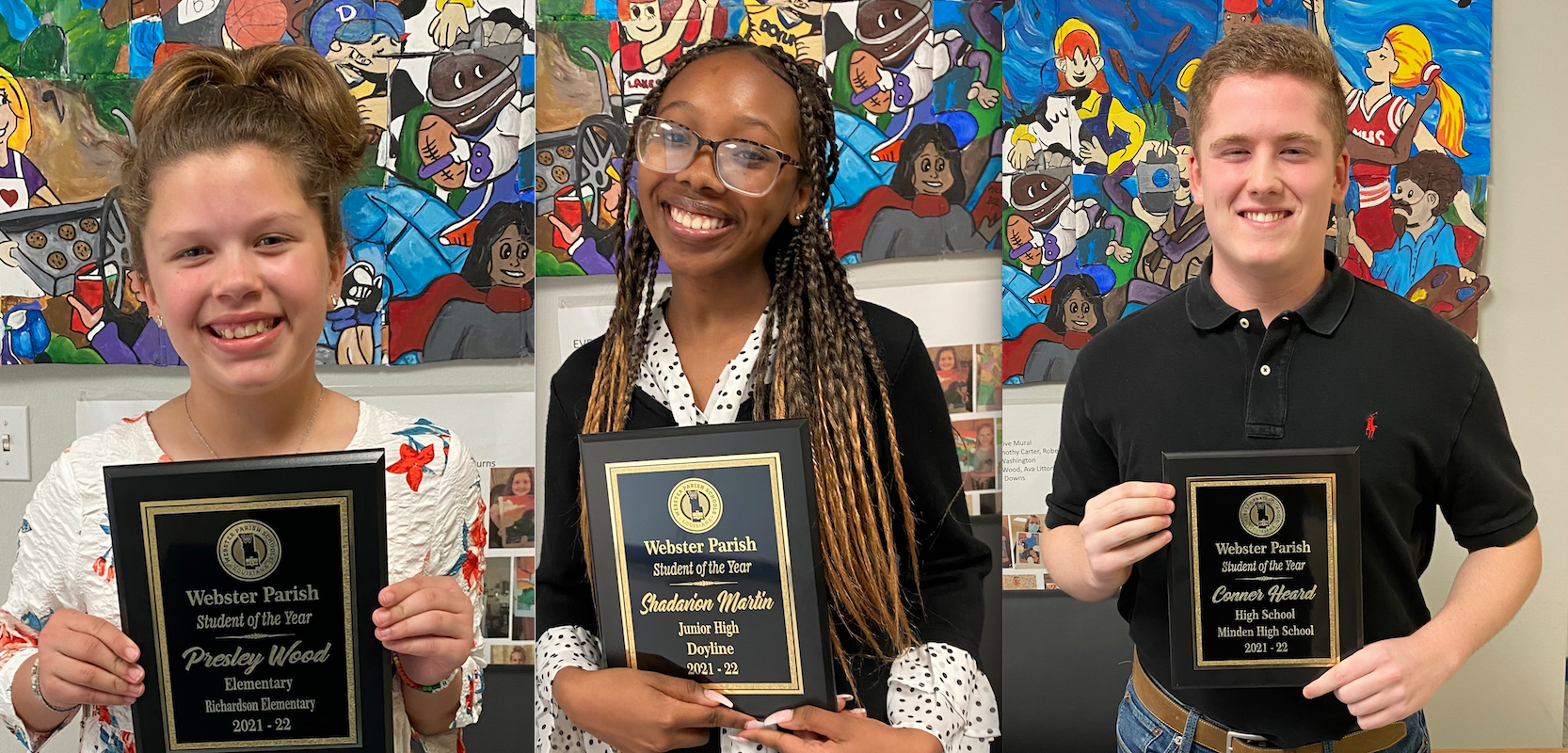 The Students of the Year for Webster Parish were announced during this month's school board meeting. The selections were difficult to make as all of these students were worthy of this title.
Presley Wood of Richardson Elementary won the 5th grade division which also included Brenan Hubbard of Central Elementary, Landreigh Sparish of Doyline High, Isabella Deaver of Brown Upper Elementary, and Travis Craighead of North Webster Upper Elementary.
Presley is active in her community as a member of both the Lady Gators travel ball team and Cyndi's School of Dance. "One of Presley's most recent accomplishments, and one that she is most proud of, is that she established the Roadrunner Reading Club," states her letter of recommendation.
Shadavion Martin of Doyline High won the 8th grade division which also included Angel Stewart of Webster Jr. High, Cole Shirley of Lakeside Jr/Sr High, and Kadi Colvin of North Webster Jr. High.
Shadavion participates in activities including Student Council, 4-H, basketball, and church youth choir. "Shadavion aspires to also become an educator one day and hopes to also eventually become a principal," her letter of recommendation stated.
Connor Heard of Minden High won the 12th grade division which included Kali Moreno of Doyline High, Jake Chumley of Lakeside Jr/Sr High, and Brianna Lewis of North Webster High.
Conner's accomplishments include maintaining a 4.0 GPA, scoring a 34 on his ACT, and being named 2022 Commended Student in the National Merit Scholarship Program. He has also received several athletic awards. "He has received numerous scholarships, but has accepted the Presidential Scholarship at La. Tech University where he will major in Engineering in the Fall," his recommendation letter stated.
Due to COVID restrictions, the awards have not been presented in person for the past couple of years, but the schools are happy to be able to start doing them again. "It's been a little over two years since we were able to recognize our students of the year and teachers of the year in person," said Ms. Tucker about the award ceremony. While they have started back doing them in smaller groups, Ms. Tucker said that they look forward to being able to have more elaborate ceremonies again in the future.
During next month's school board meeting on May 2nd, the support employees of the year and teachers of the year will be announced.