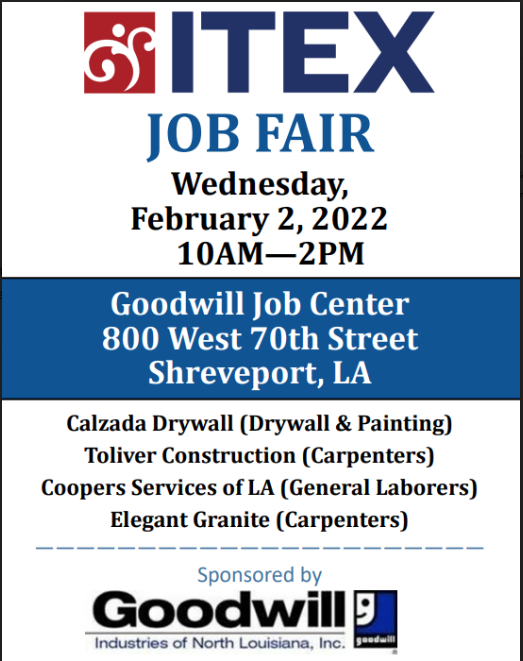 Shreveport, LA – On Wednesday, February 2, 2022, Goodwill Industries of North Louisiana will team up with ITEX Group to host an in-person Construction Trades Job Fair at its Job Center located at 800 W. 70th Street, Shreveport.
Calzada Drywall, Toliver Construction, Coopers Services of Louisiana and Elegant Granite will be onsite accepting applications, doing interviews and hiring on-the-spot. The event is free and open to the public from 10am to 2pm.
ITEX Group, located out of New Orleans, Louisiana, is the HUD Choice Neighborhood Project Developer working alongside the Shreveport Housing Authority.
"Goodwill is the employment vendor for the City of Shreveport and the Volunteers of America Choice Neighborhood Project. Teaming up with ITEX Group to help them find the construction employees they need seemed like a natural fit for our organization, " stated Lynn Stevens, Director of Workforce Development.
All applicants will be required to complete a health screening form and asked to wear a mask to participate in the Job Fair. Masks will be available onsite. Goodwill helped more than 470 individuals gain employment last year. Goodwill's mission strategy will be to continue its bi-monthly job fairs during 2022.
About Goodwill Industries of North Louisiana:
Founded in 1926, Goodwill Industries of North Louisiana is a nonprofit social enterprise whose mission is to provide education, training and career services to individuals who face barriers, disadvantages or have a disability. Since 2005, Goodwill has helped 50,000 achieve their full potential through the dignity and power of work.
Goodwill Industries of North Louisiana's, ten retail locations provide not only affordable goods and services, but also employment to those in need and a revenue stream to support Goodwill's charitable mission. In addition, a wide range of business services, including janitorial and grounds maintenance, allows Goodwill to expand further employment opportunities by contracting with federal, state, governmental and non-governmental organizations.
Goodwill also offers multiple job resource centers, equipped with job-search experts, computers, Internet access and telephones. Goodwill believes that work has the power to transform lives by building self-confidence, independence, creativity, trust and friendships. Everyone deserves this chance.
For more information on Goodwill Industries of North Louisiana programs or services, or to find a location near you, visit www.goodwillnla.org.