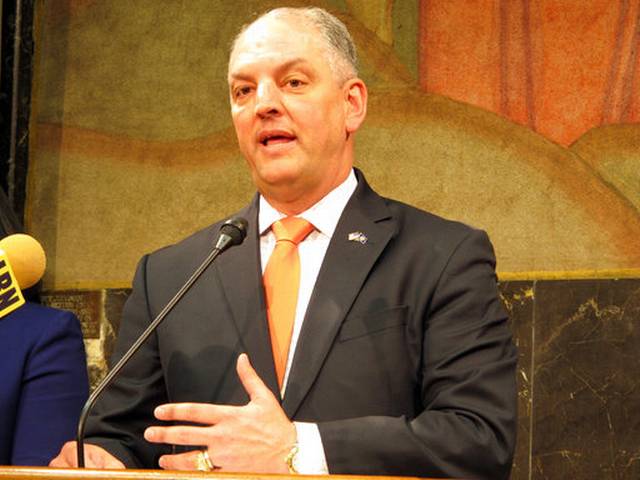 (The Center Square) – Louisiana largely dodged major flooding from Tropical Storm Cristobal, though trailing bands of rain and possible coastal flooding still pose a threat, Gov. John Bel Edwards said Monday.
"The storm could have been a lot worse," he said.
Ten people were rescued from rising water Sunday at Fountainebleu State Park in Mandeville. A back levee was overtopped, leading officials to send additional pumps to Grand Isle.
The Coastal Protection and Restoration Authority is beginning to open the hundreds of floodgates that were closed before the storm, Edwards said. Almost 4,000 state residents remained without power Monday afternoon, he added.
Edwards noted that we have only just completed the first week of what is predicted to be an active hurricane season.
During a press briefing Monday that touched on several subjects, Edwards was asked about the ongoing controversy regarding New Orleans Police Department behavior during a protest last week. New Orleans Police Department Superintendent Shaun Ferguson on Monday admitted officers fired projectiles at the crowd, which he denied last week.
Edwards noted that Ferguson has said he was misinformed and is investigating. The governor did not explicitly condemn the use of rubber projectiles and tear gas at last week's protest, but he did say law enforcement tactics generally need to be reevaluated.
Edwards again said the overwhelming majority of protests across the state have been peaceful. He said people generally are appropriately "exercising their First Amendment rights" and "they shouldn't have to worry about the hand of law enforcement being too heavy."
He did not endorse calls to "defund" police departments but said a review of police tactics and how officers are selected and trained is warranted. State Rep. Edmond Jordan, a Baton Rouge Democrat, has proposed in the current special session revoking law enforcement officers' qualified immunity from civil liability as a defense for claims of wrongful death or physical injury. State Sen. Cleo Fields is working on a larger package of legislation that could be considered next year, Edwards said, adding that he hopes "broad consensus" on the issue can be reached.
Edward said he is concerned about an increase of COVID-19 cases and hospitalizations in northeast Louisiana. But overall, he said the state's recent testing results have been encouraging, noting that the Memorial Day holiday weekend doesn't seem to have produced a spike in cases.
He is also concerned that many people aren't answering the phone when the health department calls to inform them that they may have been exposed to the coronavirus. Participation in the contact tracing program is not mandatory, "but it is the right thing for people to do," he said.
As of noon Monday, at least 2,831 Louisiana residents had died from COVID-19, state health officials reported. About 53 percent of them were black, Edwards said, compared to about 33 percent of the population.
More than 43,000 COVID-19 cases have been reported in the state since the pandemic began, and state health officials believe almost 34,000 have recovered.