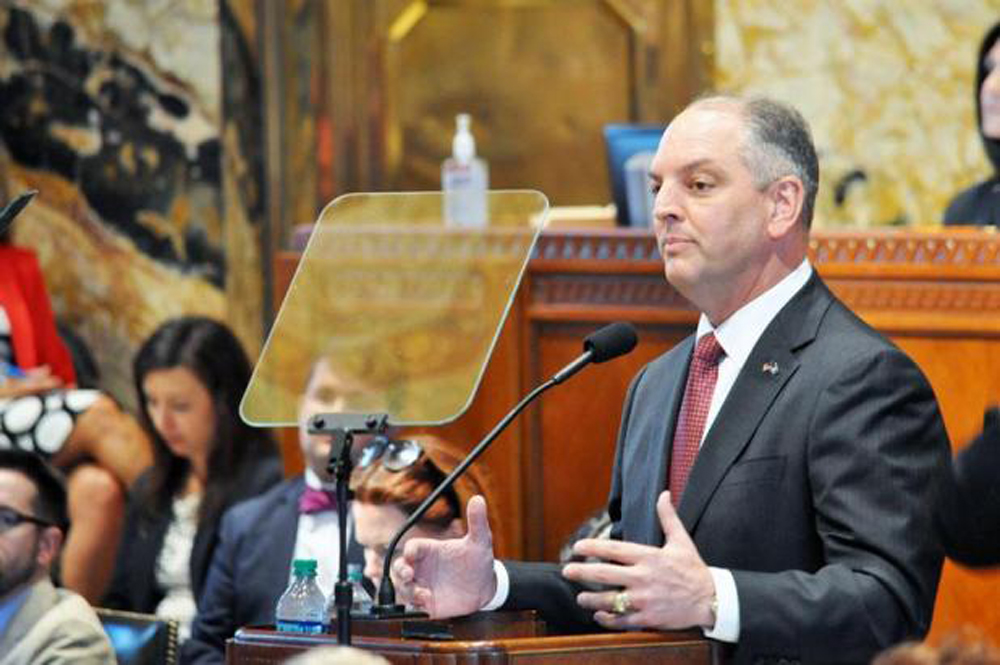 BATON ROUGE — Responding to Republican resistance to his tax and spending plans, Gov. John Bel Edwards told lawmakers Monday he's willing to consider other ideas but warned that Louisiana "cannot deliver critical state services on political soundbites."
The Democratic governor said Louisiana's leaders need to remedy the cycles of unstable state finances in this two-month regular session without falling into partisan talking points. The governor is pushing a tax overhaul that aims to end the budget gaps by more heavily taxing businesses.
"This is the big moment. The structural deficits have gone on for too long. The resistance to doing what is right and necessary to fix this problem once and for all is no longer acceptable," Edwards told the House and Senate.
Republicans, particularly House GOP leaders, haven't embraced Edwards' ideas. Rather than support a tax plan to raise more dollars for the state treasury, they're suggesting reductions in state government spending.
Edwards struck directly at them, without citing party affiliation or naming anyone. He said if lawmakers want to talk about "lower taxes and a more efficient state government," they need to follow that up with "exactly what is it you intend to cut, what college or hospital do you want to close, what road in your district you'd rather not see built or repaved."
"Criticism is only as valuable as the input and the action that follows it, but we have seen very little constructive input and practically no constructive action. It just isn't helpful," he said.
Edwards' tax package is intended to replace $1.3 billion in temporary taxes set to expire in mid-2018, while also raising another $400 million for next year's budget that the governor wants to spend on the TOPS college tuition program, K-12 education and other items.
The proposals would continue the planned drop in state sales taxes from 5 percent to 4 percent, while charging the tax on new items such as cable television and digital streaming services. Some tax breaks would be lessened. Individual income tax
rates would drop. The corporate franchise tax would be phased out.
Many parts of the package would require hefty, two-thirds votes from lawmakers, including the centerpiece proposal, a new tax on gross receipts called a Commercial Activity Tax.
Rep. Stuart Bishop, a Lafayette Republican, said he's willing to consider a tax plan to replace the temporary taxes — but he won't support raising additional dollars, saying the state needs to "freeze government where it is." He doesn't believe the gross receipts tax will gain traction. He said in his region, the oil and gas industry slump has hammered companies and jobs.
"If there's any time to help business, it's right now," he said.
Edwards said his tax plan is aimed at making sure businesses are paying "their fair share," and he cites data that 80 percent of corporate income tax filers in Louisiana didn't pay state income taxes in 2015.
"That means a CEO's administrative assistant at some of the most profitable corporations paid more in state income tax than the companies he or she works for. That just isn't right," he said.
He said his proposals would lower the tax bills of 90 percent of personal income taxpayers.
Critics say the gross receipts tax would harm companies working on tight margins by not accounting for profit or expenses. They worry it could chase away business in a state with one of the nation's highest unemployment rates.
Rep. Lance Harris, the leader of the House Republican delegation, said the tax would "devastate a lot of businesses." Rep. Rob Shadoin, a Ruston Republican who often works with the governor, doesn't see much support for the gross receipts tax so far.
"We don't have a whole lot of time once we get to spinning and ginning down there to sit back and evaluate and analyze, especially a new idea like this," Shadoin said.
Some lawmakers question whether any tax reform can win passage amid the divisions between Edwards and House leaders. But Rep. Mike Danahay, a Democrat from Sulphur, hopes something is accomplished.
"We need to address how we operate fiscally. It's antiquated, and in need of gross overhaul," he said.
Lawmakers also will consider whether to raise Louisiana's gasoline tax for the first time since 1990 to improve roads and bridges. And they'll haggle over whether to rewrite criminal sentencing laws to end Louisiana's tenure as the state with the highest incarceration rate.
The legislative session must end by June 8.