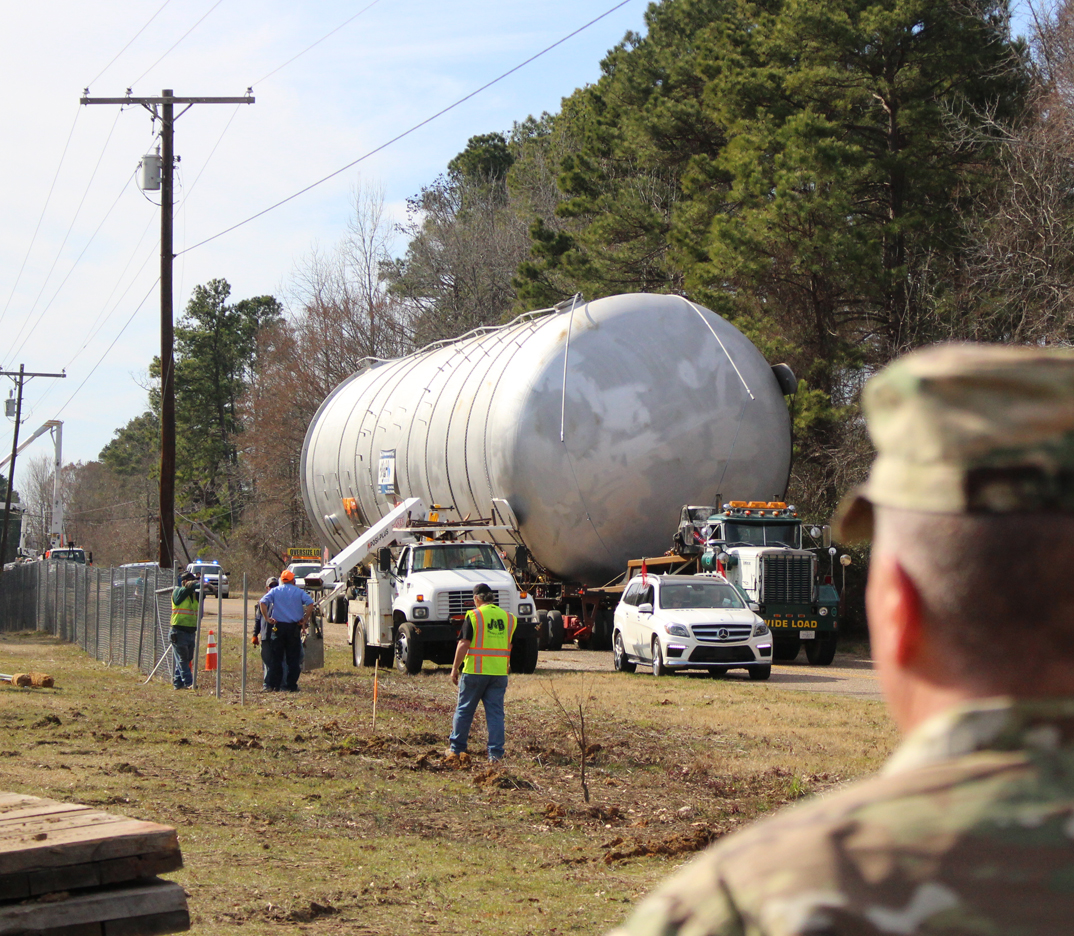 The Webster Parish Police Jury in a special meeting Tuesday morning voted to rescind a resolution passed in December 2016 opposing the contained burn chamber's permanent location at Camp Minden.
Seven police jurors voted in favor of a motion to remain neutral in the controversial issue. Four voted in opposition and one abstained after hearing passionate pleas from citizens in the packed room.
The ultimate decision is up to Gov. John Bel Edwards as the contract is between Explosive Service International and the Louisiana Military Department.
Edwards has yet to make a decision and doesn't plan on making one until he meets with local legislators, Edwards's Communications Director Richard Carbo said.
Bonsall said he was glad the vote was over, because he felt the resolution passed in December was done in haste, and now that the jury has taken a neutral stance, it has opened the door for Edwards to make the decision he feels is right.
"I believe what we did today was make the Webster Parish Police Jury neutral, and I really feel like we put the ball back into the governor's court," he said. "I think we should have waited until they were farther down the road, closer to being through disposing of the M6, before we did anything. I think we made this hard on ourselves today."
He said he was proud of the jurors for voting how they thought was best. He commended Moseley for standing up for his constituents. Bonsall said when the resolution was passed, there was more emotion than facts.
"I believe we should never have done this resolution, no matter how I might feel about the burn chamber," he said.
Juror Nick Cox, who made the motion to rescind the resolution, said sometimes contracts need changing while addressing the jury and audience.
"I had a call the other day telling me that some of the same people saying ESI should honor the contract, are the same ones that look at (Minden Mayor) Tommy Davis and say he needs to get out of that contract with SWEPCO (the City of Minden's electricity provider)."
Cox said the jury demanded information from ESI, the EPA and military after hearing that certain chemicals, such as benzene, were put into the air by the burn chamber. After receiving information from the different agencies, Cox said, the jury learned a third-party hired by the EPA, verified that no benzene was detected in the burn chamber emissions.
"I learned that I get the most exposure to benzene when I am filling up my F150," he said. "We learned that there was no benzene. That's a fact, Jack."
Proponents of ESI keeping the contained burn chamber at Camp Minden say it is a clean, safe technology, and will create more jobs. Businessman James Madden said Barksdale Air Force Base is just next door in Bossier Parish and is the biggest employer in the area. BAFB is a nuclear facility, he added.
"We have B-52s flying every day, every hour over there, and people say it's going to decrease their property values," Madden said. "That is not correct, simply because, once Barksdale was there, people started building towards Barksdale. Houses are built all the way up to the fence. My point is this, if you want to consider what danger ESI could pose out there, versus what Barksdale is, it's not even to be considered."
He went on to say Webster Parish has lost population as well as student population – and that is an indication that people are not moving here.
"People come to an area for jobs, and that's what this one possibility is we can afford a business that will have good-paying jobs and will grow," he said.
Rick Broussard, Citizens Advisory Group board member, said if the chamber stays, Webster Parish will become the largest waste disposal site in the nation.
"Before we even selected a system to dispose of the M6, one of the unanimous opinions of not only the dialogue committee, but the people who attended these meetings on a regular basis, was when the system was put in, when it finished with the M6, it had to be removed," he said. "That was a top priority, and it has always been a top priority. It wasn't until a couple of months ago that that's changed."
Others spoke up during the meeting, saying they wanted ESI to honor the contract and dismantle the burn chamber once the destruction of the M6 is complete, which is expected to be complete before Easter. They talked about their sentiments and beliefs that their children and grandchildren should have a safe environment to live in and raise a family.
"I don't care about the property values," Helen Brandt, a nurse, said to jurors. "I care about the health and safety of the children in this area. If all this is about money and property values, then you have the wrong values."
In response to Tuesday's vote, ESI Vice President Jason Poe said he was glad to see the jury rescind the resolution.
"We are gratified by the jury's decision to rescind the earlier resolution that we believe was passed in haste, and in the midst of hysteria based on misinformation," Poe said. "Today, the jury officially recognized what we have demonstrated with objective facts and data – that the Camp Minden clean burn chamber brings clean, safe economic development to the parish.
This is a victory for our parish, and the 40 local families who derive their livelihoods from doing this important work."
Jurors voting in favor of rescinding the resolution were Daniel Thomas, District 3; Bruce Blanton, District 1; Nick Cox, District 8; Jerri Lee, District 9; Steve Lemmons, District 7; Vera Davison, District 10; Jim Bonsall, District 6. Voting against were: Bernard Hudson, District 5; Dustin Moseley, District 12; Allen Gilbert, District 2; and Steve Ramsey, District 11. Randy Thomas, District 4, abstained.