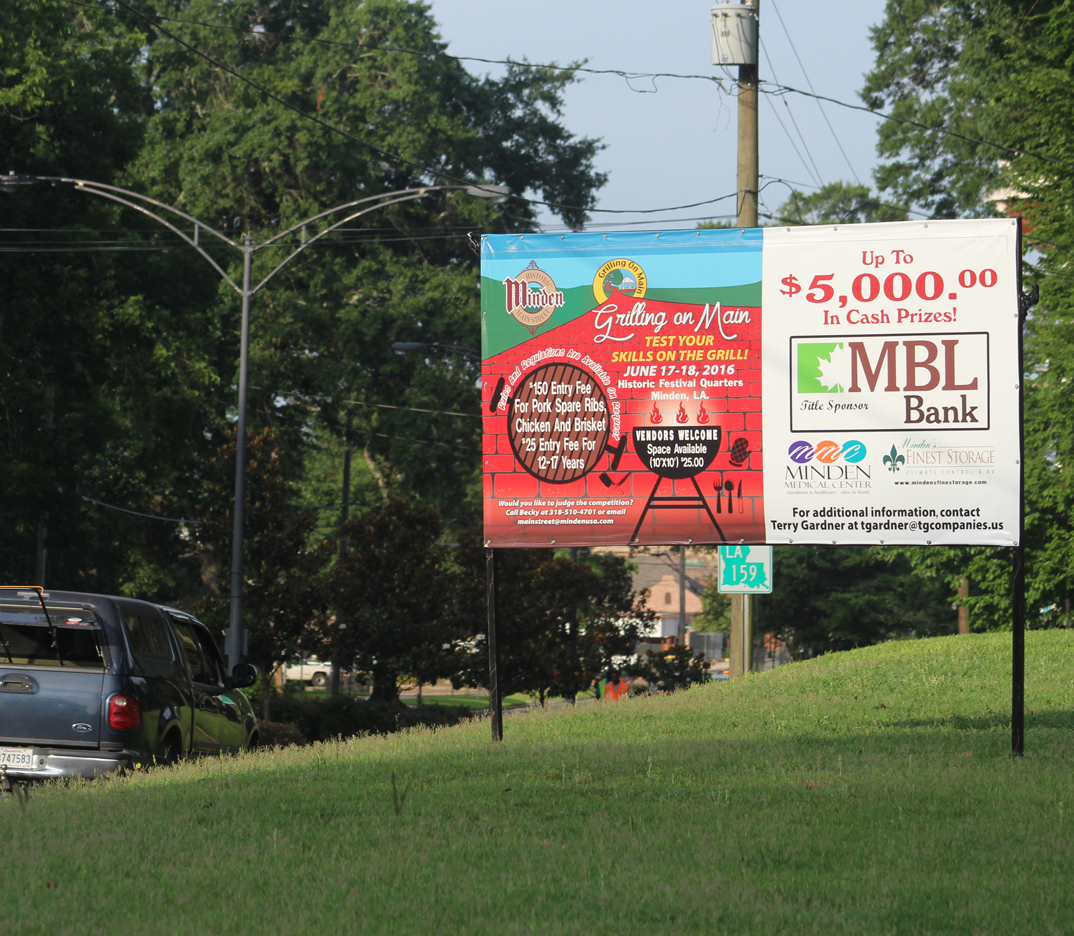 Cooks from around the region will be firing up their grills downtown for the inaugural "Grilling on Main" BBQ Cook-off and Festival.
The event, sponsored by the Minden Main Street Program and title sponsor MBL Bank, is a contest sanctioned through the Barbecue Competitors Alliance with more than $5,000 in cash prizes. It will be from 10 a.m. until 5 p.m., Saturday, and admission is free.
Terry Gardner, Minden Main Street Board president, says Main and Pearl Streets will be closed down by 5 p.m. Friday, and on Saturday, downtown will be filled with the wonderful aromas from the contestants cooking chicken, ribs and brisket.
"It's going to be a first-class, fun-filled day," he said. "It's going to be a family friendly festival. Right now, we have 34 contestants. I'm projecting we'll have 40 contestants by the end of Friday, because people with their busy lifestyles and watching the weather, they wait until the last minute."
He explained for the People's Choice Award, a red box will be at each contestant's station, and everyone who buys a $5 tasting ticket will be able to put tags into the red box of their choice.
"A trophy cup will be given away to the People's Choice," Gardner said, "and when they return the next year, their name will go on the trophy and be given to the next recipient."
Tasting begins at 11 a.m.
"If you're coming to the festival, the first thing you're going to see is the welcome sign at the corner of Main and Pearl Streets," he said. "You're going to have directional signs, which is going to drive you to the kids area, the grillers, the beer garden, to the vendors. We've got over 25 crafts vendors coming. We're having a farmer's market that will be there. Face-painting, bounce houses for the kids, and we've got music, bands and DJs all day long."
There will be various arts and crafts vendors along Main and Pearl Streets, a beer garden at Easley's Courtyard, featuring live music and entertainment. Food vendors will be selling pork chop sandwiches and barbecue, buffalo-bacon burgers, smoked elk sausage, rib plates, traditional burgers, hot dogs, pork sausage, corn dogs, funnel cakes, boiled crawfish and shrimp, gumbo and etoufee.
Ice cream will also be for sale from "Grampy's," an antique ice cream truck, Gardner said.
Raffle tickets will also be for sale for $5 each, giving each recipient two chances of winning. The first drawing will be for a stainless steel crawfish cooker, and the second drawing will be for a stainless steel outdoor griddle, both donated by R&V Works of Homer. Raffle ticket holders do not need to be present to win.
The raffle winners will be announced at the same time the grilling winners are announced, Gardner said. A portion of the proceeds will go to the Minden High School Louisi-annes, to help with uniforms and travel expenses.
The "Grilling on Main" BBQ Cook-Off and Festival will be an annual event and fall on every Father's Day weekend.