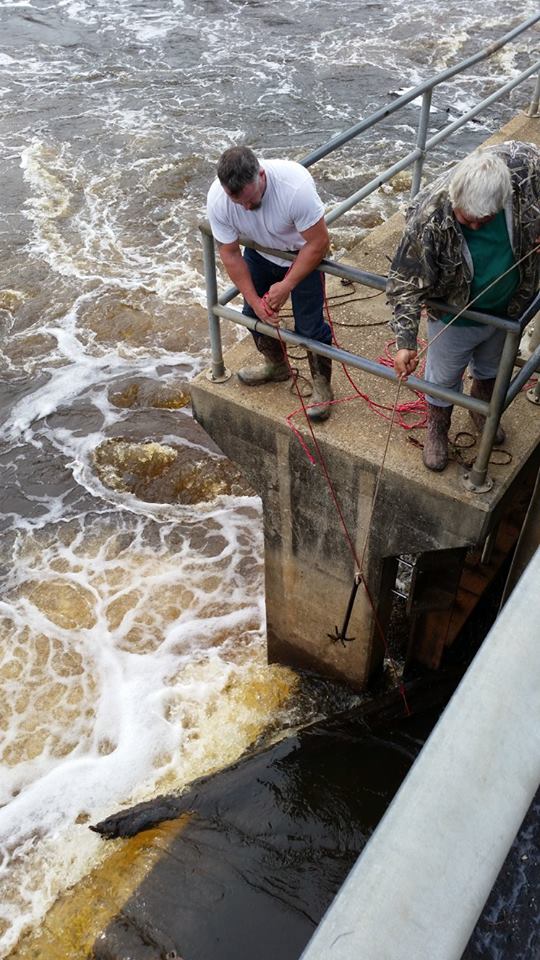 SOUTH WEBSTER — Their numbers were small, but their hearts and backs, were mighty.
Eight workers tackled trash and logs that littered the Lake Bistineau dam area Saturday.
Weldon Thomas, who was part of the group, says they took Mike Manshack's idea of using ropes and 3-prong hooks to remove logs that were blocking the lake from flowing over the spillway.
"There was trash, debris and logs jamming spillway, even the salvinia couldn't go anywhere," he said. "Once we removed the logs, the savinia and everything started flowing nice like it should be."
Thomas said the group, made up of Manshack, Shannon Wright, Keith and Marlaina Free, Jim and Reba Cryer, Anita Shows and himself removed about 50 logs in four hours.
He said that the process worked by tossing the hooks made by Manshack out into the water. Once the log was hooked, he said someone would hook the other end of the log and they would walk it to the end of the spillway and release it.
"It was some hard work and we were tired, but it defiantly made a difference," Thomas said.
The group's goal is to keep everything flowing normally so the salvina that plagues the body of water can flow down stream before the spillway gates are closed on Jan. 15.
Thomas says when the group left Saturday, no trash or logs were blocking the spillway on the Bossier Parish side and everything was flowing fine. However, he said logs are already beginning to block the spillway again.
"We went out there yesterday (Sunday) and there are logs already coming back up," Thomas said. "It kind of needs to be a regular thing, but the state is not going to do."
In addition to removing the logs the group also picked up trash around the dam. They hope to place trashcans around the area soon for the public to use.
"Will they use them? Who knows," he said. "I don't understand why you have something nice and just trash it."
Thomas said plans are being made to clean the area a couple times a month to keep the area nice and in good shape.
To keep up with the group's events and new concerning Lake Bintineau, join the Lake Bistineau News group on Facebook.