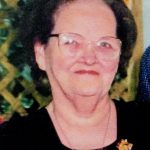 Graveside services for Hannah Margaret McKissack will be held Tuesday, Oct. 10, 2017 at 10 a.m. at Fellowship Cemetery in Dubberly under the direction of Rose-Neath Funeral Home in Minden. Officiating will be Bro. Ronnie Whitlock.
Hannah was born July 9, 1935 in Refugio, Texas and entered into rest Oct. 7, 2017 in Minden. She was a member of Beech Springs Baptist Church where she sang in the choir and taught Sunday school. Hannah led a simple yet very fulfilling, positive life. She spent all of her time taking care of her husband of 62 years, her children, grandchildren, and great grandchildren. God, family, her church family and cooking were the most important things to her. She had a special touch and loved in a way that made every one she was around, feel like they were the most special person in the world. She leaves behind a legacy of what it truly meant to be a devoted wife, loving and supportive mother, gracious and caring grandmother and great grandmother. She was a lifetime, die hard, Texas Longhorn fan, Hook 'Em Horns!
She was preceded in death by her beloved husband of 62 years, Donald R. McKissack, mother, Amy Daniel, step father, James E. Daniel, father, Buster Sumner, sisters, Janice Sumner, Amy Frost, Mary Beth Bass, and Dara Lou Daniel, brothers, Thomas Sumner Jr. and Eddie Sumner, son-in-law Bruce Holliday, and grandson Ronnie Holliday.
She is survived by her son and caregiver, Donald (Goober) McKissack, daughter, Janice Holliday, sons, Leonard McKissack and wife Annette and Richard McKissack Sr. and wife Tina, and grandchildren, Trey Bogues and wife Heather, Angela Davis and husband Josh, Melissa Harris and husband Scott, Richie McKissack and wife Olivia, Taylor McKissack and wife Rayla, Elaina Pepper and husband Zeb, Kylie McKissack White, Lauren McKissack Osborn, Jessica Ford Gray, Vickey Holliday, Chonnie Turano and husband Dave, and great grandchildren, Justin and Macey Garrett, Skylar and Hannah Davis, Hunter Allen, Landon Baker, Annalyn, Addie, Hayden, and Bryce Harris, Madison McCormick, and Georgia and Gracelynn Pepper.