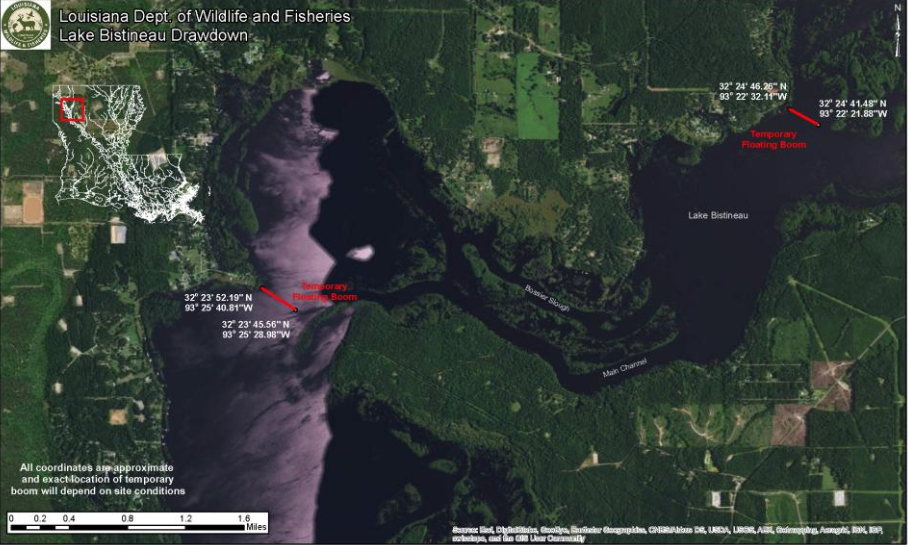 LDWF Deploys Boom in Lake Bistineau to Collect Salvinia
The Louisiana Department of Wildlife and Fisheries has deployed 1,800 feet of floating boom which is being used in an experimental way to help aid in giant salvinia control efforts. The boom is intended to help control the drift of floating aquatic plants by providing a location for the plants to collect and allowing more effective herbicide application on the plants.
The floating boom has been deployed at two locations in Lake Bistineau: at Fairview Point and just north of Plum Orchard, as depicted in the attached map. The boom is highly visible and will be marked with additional lights to improve visibility at night.
The experimental boom will be monitored regularly. Vegetation collected by the boom will be sprayed with herbicide. Boom must be used carefully to avoid creating navigation hazards or concentrating salvinia in areas that would restrict boating access on the lake. The success of the boom will be determined by the amount of salvinia collected.
Invasive aquatic plants, such as giant salvinia, spread rapidly threatening the diversity and abundance of native plant species as well as the ecological balance of lakes and ponds. In addition to reducing the habitat quality for aquatic life, invasive species can limit recreational use of waterbodies for activities like boating, fishing, hunting and swimming. Invasive aquatic plants are aggressive and can be very difficult to control.
For additional information, contact Daniel Hill at (225) 765-2328 or dhill@wlf.la.gov.
The Louisiana Department of Wildlife and Fisheries is charged with managing and protecting Louisiana's abundant natural resources. For more information, visit us at www.wlf.la.gov. To receive email alerts, signup at http://www.wlf.la.gov/signup.