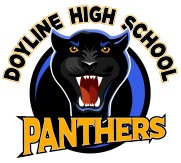 The Doyline Panthers closed the regular season with a 78-55 victory over Georgetown Friday night at Doyline.
It was the Panthers' homecoming game and the court was introduced at halftime.
Doyline jumped out to a 15-0 lead and led 31-10 after the first quarter. The Panthers hit five 3-pointers in the first quarter and continued to have success beyond the arc throughout the game.
The Panthers finished the regular season 25-3. According to GeauxPreps.com, Doyline is No. 6 in the non-select Division IV power ratings.
The top four teams in the final ratings receive byes in the first round of the playoffs and the next 12 host first-round games.
Playoff pairings will be announced Monday.