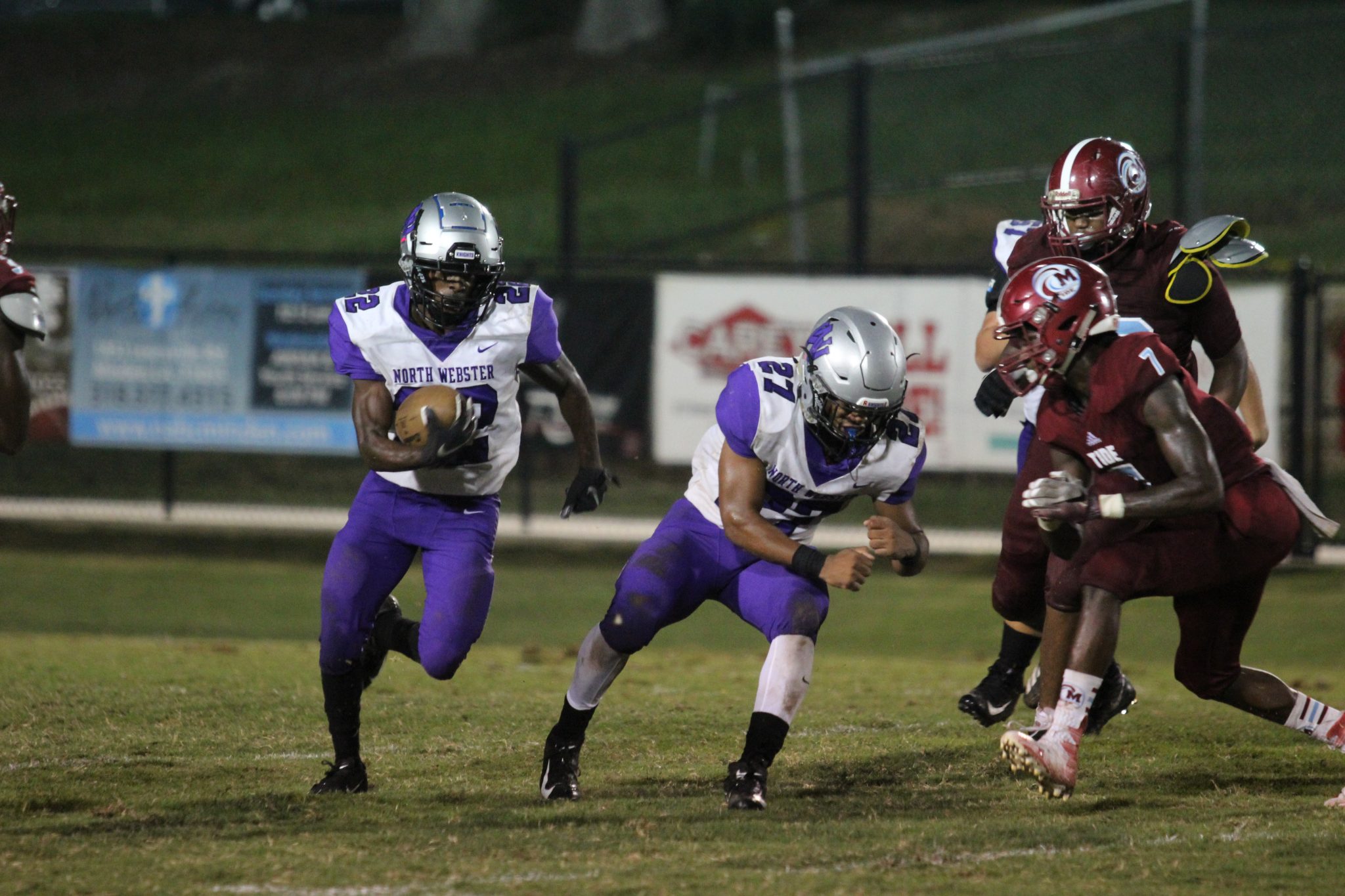 As I said last week, these rankings don't always indicate who I think would win, or who I think is the better team. You cannot know that answer unless the game is actually played.
Yes, Lakeside was at the top last week. As someone pointed out, Lakeside was dismantled in the Pineland Jamboree by a Haynesville team that barely beat Minden. I would point out that both teams lost to Haynesville, no matter the score, and that Lakeside's loss was only a jamboree.
The point is, as I said last week, we don't know whether Minden would beat Lakeside. At that point in the season, the Warriors were clearly performing to their expectations and Minden wasn't.
How much can change in one week…
Now, not only do the power rankings reflect expectations, they seem to show who exactly is the best team in the area, regardless of school size.
1. North Webster (2-2)
The Knights are 2-2 after beating two much larger schools in a row. The win over Minden two weeks ago was huge, obviously. Winning 28-14 over West Oauchita seems to prove that it wasn't just a fluke game in a heated rivalry.
Getting starting quarterback Tyrell Markray healthy has major benefits for the Knights' offense, but it's what happened before his return against Minden that has been a key to their current string of success.
Markray was out for the first two weeks of the season with a knee injury. During that time, players like Eddie Rollen, Lorenzo Johnson and Scottie Johnson had to step up their offensive output with Markray out. I believe the Markray injury gave the other offensive players time to shine in his absence, and it is reaping rewards now as they have all come together to form a dynamic offensive unit that is consistent.
When I watched North Webster play Minden, they had a chemistry that usually only comes from growing up playing together. There were questions about how easily Markray would slot in to the offense after missing a few games, but he didn't miss a beat. He looks like the leader of the offense. Having his calming presence under center let players like Rollen shine.
Rollen is a small player. When he gets the ball, he may be one of the most explosive players in the area. He made big play after big play for the Knights against Minden, and has done so all year for North Webster.
Scottie Johnson is a name that pops up in each conversation I have with head coach John Ware.
"He's an explosive player, he scores a lot of touchdowns for us," Ware said.
With the offense coming together, and a defensive line that can match up with the bigger schools, North Webster is Rollen at the right time.
2. Minden (1-3, 1-0)
Even through the losing streak, I always expected Minden to bounce back. Maybe I just haven't seen enough high school football in my years out of the country, but I fell in love with the Tide early in the season. Head coach Spencer Heard is a stand-up guy whom the players adore. I did an interview early in the season with linebacker Stefan Wheeler that was interesting to say the least. I am on the sidelines for most games and get to interact with their players often. Admittedly, I'm a bit of a homer.
That's not to say that my beliefs were unfounded. The Tide endured bad break after bad break to start the season. Against Haughton, I counted six Buccaneer fumbles that went unrecovered by Minden.
That luck seemed to change last week as Minden entered district play and wiped the floor with Huntington, 35-0, at Independence Stadium.
Heading into that game, the Tide had only scored seven points in the first half all year. Against Huntington, it was 21-0 in favor of Minden with 15 minutes still to play in the first half.
Getting off to a good start will be important for Minden going forward. They don't have the type of offense to play catch up all game. Part of that will be keeping their defense off the field.
Minden's defense is a strong point for their team, but they have been overworked so far this season. Keeping them fresh means putting together drives on offense. Most importantly, keeping the turnovers to a minimum must be a priority moving forward.
Putting Jacareon Lathan at wide receiver is smart, but how much will he be missed on defense?
Running back Lieric Robinison is coming into his own as the lead back. Quarterback Trent McLaughlin is finding his footing as the leader of the offense.
With all the bad fortune hopefully behind them, how far can Minden go now that the monkey is off their back?
3. Lakeside (3-1)
Apparently glowing articles in the Press-Herald is the kiss of death. Or, perhaps, Lakeside just had a bad week.
I still love this Lakeside team, even after a 45-12 thumping at the hands of Rosepine last week.
After getting drilled by Haynesville in the Pineland Jamboree, I wondered what to make of this Warriors team. Then they went out and won three straight games to open the season.
When I watched them play, they had a fun offense and all believed in each other.
I think having so much talent can be intimidating and can create problems. Quarterback Jordan Preuett is a great game manager with a solid arm. He can run the ball effectively too. Preuett had his worst game of the season against Rosepine, but the Warriors need his steady hand at quarterback if they want to keep winning.
The issue is that they have so much firepower on offense with Jacquez Lott and Trey Sanders, Preuett can get overlooked at times. With all that talent, the key is to let the game come to you instead of trying to do too much.
It all starts with Lott, no matter how much you think of Lakeside as a passing team. He's put up crazy numbers this season, even with only 50 yards against Rosepine.
Sanders is another guy who Lakeside need with the ball. He's averaging over 20 yards per reception this season.
McClendon hints at putting him in the wildcat some, a tell-tale sign that "this is our most explosive player."
Lakeside's homecoming is this week against Block, and it will be an almost guaranteed win for the Warriors.
That will put them at 4-1 this season. That's not a bad start, no matter how much you have to endure chants of "O-VER-RA-TED!"
4. Glenbrook (0-6)
It's no surprise that the area team without a win this season sits at the bottom of the power rankings. The surprising thing is that Glenbrook should have at least two wins so far.
"We just do stuff at the worst possible moment of the games," head coach Drew Maddox said.
There have been games when the Apaches are clearly outmatched, something Maddox hopes to fix with smarter scheduling in the future. But against teams like Acadiana Christian, Glenbrook knows they missed an opportunity.
Having five turnovers is a surefire way to lose a game, yet the Apaches still entered the fourth quarter with a chance to win.
The key to turning the season around is going to come from confidence. The way to build confidence is to get a win and get over that first hurdle.
It's not a crisis, but Glenbrook is building something for the future. Developing losing habits is the last thing Maddox wants to build on.
They have a solid offense in place and a quarterback in Jackson Powell who can throw the ball. Marshall Meek is a good two-way player. They lack numbers, but have talent. In order to put it all together, it's going to take confidence.
"Winning teams don't get tight in high-pressure situations," Maddox said.
I think it all comes down to that. Learning how to win. It's a huge hurdle to overcome. Once that happens, though, it can become habit.