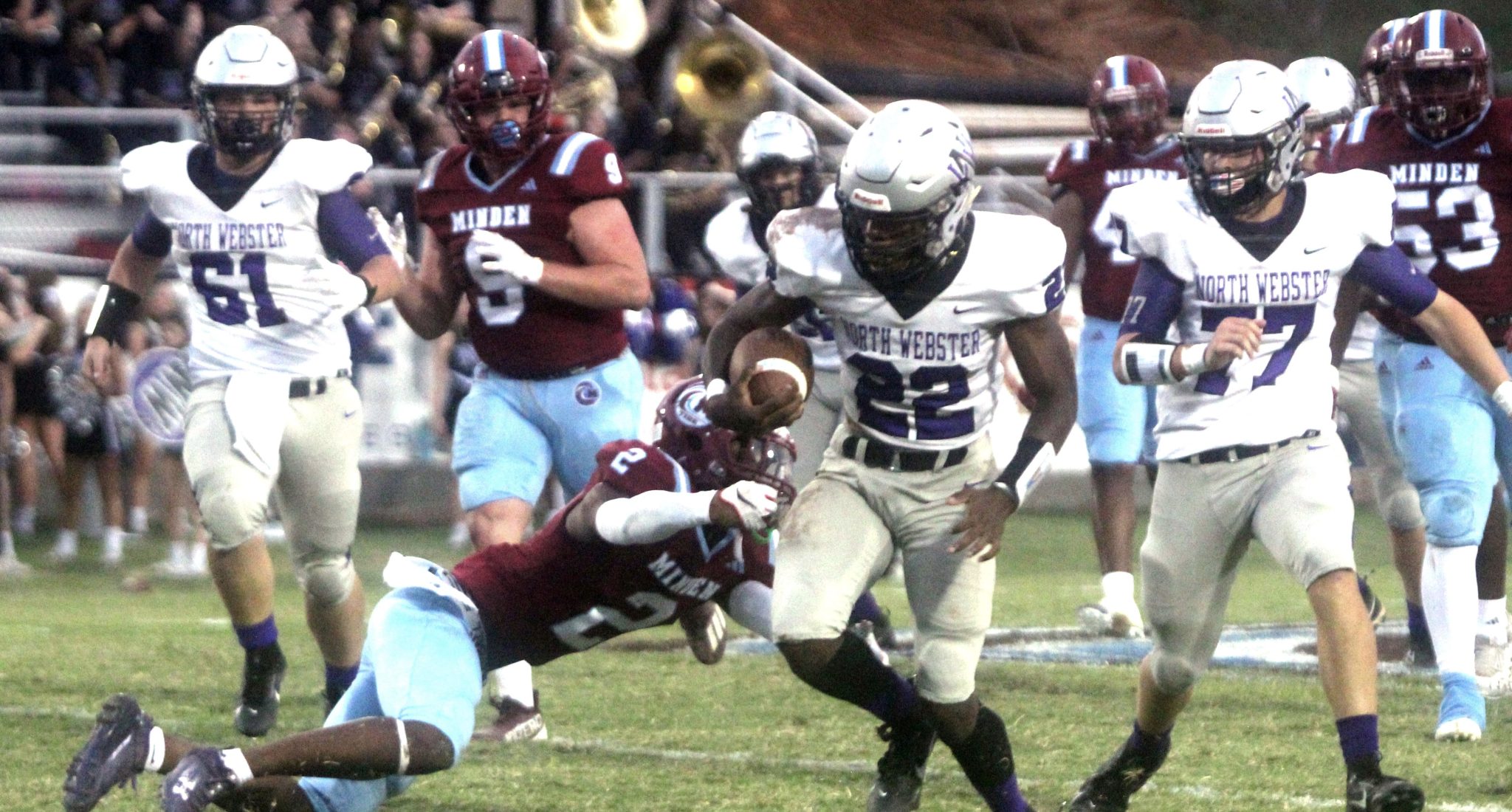 All wins are big, but some have a little more meaning than others.
"That's as big as it gets, man," North Webster Head Coach John Ware said after his Knights' hard-fought 28-21 victory over parish rival Minden Friday night at W.W. Williams Stadium, The Pit.
North Webster raised its record to 2-1. The Knights have now won as many games as they did all of last season. They also avenged a 39-27 home loss to Minden last year.
"I just know our kids fought their tails off," Ware said. "They fought to the very end and that's what we ask them to do every week. They played with heart, passion and emotion and all those things on the road, in a big environment, and that's what I'm pleased with."
For Minden, it was a third straight tough loss. The Tide's losses have been by a combined 15 points.
With the game tied at 21, Braedon Robertson scored what proved to be the winning touchdown on a 45-yard run with 4:07 left in the game. Robertson also had a 7-yard run on fourth-and-1 at the Knights 39.
Robertson rushed for 147 yards on 18 carries per stats kept for the KASO/KBEF radio broadcast.
"Braedon Robertson had a huge game, I mean a huge one," Ware said. "And the offensive line give them some credit too. They blocked their butts off."
Robertson obviously wasn't the only player who made a major contribution to the victory.
Minden scored two touchdowns in the first 12:43 of the game. The Tide only scored one after that, an 8-yard run by Porter Neal that tied the game at 21 with 4:47 left in the third quarter.
"Once we settled in I thought we kind of took the game over there," Ware said. "We didn't give them any big plays, and that was the main thing. Going into it we knew if we could stop their 14 (Cameron Mitchell) and 1's (Jakobe Jackson) big-play capability then we had a chance and that's what we did."
Jackson rushed for 87 yards, including a 20-yard loss and a 29-yard run, on 18 carries. He scored on an 11-yard run early in the second quarter. He had three receptions for 31 yards.
As usual, Jackson rarely left the game. He had an interception in the end zone on the final play of the first half.
Mitchell rushed for 45 yards on seven carries and caught one pass for 17 yards.
Xavier McGlothan also played a big for the Knights. He returned a punt 67 yards to the Minden 2, setting up a touchdown run by Jkobe Lawson with 2:22 left in the first half,
McGlothan also rushed for 54 yards on five carries and scored on a 20-yard run that tied the game at 7 in the first quarter. He was also a standout on defense.
"He had a great night and he's a difference-maker," Ware said. "He made plays all over the field, special teams, offense, defense. He's just a leader for us."
North Webster quarterback Christian Whitlock ran the offense well and was 4-of-4 on extra-point kicks. The. Knights had 230 total yards, all but 20 of that on the ground.
Minden didn't put the ball in the air much either. Hudson Brown was 6-of-10 for 49 yards.
The Tide had 191 yards rushing. Dunovan Robinson gained 45 on seven carries.
Bryson Ranger made all three of his extra-point attempts.
With both teams running most of the time, the game moved at a brisk pace. Minden only had three possessions in the second half. North Webster also had three and on the final one the Knights ran the final 44 seconds off the clock.
Minden's offense came out strong in the third quarter, driving 79 yards in 14 plays to tie the game.
After North Webster took the 28-21 lead, the Tide drove to a first down at the North Webster 38.
But Jackson was dropped for a 16-yard loss and McGlothan sealed the victory with an interception on third-and-26.
North Webster opens District 1-3A play Friday night against Richwood in Monroe. The Rams (2-1) lost to West Ouachita 17-6 Friday night.
Minden opens District 1-4A play at North Webster Friday. The Griffins (2-1) defeated Loyola College Prep 55-3 Friday night.