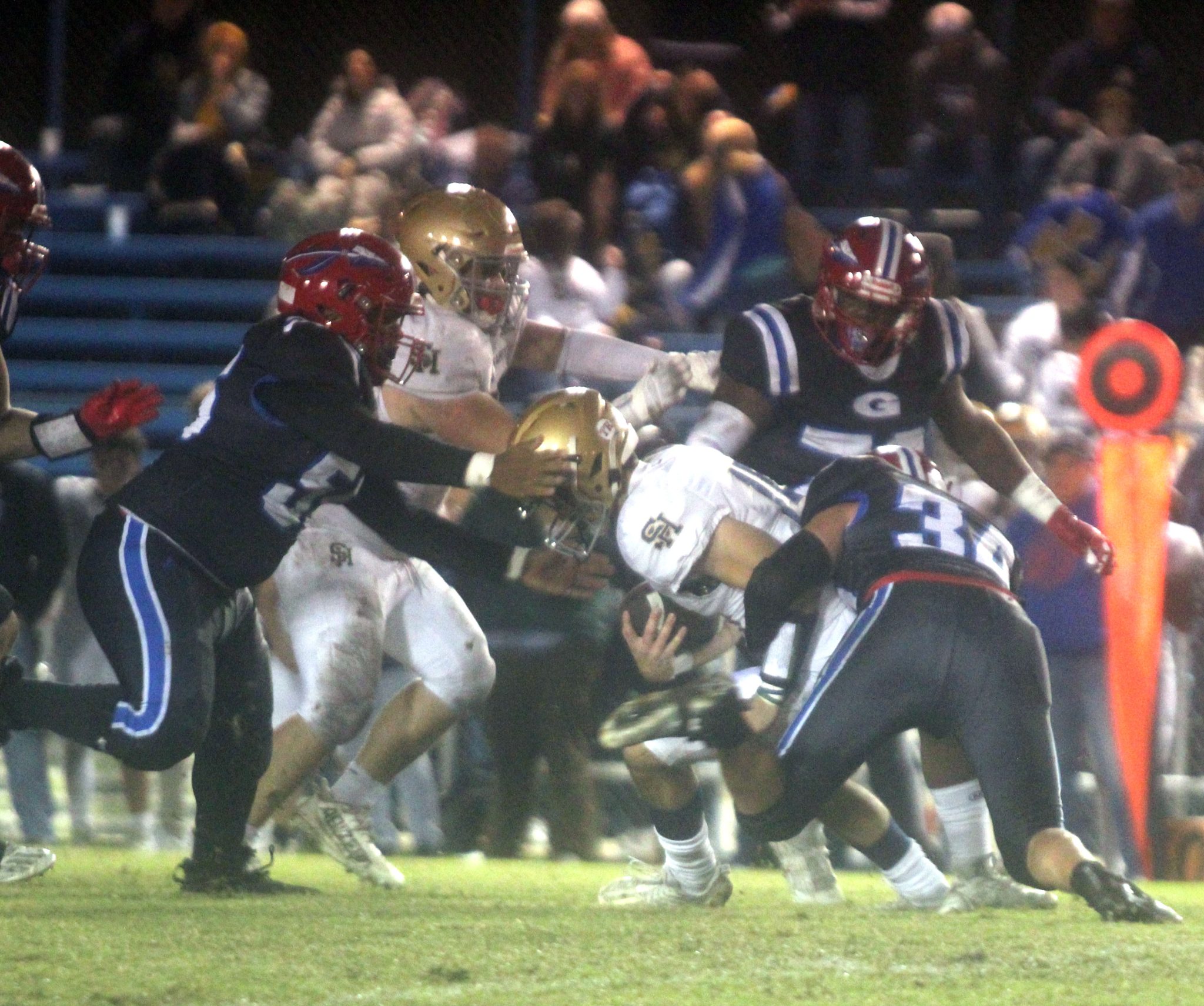 The North Webster Knights and Glenbrook Apaches seek quarterfinal berths in the LHSAA playoffs Friday night.
Both teams are on the road.
North Webster (7-4), the No. 14 seed, travels to Vacherie to face No. 3 St. James (8-2) in non-select Division III. The Wildcats received a first-round bye.
Glenbrook (8-2), the No. 11 seed, travels to Natchitoches for a select Division IV matchup against No. 6 St. Mary's at Northwestern State's Turpin Stadium. The Tigers (7-2) received a first-round bye.
The Knights and Apaches both rolled in first-round games last Friday. North Webster defeated No. 19 Patterson 42-0. Glenbrook downed No. 22 Sacred Heart 49-12.
North Webster won't need directions to get to St. James, which is located between Baton Rouge and New Orleans 344 miles from Springhill.
The Wildcats defeated the Knights 34-20 in the first round of the 2021 playoffs at St. James.
St. James and North Webster also faced off in the second round of the 2018 playoffs in Springhill. The Knights won that one 26-23. That's the last time North Webster reached the quarterfinals.
St. James reached the semifinals last year, falling to eventual champion Many 32-13. The Wildcats won the Class 3A championship in 2019.
Friday, North Webster will be facing a St. James team that finished second to undefeated E.D. White in District 8-3A. The Wildcats are averaging 38.7 points per game.
St. James sandwiched eight wins in between a 41-40 loss in the season opener to 5A East St. John and a 27-19 loss to E.D. White in the regular-season finale.
Quarterback Brayden Williams has passed for 2,002 yards and 26 touchdowns and rushed for 472 yards and 11 TDs. Two other Wildcats have rushed for more than 500 yards.
North Webster running backs Braedon Robertson and J'Kobe Lawson and all-around standout Xavier "Tutt" McGlothen have all had outstanding seasons.
McGlothen rushed for 152 yards last week. McGlothen has been playing quarterback since starter Christian Wicklund suffered an injury against Sterlington in Week 8.
McGlothen and Lawson scored two TDs each and McGlothen also had an interception last week.
Glenbrook is looking for its second straight quarterfinal appearance.
The Apaches lost to eventual state champion Ouachita Christian 28-27 in the quarterfinals last year in their first year of eligibility for the LHSAA playoffs.
St. Mary's also made the quarterfinals last year, falling to St. Martin's Episcopal 29-25.
Glenbrook is facing a team that finished second to 9-1 Logansport in District 3-1A. The Tigers' losses were to 4A Peabody 40-21 in Week 7 and Logansport 20-3 in Week 9.
Quarterback Mixon Bankston has passed for 1,192 yards and nine touchdowns and rushed 378 yards and seven TDs. Ethan Busby and Ben Bienvenu have caught a combined 47 passes for 917 yards and nine TDs.
Glenbrook junior quarterback Easton Sanders has had an outstanding season. Seniors Landry Powell and Chase Sentell have both been very effective running and receiving. Both are also strong defensive players.
But the Apaches have gotten contributions from plenty of other players. The performance of the offensive line has been key to the success of Sanders, Sentell and Powell.