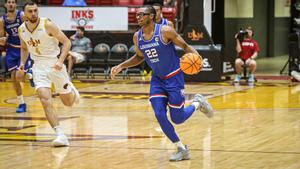 Louisiana Tech Athletic Communications
MONROE — Another year, another win over ULM.
Louisiana Tech came into Fant-Ewing Coliseum and came away with a 73-63 victory on Thursday night behind a 24-point, 9-rebound effort by Isaiah Crawford.
Crawford was Mr. Versatile as usual. On top of leading LA Tech (2-1) in scoring and rebounding, both season highs, the forward also tallied three assists, two blocks, and steals.
He was the anchor to a defense that limited ULM (1-2) to just 36.5 percent shooting and only four made three-pointers.
Despite leading for almost the entire game, the Bulldogs were never able to really pull away from the stingy Warhawks. With scoring hard to come by through much of the first half, Crawford broke a 19-19 tie by scoring seven straight points – two three-pointers and a free throw – to help LA Tech take a 28-23 halftime lead.
He was clutch in the early part of the second half too. After getting an offensive rebound and putback layup, he rejected a jump shot and then kicked it out to Jaylin Henderson who flushed a highlight-reel dunk. Then he stole someone's ball and went full court for the fastbreak layup to force a timeout by the Warhawks with a 37-29 advantage.
ULM kept hanging around though, cutting it to a two-possession game on multiple occasions. But, the Bulldogs responded with big buckets every time. Up six with 10:42 to go, Sean Newman Jr. and Tahlik Chavez buried three-pointers to give LA Tech its biggest lead of the game at 53-41.
The Warhawks got back to within five after a made jumper by Makai Willis, making it 64-59 with 2:37 left (still plenty of time). Then, arguably the biggest shot of the game came from Henderson who hit a step-back, late-shot clock triple from the wing that silenced the home crowd and ignited the Bulldog crowd.
Free throws did the trick to seal it. The Bulldogs made 14 of their 15 attempts at the charity stripe in the second half to pick up their first road win of the season.
Henderson joined Crawford in double figures with 12 points. Also with double-digit points was Daniel Batcho, recording 12 points and four rebounds in his much-anticipated Bulldog debut. LA Tech shot 31.1 percent from the field (22-51), 34.6 percent from three (9-26), and 71.4 percent from the foul line (20-28).
Nika Metskharishvili and Tyreke Locure led the Warhawks with 15 points apiece.
QUOTABLES
Head coach Talvin Hester
On Daniel Batcho's first game as a Bulldog…
"I thought he looked solid. I don't think his rebounding legs are there yet, but I think ULM did a good job of running multiple bodies at him. His timing was a little off in his shot blocking, but that will come with time. He gave us a big presence inside. We managed to hit some threes in the second half because of the double teams on him. I am looking forward to seeing him get better."
On Jaylin Henderson…
"Jaylin Henderson continues to put the ball in the basket for us. He is consistent at the free throw line. Down the stretch, he hit a big basket. He also hit a couple of big free throws."
On ULM's offensive rebounding…
"They were sending three hard to the glass. It was kind of a cat-and-mouse game. We went small to handle the ball better and they went big. They just started attacking the glass. This was big boy basketball."
NOTABLES
With the win, LA Tech improves to 57-36 all-time over ULM. The Bulldogs have won 11 straight over the Warhawks, the longest winning streak of either team in the series.
LA Tech has now won 23 of the last 29 meetings against ULM.
The Bulldogs have won five straight against the Warhawks in Monroe.
Isaiah Crawford registered his 12th career 20-point scoring performance with a game-high 24 points. It is the third time in his career he has scored 20+ points in back-to-back games.
Isaiah Crawford moved up two spots on the all-time career scoring list. He now has 1,032 career points, which ranks 40th in program history.
Jaylin Henderson scored in double figures for a third straight game, tallying 12 points off the bench.
Sean Newman Jr. tallied four assists, marking the third straight game this season he has had at least four.
UP NEXT
LA Tech will play host to Southern Utah on Tuesday, Nov. 21 inside the Thomas Assembly Center on Karl Malone Court. Tipoff is set for 3 p.m. CT and will be streamed live on ESPN+.
SOCIAL MEDIA
For all the latest in Bulldog Basketball, follow us on Twitter (@LATechHoops), Instagram (@LATechHoops), and Facebook (LATechMBB).