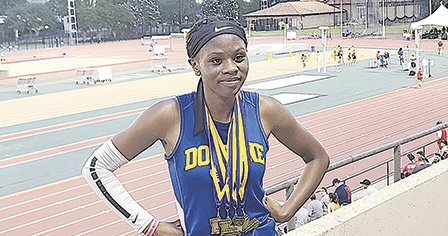 Doyline's Izayla Harris continued her dominant season Thursday, winning four events in the Choudrant Invitational.
Harris won the 100-meter dash in 12.08 seconds, the 200 in 24.65 and the 400 in 58.65.
She also took the triple jump with a leap of 36 feet, 9 1/4 inches.
Harris' times in the 100 and 200 are faster than her winning times in the Class B meet last year.
In the 100, she finished .63 ahead of Simsboro's Ikeia Brown, the third-place finisher in last year's Class B meet.
In the 200, she finished 1.55 seconds ahead of Ruston's LaNiya Robinson.
In the triple jump, she went 1 3/4 feet farther than Ruston's Faith Miller. The distance was also a quarter-inch farther than the winning distance in the Class B meet last year.
The District 1-B meet is Wednesday at Castor.