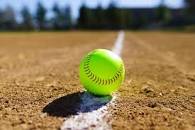 The Minden Lady Tiders opened District 1-4A play with a 14-9 victory over Caddo Magnet Thursday in Minden.
Jacey Adams went 4-for-4 with three doubles and two RBI. Kylie Ryan went 4-for-4 with two doubles and two RBI.
Leigha K-Gilbert went 4-for-5 with two doubles and an RBI. Gabby Morrison went 2-for-4 with a double and two RBI.
Kaylin Williams had a triple and one RBI. Brooklyn Edwards had a double and one RBI. Annabelle Toland drew three walks.
Lindsay Ryan started and went three innings. She allowed three hits and struck out three. Kylie Ryan allowed one hit in four innings and struck out three.
Minden opened the season with a 6-0 home loss to Airline Wednesday. The Lady Tiders face Airline again at 11 a.m. Saturday at Airline in the North DeSoto tournament. Minden will also take on Pineville at 3 p.m. at North DeSoto.
It's been a tough start to the season for the other parish teams but there have been some positives.
Lakeside's Hallie Sutton went 3-for-3 with a double and RBI in a 13-6 home loss to Logansport Wednesday.
McKenna Chreene went 2-for-4 with a double and two RBI. Mackenzie McCoy went 2-for-4 with a double.
Chreene struck out six in six innings and allowed four earned runs.
North Webster fell to Benton and Evangel Christian in its first two games,
The Lady Knights trailed Evangel only 3-0 after four innings but the Lady Eagles scored nine in the fifth for a 12-0 victory.
North Webster pitcher Carlie Campbell allowed no earned runs and struck out four in 4 2/3 innings.
Doyline dropped its first two games to Loyola and Choudrant.
NOTE: The above report is based on information provided by coaches or found on teams' official GameChanger accounts.