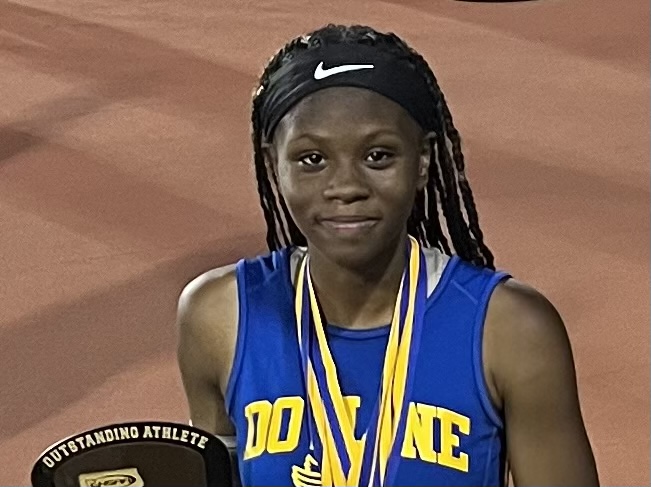 Doyline junior Izayla Harris will be looking to defend her titles in the Class B girls 100, 200 and 400 and add the triple jump crown in the Ochsner LHSAA Track and Field Meet Thursday at LSU.
Harris leads a group of 13 athletes from Webster Parish schools who qualified for the state meet in Classes 3A, 2A, 1A and B.
The Class 1A meet is Thursday. The Class 2A and 3A meets are Friday.
Harris has the top qualifying times in 100 and 200 and the top distance in the triple jump. She has the second-fastest time in the 400.
Her 100 qualifying time of 11.66 is by far the fastest in any of the seven classes. The second best is 11.92 in Class 5A. Florien's Lehr Turner has the second-best time in Class B at 12.40.
Harris' 200 time of 25.45 is 1.53 faster than the second fastest by Krystina Green of Oak Hill in Class B.
Her 400 qualifying time is 59.60. Lacassine's Mary Johnson has the fastest at 58.70.
Harris' triple jump distance of 35-3 is 1.25 feet farther than the second-best distance by Irene Kaiser of Episcopal of Acadiana. Kaiser is the defending champion in the event.
Last year, Harris won the 100 in 12.20, the 200 in 25.89 and the 400 in 57.77. She did not compete in the triple jump.
Doyline freshman Takerria Washington has the fourth-best qualifying time in the girls 800 at 2:46.16. Anacoco's Sophia Swinney had the best at 2:25.57.
Sophomore Landon Spears' qualifying height of 5-10 in the boys high jump is tied for third best.
Sophomore Caysten Mingo qualified in the boys javelin with a distance of 115-3.
Five North Webster athletes qualified for the Class 3A meet.
The foursome of Nevaeh Watts, Anekah Coleman, Markiau Scott and De'Maiyh Moore had the fifth-best qualifying time in the girls 4X100 relay at 50.16. Wossman has the top time of 48.96.
Freshman Jkobe Lawson has the fifth-best qualifying time in the boys 100 at 11.89. Defending champion Johnny Woods of Wossman has the best at 10.69.
Lakeside's Connor Wood, the Region I-2A champion, has the fourth-best qualifying distance in the Class 2A boys discus at 129-9. Newman's Charlie Aucoin has the best at 151-7.
Lexi Bradley qualified in the girls 1,600 with a 6:09.80 and Madison McGraw qualified in the 3,200 in 15.44.17. Newman's Ava Hartman has the best time in the 1,600 at 5:22.63. Houma Christian's Emma Bourg has the best time in the 3,200 at 11:48.89.
Glenbrook sophomore Vivian Still has the fifth-best qualifying time in the Class 1A 800 at 2:32.39. McGehee's Kali Magana has the best at 2:22.63.