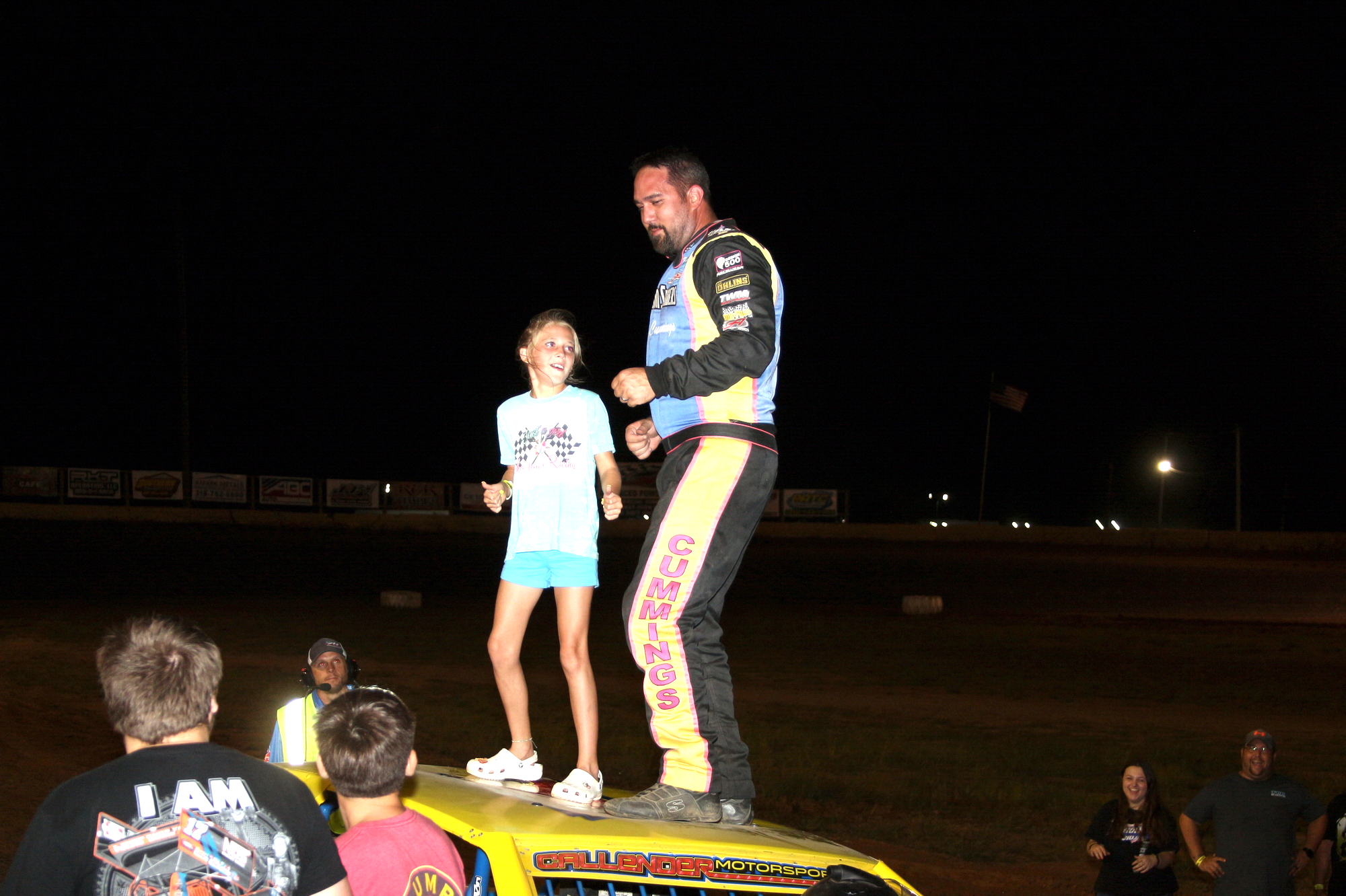 It's a part-time passion capable of producing big-time payouts.
And so far in 2021, Webster Parish Sheriff's Office Lieutenant Kyle Cummings has been revving up his winnings on the regional stock car circuit.
He turned in a big win last weekend as he led from start to finish to take first place at the seventh annual King of the Hill at Boothill Speedway in Greenwood.
Cummings grew up watching his father, the late Russell 'Rusty' Cummings, a well-known stock car racer in north Louisiana, burn up the tracks at Boothill. But until recently, the younger Cummings had never tasted the thrill of victory on what could be considered his home track.
"Until this year I had won at about every other racetrack in the Ark-La-Tex and really from a three or four and a half hour drive no matter which way you go except for Boot Hill, and that's the closest one and the one I grew up around so much."
But now Cummings has three Boot Hill victories to add to his awards list.
"They had a local event a couple of weeks ago that I won," Cummings said. "Then they had a pretty big show back in May that I had a $5,000 win in, and then they had their seventh annual "King of the Hill" race last weekend that I won and got the $10,000 first-place award."
Cummings, of Sibley, outlasted Dallas-area racer Dalton Faulkner by a mere .265 seconds in the "King of the Hill" event, while Cody Myers, of Bossier City, fought his way to a third-place finish in the closing laps.
"The guy that finished second to us — I think he's from the Dallas area — he and I were close the whole race but we had pretty much the rest of the field covered," Cumming said. "The third-place finisher was on a whole other straightaway than we were, so he was a ways back.
"I was definitely worried down the stretch because it was such a different race. It's very rare you get the green light as long as we had it. We had run 45 laps out of 50 before we got a caution. You never know what's going to happen on a restart. When we fired back off I knew that if I held my line I didn't think there was going to be anyone to be able to work their way around me."
Cummings, who works for the WPSO as a mechanic taking care of units, teams with Chad Callender to spearhead his racing team.
"My car owner is Chad Callender, who owns Chad's Auto and Exhaust in Minden with his wife," Cummings said. "He and I are good friends and we put together a deal last year. We both grew up in racing and decided last year to put a car together and hit some of the bigger shows and just have fun with it. And that's what we did last weekend. We just enter when we want and go out with friends and family and have fun with it.
"There were right at 130 cars at the race last weekend. Some race as many as 60-70 races a year. A lot of them race 30-40 times a year. But we just keep it family-oriented and hit around — at the most — 15 shows a year. At one point in my life racing is what I did for a living. But at this point doing it the way I'm doing it is what works best for me and my family."
Thanks to the lessons learned from his father, Cummings has spent 24 years behind stock car steering wheels, driving pretty much every type of race car that exists.
"Dad traveled every weekend racing and I was right there with him most of the time," Cummings said. "Growing up I wasn't that guy who went out and did a whole lot of hanging out and getting into the trouble that some young kids do on weekends. I was at the racetrack. He instilled a lot of hard work and ethic to make it. He always told me to not half-do anything. If you're going to go out there and spend the time to do something, make sure you're going to do it right. So that's what we set forth to do every time we go to the track."
Cummings said that for local races, you pretty much have to win to break even, which is why he focuses on bigger events. Right now his sights are set on a $15,000 winning purse event set for Chatham.
"We're planning on that one and then later next month they're having a Crate Late event that we have a model car for that has a $50,000 winner's award, so we're looking at that, too," Cummings said. "So we've got our schedule set the way we want — making sure we're not racing every weekend and that we have the equipment to be competitive every time we go to the track."
Cummings said turning the races into family events he shares with his family — wife Cheree, 14-year-old son Brayson and nine-year-old daughter Breelyn — is another big thrill he gets out of racing. That excitement showed following last weekend's win as Breelyn joined him atop the roof of his stock car to perform a victory dance.
"They both love going to the races," Cummings said of his children. "My family is a huge part of all of this. Chad and his wife Debbie Callender, of Debbie Callender Realtor, and all of our other sponsors mean so much.
"I'm proud to say the family tradition lives on. My mother loves it and is a big part of it. And to be able to continue doing what my father loved is special. He taught me what it takes and what it means to be a winner, and I just want to keep doing it all in his honor as well as for the rest of my family and friends."