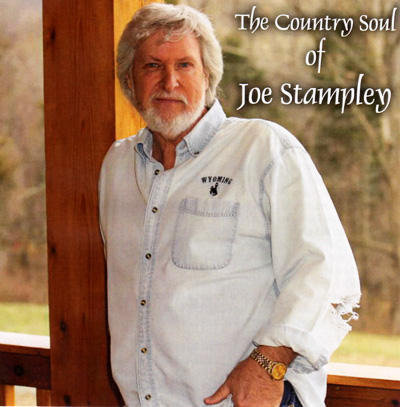 Webster Parish has produced a lot of great things over the years, but none greater than the unique Joe Stampley. Born in Springhill in 1943, Joe found success in the music business like few have experienced. His career has spanned six-decades, and is practically beyond compare.
Locally, Joe had a great reputation as a vocalist. The genesis of his career happened at a teen dance in Springhill when Joe was in the 10th grade. His classmates encouraged him to get on stage and sing with a band from Magnolia, Arkansas called The Cut-Ups. After the impromptu and unrehearsed performance, he was asked to be the band's vocalist. After a few years of regional performances, The Cut-Ups decided to disband.
The original 'Uniques' formed 1963 and its lineup consisted of Joe Stampley (keyboard/lead vocals, his brother Bobby Stampley (bass/vocals), Mike Love (drums), Ray Mills (lead guitar), and Bobby Simms (guitar). Joe credits Bobby Simms for coming up with the 'Uniques' name. When Bobby Simms left the band in 1967, Jim Woodfield (guitar) replaced him.
Joe wrote many of the songs for the Uniques. They were a little R&B, rock, pop and 'swamp pop'. Joe's vocal abilities made him one of the first to build a bridge between Rock n' Roll, Rhythm n' Blues, and Country.
In 1964, Joe went to Shreveport trying to get a record deal with Stan "The Record Man" Lewis. Stan was very busy that day and told Joe to see his new record producer Dale Hawkins. A few years ealier, in 1957, Hawkins had the smash single "Oh Susie Q". Joe talked to Dale and the first thing Dale said was, "Do you write songs?" Joe replied, "Yes, I do." Hawkins asked, "Can you sing me a little bit of something you've just written?" Joe immediately started singing a new song he had written entitled, "Not too Long Ago". Before he got halfway through the song, Dale said, "Stop. I love the song!" He told Joe, "Bring your band next Thursday to Tyler, Texas and meet me at Robin Hood Brians' recording studio, and we will record this song." This single was the first release on Paula Records ('Paula' was named for Stan's wife).
An interesting side note … at a later session – Joe and the band were asked to back Nat Stuckey at his recording session for Paula Records on a new song. That Stuckey song was entitled "Sweet Thang," and was a big hit, reaching #4, nationally.
It was in 1966 and 1967 when Joe Stampley and the Uniques recorded their first two albums in Tyler, Texas at Robin Hood Brians' studio. They recorded their third album at Columbia Studios in Nashville, and in 1969, they recorded their fourth album at Muscle Shoals Sound Studio in Alabama. In 1970, they put out their final album for Paula Records, "Golden Hits".
In 1966, Joe and the band recorded an Allen Toussaint (aka Naomi Neville) song called, "All These Things". Even though it was the number requested song in the history of Dallas, Texas station KLIF (where it was number one for three weeks in a row) it barely broke into the top 100 song charts at the time. This was due to the inability of Paula Records to keep up with demand. Incidentally, "All These Things" was recrafted into a major country hit for Joe a few years later.
Joe and The Uniques' version of blues singer Charles Brown's "Please Come Home for Christmas" hit number 32 on the pop charts and can still be heard each year during the Christmas season.
Joe Stampley and The Uniques was a great dance and party band. Joe says, "We let people get involved with the show." In the early days they ruled the college campuses in Louisiana, Texas, Arkansas, Oklahoma, and Mississippi and their popularity kept growing by leaps and bounds!
They continued receiving national attention and popularity as they became guest performers on Dick Clark's 'American Bandstand', and 'The Lloyd Thaxton Show' in Los Angeles. They also starred with Little Richard, The Kinks, and The Hollies on the 'Soupy Sales' Easter Show' at the Paramount Theatre in New York City. Around 1966, they were also performers on the nationally celebrated Dick Clark's "Where the Action Is" show in Huntsville, Alabama.
Joe and The Uniques were invited to Nashville by publisher/manager Al Gallico, who placed The Uniques with Paramount Records. Simultaneously, Gallico signed Joe to ABC-Dot as a country solo artist. The Uniques decided to disband in October of 1970, just as Stampley's country career was about to take off.
At ABC-Dot, Stampley recorded seven solo country albums. He gives a lot of credit to ABC-Dot producer Norro Wilson who wrote a lot of songs that fit Joe's style. Joe was the first male country act that Wilson produced. Rather than shy away from Stampley's pop and soul leanings, he accentuated them. You can hear this in "Soul Song", which was Stampley's first Country number one record.
In 1975, Joe moved to Epic records and released thirteen albums. Right out of the gate, he had a number one hit with a song written by Danny Darst called "Roll on Big Mama". Joe wasn't sold on the song at first, but it has endured as a standard and can still be heard on the radio today. (Editor's note: Coincidentally, right after I hung up the phone with my interview with Joe, I got in my car and the song playing on the radio was "Roll On big Mama"!"
In 1976, Joe did a remake of "All These Things" as a "two-step" country song. It reached number one on all the Country charts – Billboard, Record World, and Cashbox! It is the quintessential Joe Stampley performance showcasing just the right mixture of soulful passion, rock tension and country sentiment.
In 1979, Joe was performing at the Wembley Country Music Festival in London, England. Also on the bill was Moe Bandy. After the concert that night, they were having supper at The Hard Rock Café. With them was Moe's producer, Ray Baker, and Joe's piano player, Ansley Fleetwood. They were all discussing Willie & Waylon's latest single "Good-Hearted Woman," when Moe said, "Willie and Waylon" – that rings a bell! Joe immediately said, "I bet Moe & Joe would, too!" The seed was planted!
Ray Baker said he would speak with the head of CBS Records about a 3-song session. Fleetwood said he had some great ideas for some good Moe & Joe hell-raising songs! At the time, Joe was on the Epic label and Moe was on the Columbia label of CBS Records. The deal was made and Moe and Joe's first release as a duo was entitled "Just Good Ol' Boys," written by Ansley Fleetwood. The record skyrocketed to #1 on all the charts!

Moe & Joe broke from their honky-tonk standards and collaborated on some tongue-in-cheek and satirical songs. Their satire song "Where's the Dress" zeroed in on the dress style of Boy George, lead singer of The Culture Club. "Where's the Dress" won the American Video Association award for Video of the Year in 1984. "Moe and Joe" won the Country Music Association's 1980 Vocal Duo of the Year, and won the Academy of Country Music's Vocal Duo Award for two consecutive years!
In 2000, Stampley founded Critter Records and released a great album entitled, "Somewhere Under the Rainbow" that highlighted some of his earlier work. His label also signed Billy
Hoffman. And in 2003, Stampley began Arrowhead Records.
In addition to their solo careers, Moe and Joe are currently back on the road celebrating their "40-year Moe & Joe Reunion". They've had several shows already and lots more booked for this year and next. They are having a great time, but don't look for them to get back on the road for 200+ performances a year.
Over the years, Joe was influential in two other country singers before they hit the big tine themselves. He used to pull Sarepta, LA's Trace Adkins out of the oil fields to do some shows. He also helped out Tracy Lawrence, a kid from Foreman, Arkansas break into the business.
Joe still has family in Springhill, and gets back there on a pretty regular basis. Joe has 3 children. One son, Tony, is in the music business writing songs and doing shows. His daughter, Terri Jo, was in the music business but has other interests now. His other son, Tim, has taken after his grandfather, R. C., and Uncle, Bobby Stampley, and is very successful in the automobile business.
Joe and his wife, Areeda, live just outside Nashville, near Franklin, TN. Areeda worked at CBS Records in Nashville for 30 years. She currently writes a monthly column for the Country Family Reunion newspaper. Her stories are about "Memories of Music Row". She also features a recipe from her award-winning cookbook "Areeda's Southern Cooking", which can be purchased at www.areedasoutherncooking.com or at P. O. Box 202, Brentwood, TN 37024.
Joe has charted over 60 records! In 1976 alone, he had eight singles on Billboard's Country charts and was Billboard's singles-artist of the year! In 2010, he was inducted into the Louisiana Music Hall of Fame. He is also in the Louisiana Songwriters Hall of Fame, and the Louisiana Musicians Hall of Fame. Joel Whitburn ranked Stampley 52nd among all country artists from 1944-1993 for charted singles. R&R (Radio & Records) Twenty Years of Excellence magazine ranks Joe 30th of all time!
I've heard Joe Stampley songs all of my life. One of my favorites is a 1969 'Joe Stampley and The Uniques' song called, "Toys Are Made for Children". Joe didn't write this song, but says he still enjoys performing it. Personally, I can't wait to hear it live!
Joe's latest album includes fourteen of his all-time favorite classic songs. Aptly entitled, "The Country Soul of Joe Stampley," it features the distinctive vocal stylings that set Joe apart from the others. To learn more about Joe's career or purchase his music and merchandise – go to www.joestampley.com.
It was truly an honor to write this article. Joe is a great guy who has done quite well. Springhill and Webster Parish are very proud of you, Joe!
About the author – Johnny Wessler offers historic music tours and presentations of Northwest Louisiana. For more information contact him at: Johnny.Wessler@gmail.com or phone 318-393-3274