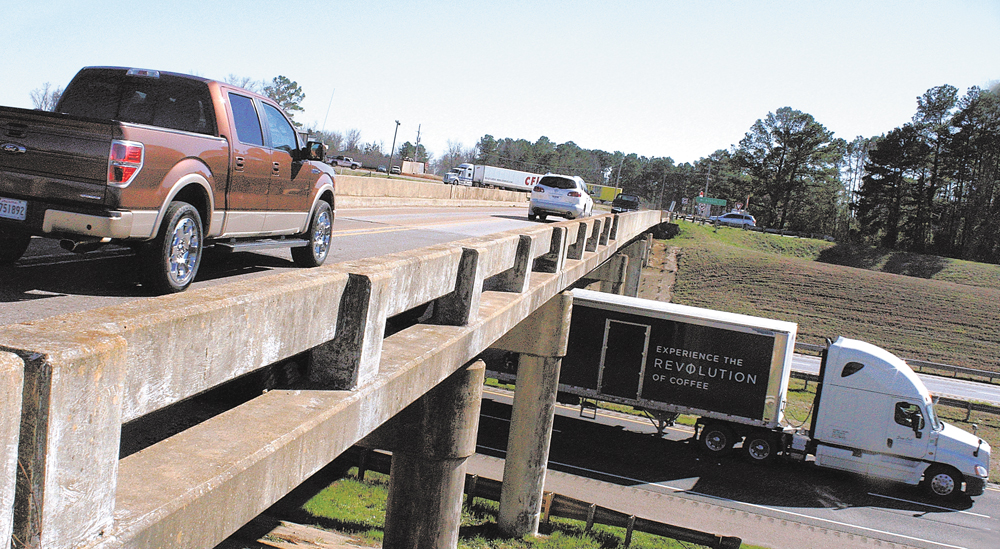 The Webster Parish Police Jury notified area lawmakers and state officials earlier this month about their concerns with the Interstate 20 overpass at Louisiana Highway 531.
At the November road committee meeting, jurors agreed the overpass was in need of repairs and may pose a hazard.
Juror Steve Lemmons notified the jury he recently attended a Louisiana Department of Transportation and Development meeting for the district.
"The 531 bridge poses a possible risk to motorists," he said. "In addition to being in poor condition, it is heavily trafficked by load bearing vehicles despite not being rated to support the weight."
Lemons said the throughfare is important to local business.
"It's a matter of economics that the bridge hasn't been shut down," he said.
He said the project has continued to be put off and he felt like the jury needed to continue to reach out to people at the state level so this project becomes a priority and can be completed as soon as possible.
According to the letter written by the jury to Louisiana Department of Transportation and Development the jury is "concerned about the condition and safety of the bridge on LA 531 at Interstate 20, exit 49. The Webster Parish Police Jury as well as municipalities such as the City of Minden has had this overpass at the top of the priority list for Webster. The priority has been turned in at the LA DOTD District meeting for 10 years or more."
The letter reminds officials that safety at the interchange is the jury's "number one concern."
"There are numerous 18 wheel trucks, passenger cars, trucks, etc. on the overpass at one time due to there being several truck stops at this exit and this is a direct access route to Minden."
Representative Gene Reynolds, D-Minden and Senator Ryan Gatti, R-Bossier City, were also sent the letter.
The rehabilitation of the Highway 531 and Interstate 20 interchange project is set to go out for bid in 2018-19.
"As of right now, we anticipate roundabouts being used at that interchange," David North, district administrator for LA DOTD said. "There are other options on the table, but the roundabout option is our preferred solution. Studies have shown roundabouts have a lower accident rate and help traffic flow more smoothly."
The project's cost is near $24 million, however several steps remain before the bids can be sought.
"The land where the roundabouts will go will have to be purchased and before that can happen, the environmental study must be complete," Bobby Lott, LA DOTD representative said. "That study should be complete by January."
According to the public notice, LA DOTD is proposing the "construction of four lane roadway with a raised concrete median/splitter island, frontage roads, a widened overpass structure accommodating north and southbound lanes with a turning lane and four roundabouts."
Constructing an additional overpass will leave the existing bridge across Interstate 20 open to traffic.