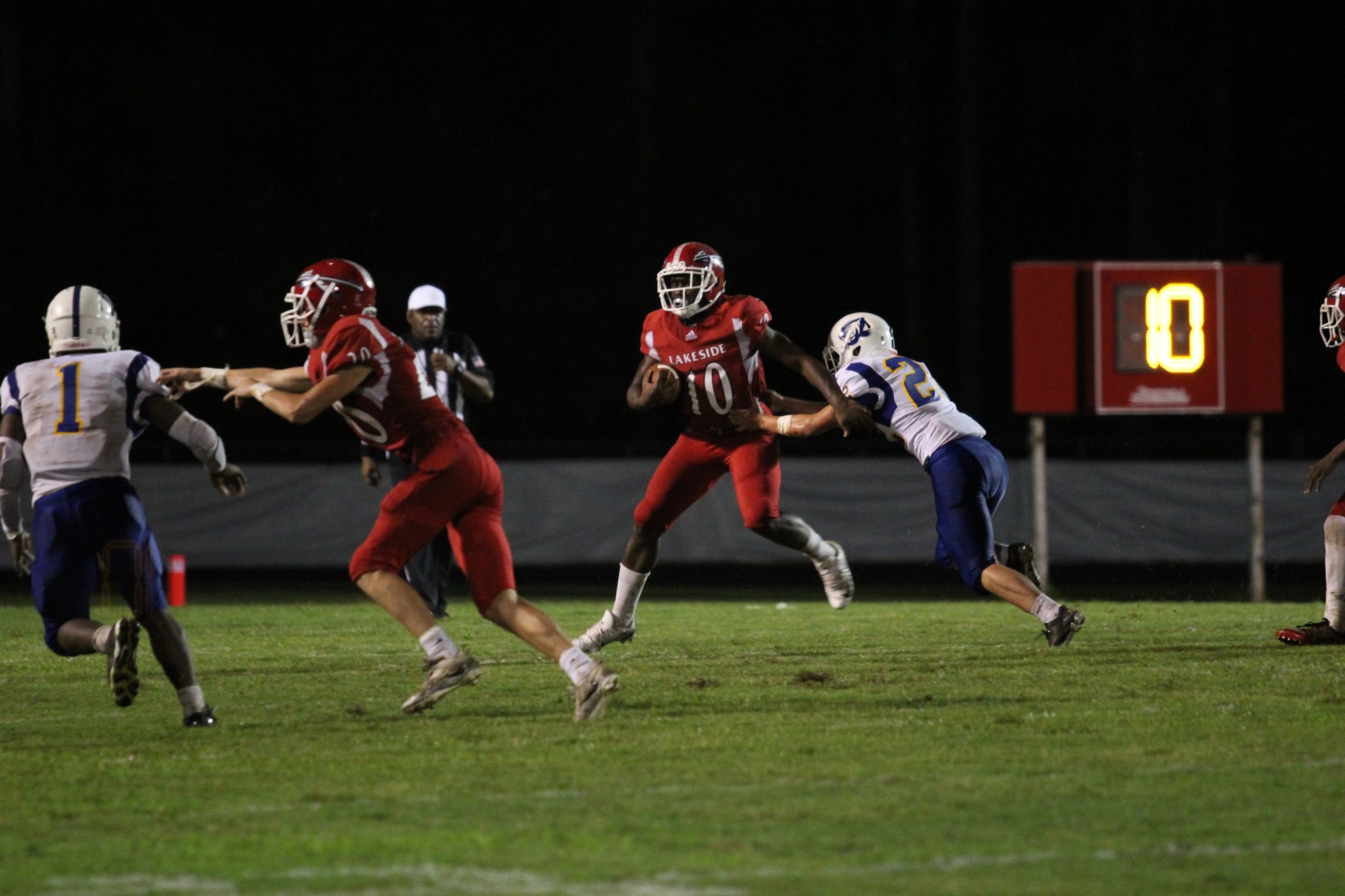 We have class divisions in high school football for a reason. You can't expect teams that have fifty students to choose from to compete with high schools that could double as small universities. It's a numbers game, and it works for us.
Having said that, it's not impossible for smaller schools to steal an upset every now and then from big schools. Haynesville has the pedigree and structure in place to compete with anybody. North Webster proved last week that school size is of little importance at times.
I always detest rankings and arguments about who is "better." Michael Jordan or Lebron? Michael Jackson or Prince?
There is no way to work out the truth, it's completely subjective, so it ends up being an endless, circular argument.
But, it is certainly a conversation starter, so we yell at each other about these questions.
The better argument to be had is "Who is performing to their expectations?"
This is the conversation I wish to have about our area high school football teams.
It's hard to say whether undefeated Lakeside would go put a stomping on winless Minden at The Pit. Lakeside has almost certainly played inferior opponents, but they have gotten the job done each week. I know this much: I'd kill for the opportunity to see Minden go play the Warriors in Sibley. I'm relatively new to the area, but I just don't get why that game is not on the schedule.
With expectations in mind, let's assess each of the area schools.
1. Lakeside
One of my favorite things about the Warriors is head coach Jason McClendon's ability to play up the importance of their season. When I played high school sports, I always enjoyed a professional atmosphere more than anything, and McClendon provides that for his players.
The Warriors use a spread offense to a powerful effect, scoring 23 touchdowns through three games. McClendon knows the reputation they have and subverts it to squeeze every ounce out of his offense.
"Everyone sees us as this high-flying spread offense that only throws the ball every play," McClendon said. "But our running game has been dominant. We're averaging almost ten yards-per-carry on the season. That's incredible."
The Warriors are averaging 276 yards rushing per game. It doesn't matter the opponent. Being able to execute that way every week is only going to make the Warriors grow their confidence, if nothing else. Having that type of swagger as the season progresses could be the best tool in McClendon's arsenal. High school athletes sometimes don't know how good they are. Lakeside is just starting to figure out how great they can be.
Quarterback Jordan Preuett is a steady ship under center. He can throw the ball (487 yards passing through three games), and he can run (161 yards rushing). He's coming off his best game of the year against Beekman, going 11-14.
Jacquez Lott has done it all for the Warriors at running back. He's averaging 130 yards rushing per game this season and has already scored eight touchdowns.
Possibly the Warriors most dynamic option on offense has been Trey Sanders. He returns kicks, punts, plays defense when needed, and can run his routes and catch passes as a receiver. Sanders is averaging 25 yards-per-catch this season. He's racked up 309 yards receiving and is a threat to score whenever he touches the ball.
If we're talking expectations, Lakeside is exceeding them. The players would tell you they expected to be 3-0 at this point in the season. In their district, only one other team even has one win. The Warriors could cruise to the playoffs riding a record-setting offense. McClendon has overhauled this program and reshaped it in his image. They are a fun, high-flying team that has started the season in a remarkable fashion. In my expectations-power-rankings, they are the clear #1 team.
2. North Webster
The Knights had a tough start to the year. They played great in the jamboree but lost their first two games to Haynesville and North Desoto. Haynesville is a threat to win the state title every year, and North Desoto has one of the best running backs in the state. Head coach John Ware didn't seem too concerned after each loss. I think he knew those games would be tough to win. Without starting quarterback Tyrell Markray for each of the first two games, the Knights had to improvise to stay in the game.
North Webster really started their season last week against Minden. Markray started at quarterback, and the team found their identity in an impressive 18-13 win over the Crimson Tide on the road.
"Our kids fought for that game," Ware said. "We had to make adjustments on both sides. We had injuries. But when it came time to go win it, our kids just fought for it."
Their defensive line might be the biggest and most talented in the area, but they have to stay healthy if they want to stay on a playoff trajectory. A gruesome injury to James Henderson in the Minden game meant that stud running back Eddie Rollen had to take on defensive duties in addition to running the ball. Henderson is out for the season, which hurts a team already struggling for depth in the defensive backfield.
More importantly, playing both ways potentially could limit Rollen's explosiveness.
If the Knights can stay healthy, keep Markray on the field, and play as well on the road as they did in Minden on Saturday night, they have all the makings of a playoff team looking to make a deep run.
The win at Minden cannot be understated. That boost in confidence could be the foundation for a run at a district title and to make noise in the playoffs. There's obvious chemistry between the players and coaches, and the only weak spot on the team could be depth and injuries.
3. Minden
I forgot how quickly fans can turn on high school kids until last Saturday at The Pit. Minden started the game slowly, something they could ill-afford after starting the season winless. Some fans and a few of the players were blaming each other, and even the cheerleaders were outspoken in their disappointment.
Luckily Minden has a head coach who doesn't get too riled up either way in Spencer Heard. He's even-keeled and knows to stick to his guns.
Even down 18-0 against North Webster, staring down an 0-3 start, he didn't change his game plan or attitude. After the loss, he's still not budging.
"We're not going to change our schemes or our identity," Heard said. "We're just going to keep on pushing. We need explosive plays, we're lacking big plays for sure. That puts us in situations where we need to grind out these long 10-12 play drives and we just don't quite have the consistency yet to pull that off."
It might appease some fans after an 0-3 start to come out and say, "What we're doing isn't working. We're throwing out the playbook and starting over."
That only works on a casual observer. The difference between winning and losing is so marginal at times. One fumble recovery here, the right bounce there, and you're 2-1 instead of winless after three weeks.
Which is why I like the prospect of Minden turning around their season.
Look, quarterback Trent McLaughlin is only going to get better. He's hitting over 50 percent of his passes so far this year, and is averaging well over 100 yards per game through the air in a run-heavy offense. He's a sophomore on the biggest stage of his life.
"The talent is there with Trent," Heard said. "He needs snaps and experience, and he will get there. The physical tools are all there."
Heard is implying that the mental part of the game is where McLaughlin needs improvement, which is understandable for such a young quarterback. The good thing is that awareness is a skill that comes with experience. McLaughlin has been thrown into the deep end, and each week he puts together a few drives to show that he can still swim.
His best option this season has been wide receiver Seth Johnson. Johnson has the 10-yard slant route down pat. He's averaging 15 yards-per-catch and is always the go-to target when the Tide need a first down during a speedy drive.
When Heard talks about explosive plays, I think of running back Lieric Robinson. He is getting the bulk of the carries so his averages aren't stellar, but he runs hard and can finish plays and break tackles. Izaiah Smith and Kentravion Lister both have the ability to go for big gains as well.
The key to getting explosive plays for Minden will be unleashing Jacobe Greenard. Greenard has yet to have his breakout game this season, but he is an obvious talent with speed and big-play ability. It's no coincidence that McLaughlin looked to Greenard in Saturday's fourth-down play with the game on the line against North Webster.
On defense, Minden shines. Linebacker Stefan Wheeler is always around the ball, hawking runners and making tackles. Jacareon Lathan is one of the fastest defensive backs in the area and can score touchdowns on defense with ease.
Minden has the talent and coaching to meet the goals they set for themselves at the beginning of the season. They have a head coach who is smart enough to stick with the system and not be reactionary from a couple of losses. The Tide need leadership from the players, support from the fans, and they desperately need the ball to bounce their way this Friday at Huntington in the district opener. As far as Heard is concerned, the first three games were glorified jamborees. Hopefully they have gotten the unlucky bounces out of their system.
4. Glenbrook
Head coach Drew Maddox has to wonder what the previous schedule-makers had in mind when mapping out the games for the 2018 season. Since we're talking expectations, you'd expect that Glenbrook hoped to make it through these first five games with a full team intact.
I've seen encouraging things from the Apaches. Running back Marshall Meek is the player that every team needs: a do-it-all energy guy who has enough talent to make a difference. He runs hard, he tackles, he stays on the field.
Quarterback Jackson Powell is small and young, but he can really throw the ball and fits well within Coach Feaster's spread offense.
The Apaches made it through a gauntlet of an opening schedule. One game they only had 16 players dress out. Playing against the caliber of opponent they have faced so far is in preparation for the games coming up. Now, they have seen the worst of their schedule and can go out to compete for a win.
Maddox is here for the long haul. If Glenbrook remains patient and lets Maddox build a real program, this type of experience could be the structure for good things to come.
Again, overreacting to games they had no chance of winning will only dig the hole deeper for Glenbrook.