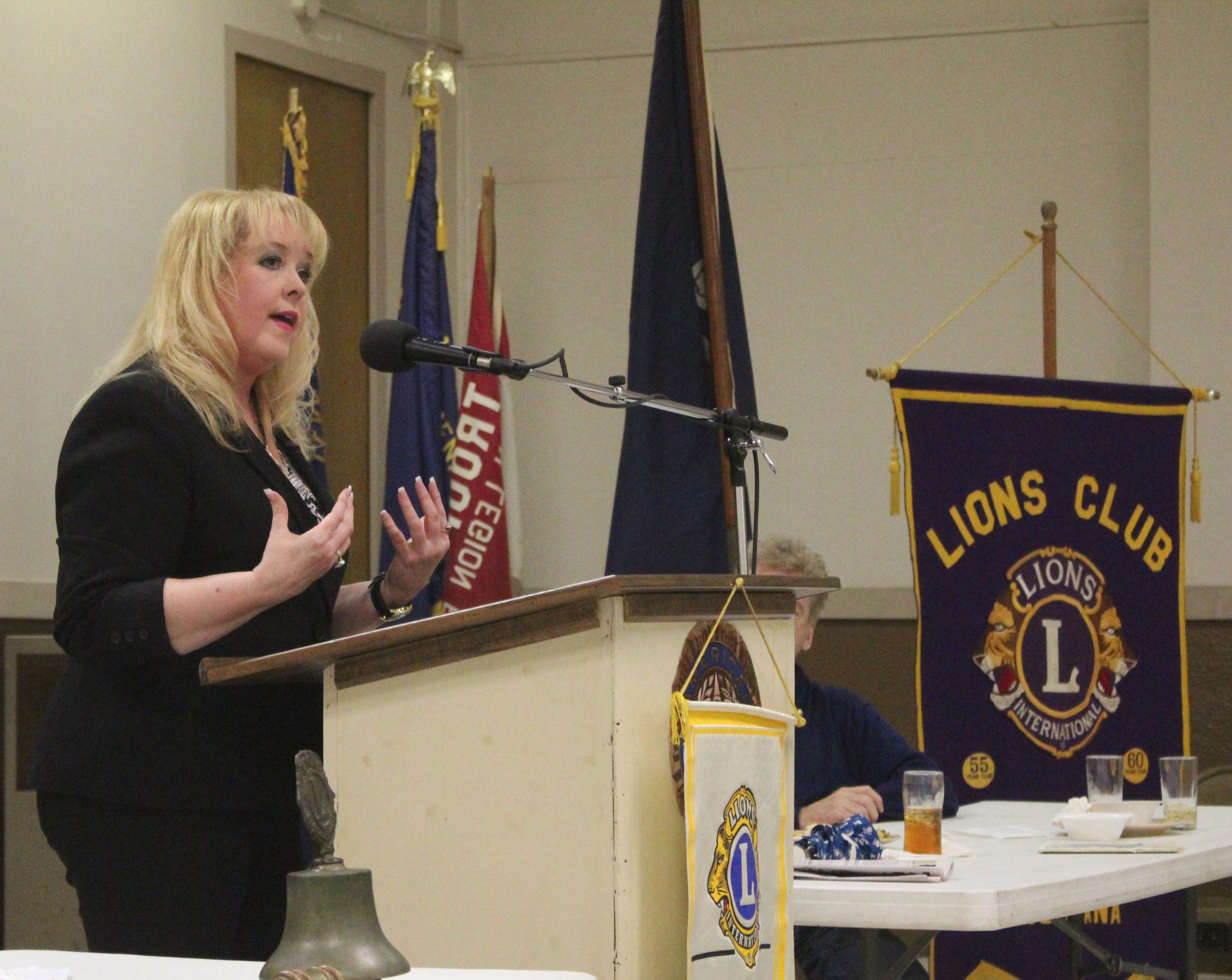 Human trafficking was the topic of conversation at Thursday's weekly Minden Lions Club Luncheon.
The Minden Lions welcomed guest speaker Laurie McGehee, a 32-year veteran of the Juvenile Justice System, to share her decades of experience in the fight against human sex and labor trafficking in northwest Louisiana.
McGehee pointed out Janaury is human trafficking awareness and prevention month before asking members of the audience what they think of when they hear the words 'human trafficking.'
Responses ranged from prostitution, taken away, abuse and slavery.
McGehee said many think of the Taken series of movies, starring Liam Neeson, when they hear of human trafficking, but she says the films do not offer an accurate depiction of what the crime looks like. The original film follows Neeson, on a quest to rescue his daughter from an Albanian sex trafficking group after she is kidnapped while on vacation in France.
While human trafficking is certainly a problem on a global scale, it exists quietly here in northwest Louisiana as well.
"There are young ladies being trafficked right here in your community," McGehee said. "And in Shreveport, and in Bossier City and in Keithville, Elm Grove and right down the street from where many of us live. We call that home-grown human trafficking, or familial trafficking."
McGehee, who was recently appointed to and elected President of the Shreveport Mayor's Women's Commission, detailed why juveniles are a logical target for human traffickers.
"Unfortunately, they are very young, very vulnerable and easily-seduced into that life," she said. "It's not always even for sex; you have what's called labor trafficking."
McGehee said many while most victims of human trafficking will be female, there have been cases involving males and transgender individuals as well. McGehe said children from a poverty-stricken, single-parent or foster-care household are at a much higher risk of falling into the lifestyle.
"It's a process of psychological coercion," McGehee said. "An older man befriends a 14-year old girl and meeting her needs, and if you've ever heard of Maslow's Hierarchy of needs, we know our most basic needs are at the bottom. If those basic needs are not being met, that child is very susceptible to being drawn in to a bad situation."
In the past two and a half years, McGehee and her team served over 85 cases which resulted in 35 confirmed cases of human trafficking in Caddo Parish. Anyone 17 or younger is currently considered a juvenile in the state of Louisiana, with that age set to rise to 18 in the year 2018.
"What does that mean for the number of people being trafficked not just in Shreveport, but possibly in Minden and the rest of north Louisiana," McGehee said. "What our response team has been working on is training the public to spot the signs of human trafficking and how they can prevent it. We realize we are never going to eradicate prostitution, especially among adults who make that choice. But for juveniles, we can make it extremely difficult for them to fall into the life."
While Louisiana lags behind in many health and economic state rankings, human trafficking is the exception, according to McGehee.
"Louisiana consistently has gotten the highest 'A' for our laws and legislation on human trafficking, so we should be really proud of that."
For more information on human trafficking, visit sharedhope.org.