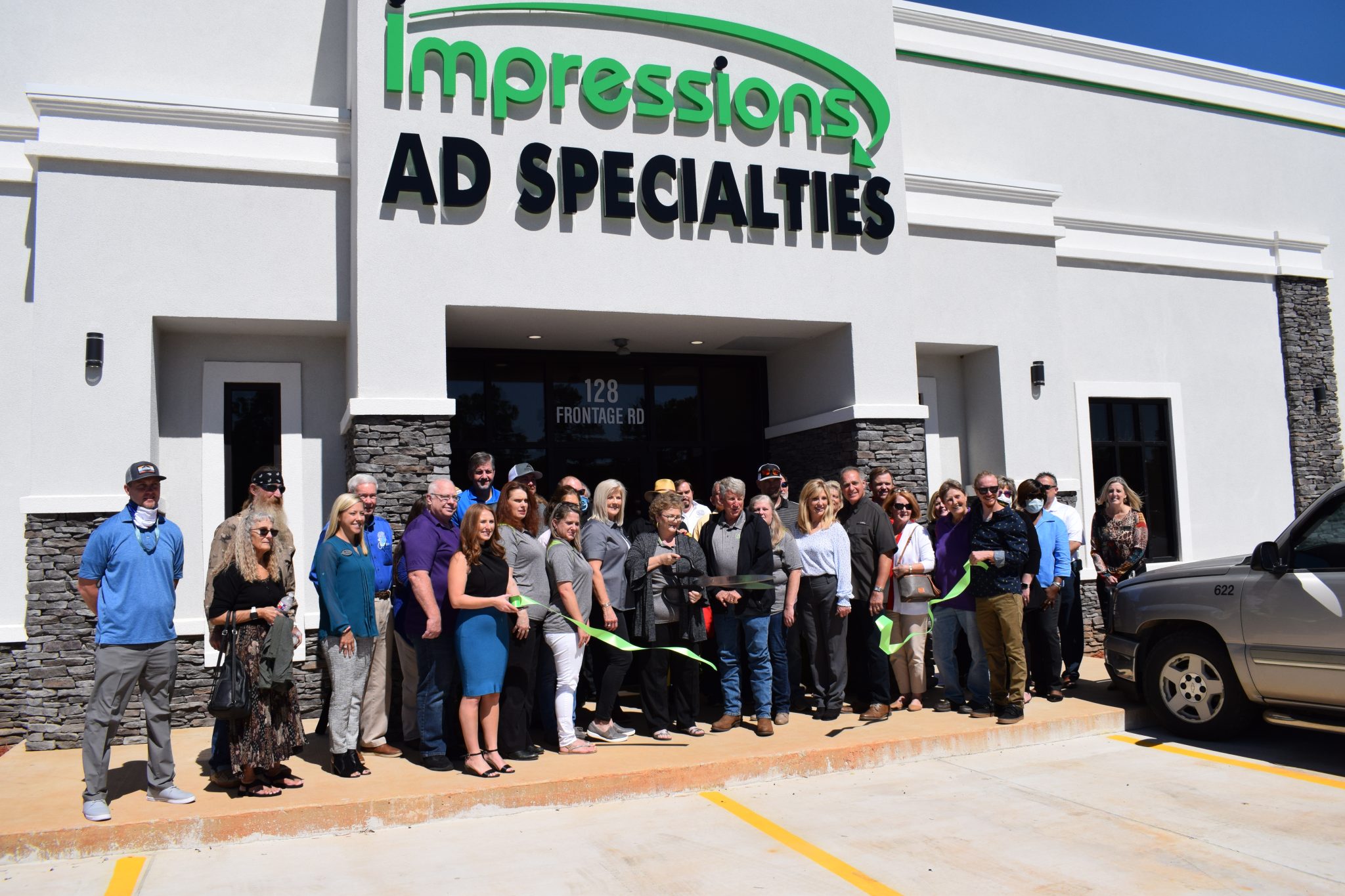 Impressions Advertising along with countless members of the local community gathered at their new location at 128 Frontage Road to celebrate their new location with an official ribbon cutting. Business partners, local representatives, law enforcement, and too many community figures to list lined the walls of the new locale in order to support Watson, his staff, and this new chapter for Impressions.
It's been quite the journey for the local business Impressions Advertising over the past year. The building that previously housed the business burned down earlier this year in January, enough to deal with on top of all the ensuing complications that the COVID-19 pandemic brought with it later in the year.
"We lost everything. The ceilings were on the floor. Within ten minutes of being there, I realized everything was a total loss," said Watson during an interview from that time. Even in the face of losing their office building, the employees of Impressions were quick to get things back up and running.
Watson is always quick to compliment his staff, who was able to pull through that incident, getting back to work mere hours after learning that the old building was gone.
"Before the fire was even out I told my staff to head over to Hamburger Happiness so we can start planning what we were going to do," said Watson. "At 10 o'clock everyone spread out in different directions getting everything we needed to get our office back together. We have a great staff that can pull together when they have to."
Watson's sentiments towards his staff rang even truer when he addressed them before the Ribbon Cutting, attempting to hold back tears as he told them how much he appreciated them.
Despite the year it's been, Impressions now has a new location located on Frontage Road and is looking better than ever with a new showroom to show off their products as well as plenty of space for their offices, conference room, and equipment needed to create their promotional products.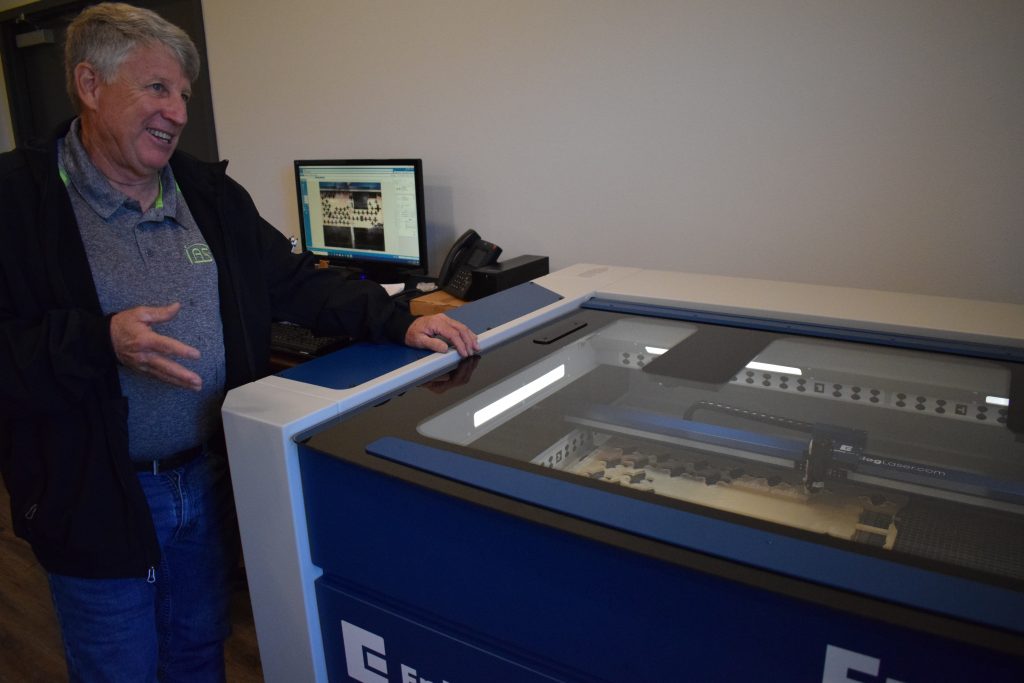 I got such a good staff. We're a distributor of all these promotional items. There are 8 different multi line reps… I've been doing business with these guys for 20 plus years, and we're just one big team. They support me heavily," said Watson.
"It's been a real journey getting to where we're at today. They were so supportive. They've donated much of the inventory you see in here to get us up and running."
One of Watson's favorite new additions to the new property was that of their showroom, which he feels can give customers a better idea of what exactly his business can offer to them. In the showroom shirts, jackets, hats, towels, and countless other merch were lined from top to bottom showcasing the variety of different products and different ways that can be branded.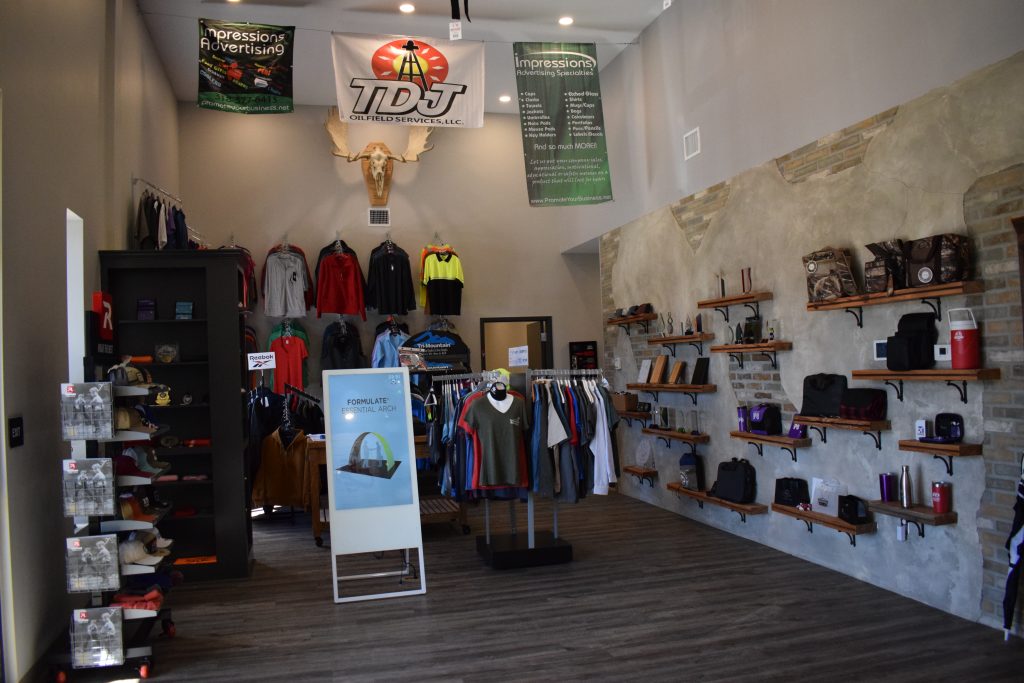 "An ink pen lasts three to five years. Owned on average during that 3-5 years by 6 people, and on average 17 people will see that pen per owner. That 102 people per pen, if you buy 1000 ink pens, you can reach 102,000," said Watson.
That's just a pen. As previously mentioned, Impressions offers a wide variety of products such as hats, shirts, and towels that can be expected to stay with someone for a longer period of time and be seen by more people, which is ultimately any promotional product's goal. 
"We want to grow. We're already the biggest in north louisiana, and we want to grow some more. And this facility really makes a statement that we're here to stay, so here we are," said Watson.
"If all you want to do is pass stuff out, we're not going to be your guy. But if you want to put together a program, target industries, and individuals, then you need to call us."