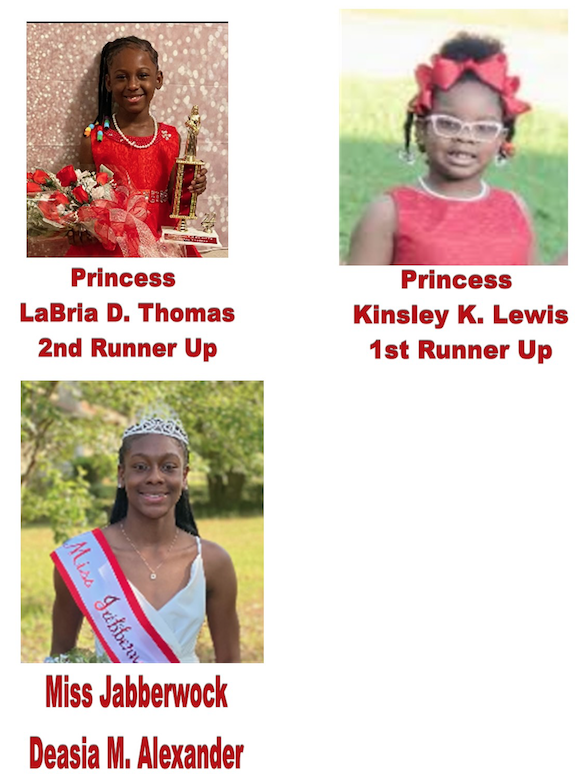 The Minden Alumnae Chapter of Delta Sigma Theta Sorority, Inc. held its 61st annual Jabberwock via Zoom Sunday, May 1st, at 4 pm. This year's theme was "Jabberwock Under the Sea."
The former Miss Jabberwock 2021. Joslyn Nicole Rabb is the 13-year-old daughter of Amitria Wright-Crow and Joski Rabb. She submitted a video speech expressing details of her past year as Miss Jabberwock. She then congratulated Miss Jabberwock 2022 and the princesses.
The Minden Alumnae Chapter of Delta Sigma Theta Sorority, Inc. members were excited and delighted to present its gorgeous queen and princesses. The title of 2022 Miss Jabberwock was awarded to DeAsia Moriah Alexander. DeAsia is the 13-year-old daughter of Marshal Monroe and DeAndre Alexander. She is the granddaughter of Melanie Monroe and Charles Monroe, and the late Cynthia Alexander and
Rickey Cockerham. She attends Arcadia High School in Arcadia, Louisiana, where she is an honor student. There she is a member of the Lady Hornet basketball and track teams. Her favorite subject is English Language Arts. DeAsia attends Holland Grove Baptist Church in Arcadia, Louisiana, and is a praise dance team member.
First Princess is Kinsley Keyauna Lewis, the six-year-old daughter of Calesseia Lewis and Wallace Lewis Jr. She is the granddaughter of Cynthia Dixon, the late Doris Buggs Lewis, and Wallace Lewis Sr. She is the great-granddaughter of Monica Dixon and Bobby Dixon. Kinsley has one brother, Jayvion Jackson. Kinsley is a kindergarten A and B honor roll student at J. A. Phillips Elementary School. Her favorite teacher is Mrs. Lofton. Her favorite subjects are Math and Spelling. She loves to play outside and interact with classmates. Kinsley attends St. James Baptist Church of Minden, Louisiana. She is a youth choir member and loves singing under the direction of the first lady Mrs. Holland.
The second Princess is LaBria Thomas, the 7-year-old daughter of Shontralica Hawkins and LaBarron Thomas. LaBria lives in the great town of Cotton Valley, La. She is the granddaughter of Shonta Hawkins, Patricia Oliver, and Larry Ford. LaBria is currently in the 2nd grade at North Webster Lower Elementary. LaBria enjoys hanging out with her sisters LaAisa, Shakyra, and Laniya. She is the niece of Shykiia Hawkins and Tynekia Frazier. LaBria attends church at Valley Peace Baptist Church in Cotton Valley, La.
During the virtual presentation, a compilation of pictures was shown in a video. While The Jabberwock Committee showed the video, Minden Alumnae member Michaela Smith read a bio of each participant aloud.
Following the COVID-19 guidelines, Delta Sigma Theta Sorority, Inc. would only allow virtual presentations. Hopefully, when guidelines are lifted, the present and past Jabberwock courts will participate in local parades and activities. Even though things had to be handled differently, it was still a blessed and lovely evening with beautiful queens and princesses.
The funds raised from the pageant are earmarked for scholarships and public service projects. The proceeds are also used to maintain Delta Sigma Theta's FIVE POINT PROGRAMMATIC THRUST-Educational Development, Economic Development, Physical and Mental Health, Political Awareness and Involvement, and International Awareness and Involvement.
Minden Alumnae Chapter President Yolanda D. Smith and members would like to thank the community for their support. The Jabberwock committee chairs were Felica Harris and Lakesha Manning.