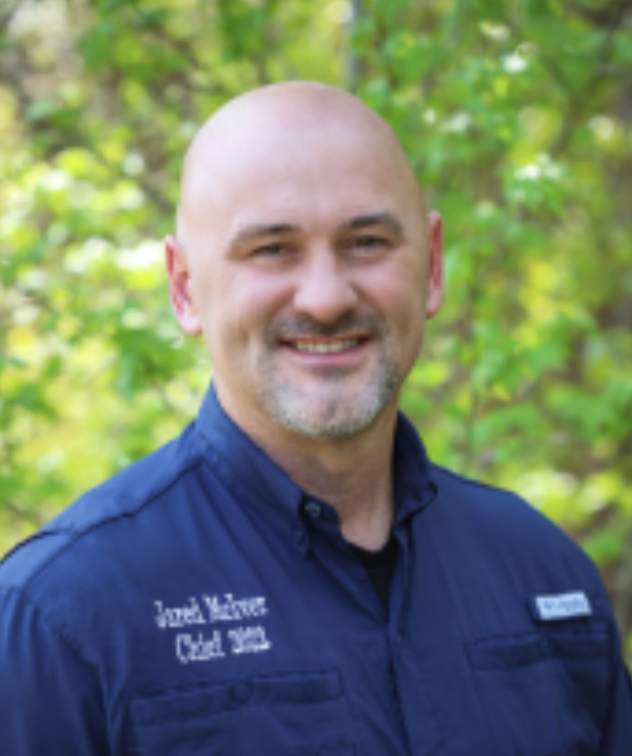 Law Enforcement Veteran with 26 years of experience plans to "Break Barriers & Build Bridges"
Minden, LA August 1, 2022 – Jared McIver was born in Minden, La and resides here with his wife and three children. He has worked in some form of law enforcement capacity within Webster Parish at local, state and federal levels for 26 years. He hopes to fill the Chief of Police position, bringing his decades worth of experience, qualifications, and training to the Minden Police Department.
From 1996-2001 McIver was employed as a Webster Parish Deputy, where he earned the rank of Patrol Sergeant. From Oct 2001 until Jan 2022 he was employed as an Enforcement Agent with the Louisiana Wildlife and Fisheries Enforcement Division again earning the rank of Patrol Sergeant. He was assigned to Webster Parish and was also Federally Deputized.
January 4, 2022 McIver retired from LDWF with 20 years of service and was hired as a part time patrol officer at the Minden Police Department. During his 20 years at LDWF, part of his time was spent working in the field and the other half he traveled throughout the entire state of Louisiana teaching and training.
He taught and trained municipal police, sheriff's deputies, weights and standards, game wardens , and state police. Some of the courses in which he taught included Drug Recognition Expert, Standardized Field Sobriety Testing, Seated Field Sobriety Testing, Intoxilyzer 9000, Defensive Tactics, Vehicle Stops, Advanced Roadside Impairment Detection Enforcement, and many others. He was also certified as a Peace Officer Standard Training (POST) Instructor to teach standard law enforcement classes to law enforcement officers.
He has been invited to speak at the Louisiana District Attorney conference in Florida and has had the opportunity to speak at several District Attorney seminars in reference to drugs and impairment. He has been recognized by Claiborne Parish, Webster Parish, and Bossier Parish courts as an expert witness for alcohol and drug impairment detection.
McIver stated, "The qualifications and training that I have received over the years can be paramount for the men and women of the Minden Police department to grow. I want to share with the officers the training, knowledge and resources I've accumulated over the years and excel the department to a whole new level. We do this through Innovation, Preparation, Personalization, and Unification.
"We Innovate by inundating our men and women with new equipment such as computers, new radars for slowing down neighborhood speeding, take home units for on-call response and deterrence, and state of the art camera systems to aid in detecting and deterring crime throughout the city.
"We Prepare by training continuously so that we react to situations the way we have been trained. We Prepare by working with our schools, churches and businesses to have plans of action in the event of natural disasters or crises that our city could face.
"Our Unification will come from training with other law enforcement agencies such as the Webster Parish Sheriff's Department, state agencies, as well as other town and city agencies within our parish.
"Last of all is Personalization. This is accomplished by the Minden Police Department having more community interaction outside a law enforcement capacity by establishing relationships and earning the trust of our citizens. The City of Minden has the reputation of being the 'Friendliest City in the South.' The people of Minden are among the kindest, most generous, loving folks that can be found anywhere. In order for Minden to maintain its reputation and retain this great community, we must be vigilant in combating crime that is trying to infiltrate our city."