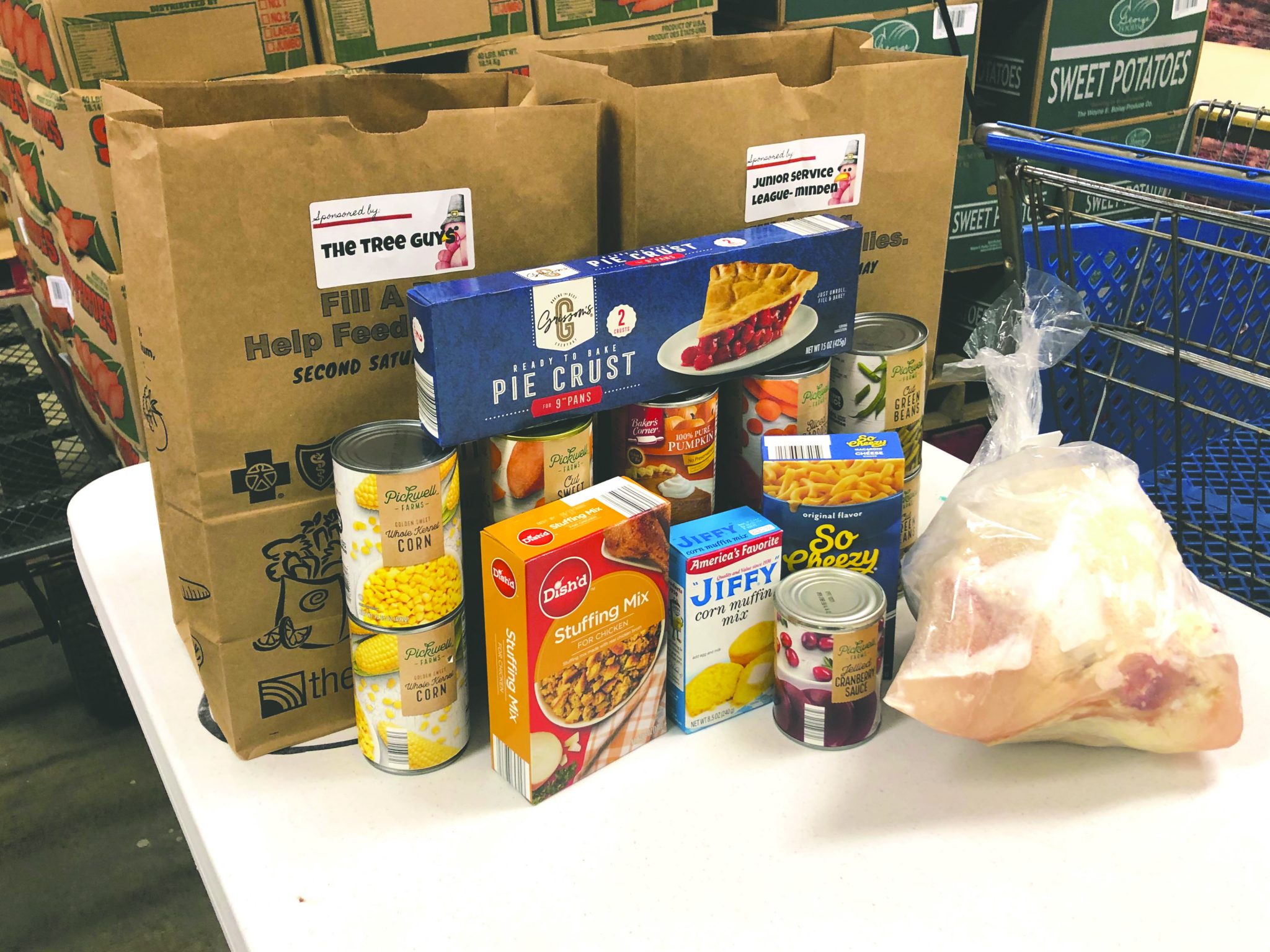 The Joe LeBlanc Food Pantry achieved its goal of 600 Thanksgiving meals sponsored for its 7th Annual Feed a Family Program. The program is one that aims to provide the essentials for a holiday meal to the clients of the food pantry. They even had time to spare, given that they were able to achieve this goal before their set deadline of Nov. 10.
"So far we've had families, businesses, and organizations sponsor from all over Northwest Louisiana, so it's not just a Minden thing. Whether they sponsored one or 100 families, we appreciate everyone who has made the financial sacrifice to sponsor a family and helping us reach our goal," said Jessica Lewis, Director of the Joe LeBlanc Food Pantry.
Those who chose to be a sponsor of this program provided either a hen or turkey, stuffing, cranberry sauce, carrots, dessert, yams/sweet potatoes, corn, green beans, macaroni and cheese, and cornbread to the food pantry clients.
The distribution of these meals will take place this Saturday from 9 a.m. to 11 a.m. If any families would like the get a Christmas meal from the food pantry, they will need to be at the distribution this Saturday to get their ticket.
If citizens feel so inclined to volunteer and help during the distribution of the Thanksgiving meals on Saturday, they can simply arrive at the food pantry before 8:45 a.m. At that time they will explain what needs to be done and how before the distribution begins at 9 a.m.
One reason that they were able to reach the goal so quickly this year is becasue of a challenge issued on Facebook by a Northwest Louisiana business.
"Part of that is because Sanders Machine issued a challenge on facebook. They said, 'We're challenging any Webster Parish business to sponsor at least four families.' Out of that, we've had about 90 families sponsored so far just from local businesses calling and saying I'll do four at a time. That was a huge help to us," said Lewis.
Lewis also took the time to thank Save-A-Lot for their assistance with the program over the past years. "Save-A-Lot is always a huge help to us. The manager there will always help us find really good deals and pull his employees to help get food loaded and unloaded. Also, before we had enough freezer space to store our turkeys, we had to use their freezers for two weeks. They're so awesome to us," said Lewis.
The food pantry meeting their goals early also means that they can start working on taking sponsors for the Christmas portion of the program. They've already reached 100 out of 600 sponsors for the Christmas meal as of now.
Individuals or businesses can sponsor a meal by sending in their application and check through the mail, or by sending money online through PayPal to their email address at joeleblancfoodbank@yahoo.com. Make sure to select the "friends and family" option to avoid paying a fee. The deadline to sponsor a Christmas meal is Dec. 15.
Everyone that sponsors has an opportunity to either remain anonymous or advertise the fact that they sponsored the bags. Their names will go on a board at the food pantry itself and also on the bags that the food will be given in.
"There is no way we could do this without our community. We have never not met a goal before, and that's because of people in the community stepping up and helping us collect the sponsorships. If you see anything about the program on Facebook please share it, because the more people that see it the easier it is for us to meet our goal," said Lewis.
For more information about how to contribute, you can either call the Joe LeBlanc Food pantry at (318) 299-6375 or by visiting their Facebook page.